Handsome All American Jock Gay Porn Star, Hayden Richards
Known Aliases: Glen (Sean Cody)
Years Active: 2011 – 2014
BADPUPPY INFO:
Age: 22
Location: Denver, CO
Job: Porn Star
Hobby: Fishing
Sport: Football
Food: Naked Juice
Music: All
22 year old Hayden Richards comes to us from Denver Colorado. Hayden is currently single and is a well known Gay Porn Star. He travels the country working on various Porn projects. He hopes one day to be on the other side of the camera, doing some producing and directing. Today Hayden is here to give Badpuppy members a show! He kneels on the couch and begins undressing and rubbing his body all over, running his hands down the front of his blue jeans. His jeans come off and he lays back on the leather couch, rubbing and stroking his hard cock through his boxer briefs. Hayden's cock is standing tall and thicker than hell. Bent over, with his backside to the camera, Hayden tugs his tool and balls downward, while spreading his cheeks to show off his man hole! He sits back and squeezes his balls with one hand and strokes firmly with the other. It's obvious that Hayden is about to blow his load. He sits on the couch, leaning back, bringing the shoot to a close with a thick burst of cum!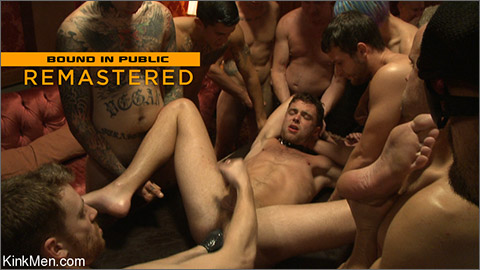 REMASTERED 2022: HORNY PARTY GOERS GANGBANG AND FIST A BOUND STUD'S ASS
Crawling on his hands and knees Brandon Moore brings in drinks for the crowd on a platter that's plugged in his ass. His ball gag and the platter are removed as Hayden Richards drives Brandon's head into the crotches of horny party goers. The guys shove as many cocks in his mouth as they can fit before Hayden has Brandon tied down on the fuck box. With their cocks out the guys line up for Brandon to suck them off while Hayden plows him from behind. Back in the center of the room, Brandon's hands are tied above his head with a spider gag in his mouth as the guys suck and stroke his hard cock. Brandon has clover clamps on his nipples and ordered to bite down on the chain as Hayden and Sebastian give him a dual flogging. The guys untie Brandon's hands as he's pushed down face first onto a couch full of horny dudes as he services their cocks while getting fucked from behind. The guys then drag him onto a table, pinning him down and shoving their cocks in his mouth as Brandon's hole opens up for a fist. They fist Brandon's ass and milk a load out of his cock before giving him some painful post-orgasmic torment. Back by the fireplace the guys circle around the community slut and douse his face with all their cum.

CHANNEL 1
CATALINA
ALL WORLDS
JET SET

VIDEO ON-DEMAND: Hayden Richards @ AEBN SMUTJUNKIES THEATER
NOW STREAMING: Hayden Richards @ NAKEDSWORD