Handsome Horse Hung American Gay Porn Star, Jay Alexander
Known Aliases:
Years Active: 2016 – 2017
TWITTER @XxjayAxX
DOMINIC FORD INFO:
Jay is tall, lean and has a huge cock. His skin is gorgeous, his muscles pop out of his tight frame, and his dick leaves your mouth watering. And, he stars as Wes in our Parody of HOW TO GET AWAY WITH MURDER!
FAB SCOUT INFO:
Based in: Florida
Age: 26
Height: 6'1″
Cock Size: 8.5 Cut
Position: top, versatile, bottom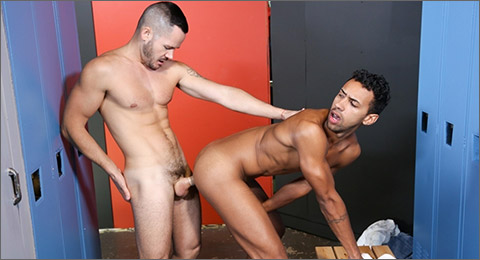 CRUISING FOR BIG COCK
Jay is alone in the locker room and he is obviously cruising for sex. Valentin walks in and sees Jay, who is groping his cock through his shorts. Valentin approaches and Jay stops him and says that if he does not have at least 8 inches he is not interested. Valentin assures him he has what he is looking for and soon the two are embraced and groping each other. Once Jay discovers Valentin's huge uncut cock he is on his knees sucking it deep and hard. Valentin bends Jay over and rims his ass getting him nice and wet before he starts to fuck him. He fucks Jay with his massive cock long and deep all over the locker room. Jay cannot hold back any longer and shoots his load all over himself and then Valentin blasts his load all over Jay's chest.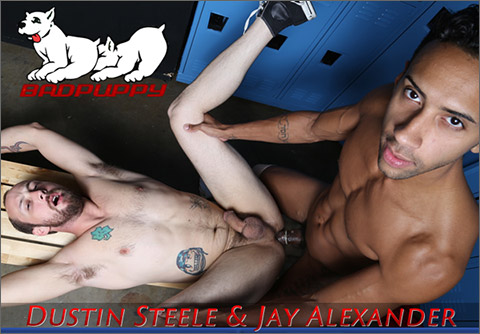 JAY ALEXANDER & DUSTIN STEELE FLIP-FUCK
Dustin Steele had just completed his workout when he ran into Jay Alexander in the locker room. The attraction was immediate and it was only moments after these two started kissing when Dustin's shirt goes flying off and Jay is reaching for the contents of Dustin's shorts. Jay is immediately surprised to see the growing manhood that pops out of the top of Dustin's shorts and he swallows every inch of it. Dustin motions for Jay to lie back on the bench where he pulls off Jay's shorts and his mouth begins working Jay's thick, long cock. After some intense mutual blowjobs, Dustin is ready to get his ass filled. He stands against the lockers and Jay comes in from behind and buries his tongue deep in Dustin's hole where he goes to work loosening it up. Lying back on the bench, Dustin can't wait anymore and both of his feet go up in the air with his ass exposed just waiting on Jay to load it with his cock. Slowly at first, Jay pushes his thick cock deep inside Dustin; but, once Dustin is used to the size Jay begins pounding Dustin's hole with long, deep thrusts. After three different positions of Jay fucking Dustin's ass, Jay tells Dustin that it's time for Dustin to shove his cock up Jay's ass. Dustin goes slowly at first, letting Jay get used to his size. With a few ass slaps, Jay's ass loosens more and Dustin begins fucking faster and faster. Dustin continues to fuck the shit out of Jay and as the tension builds you can tell they are both close. Jay takes his cock in hand, begins jerking with the rhythm of Dustin's thrust and he shoots a thick load of his jizz all over his sculpted chest and stomach. Dustin keeps pumping and just before he cums, he pulls his cock out and sprays his cum all over Jay. With an exhausted and gentle kiss our two studs head off for the showers to clean up the mess.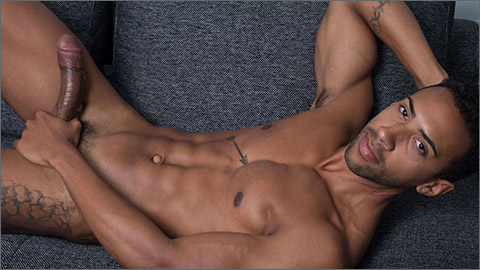 HOW TO GET AWAY WITH PARODY: Jay Alexander Cums Twice
Jay gets so excited in this solo that he cums twice. And both times are gushers! He's helped by our camera man for one of them. Jay is so hot and sexy that you will probably cum twice watching this scene!
CHANNEL 1 / RASCAL
BADPUPPY
DOMINIC FORD
GIO CARUSO'S BAIT BUDDIES
PRIDE STUDIOS
PARAGON MEN
CLICK HERE TO GO TO HIS DOMINIC FORD DETAILS