Uncut Bad Boy and Gay Pornstar, Haigan Sence
Known Aliases: Tyson (Corbin Fisher), Haigen Sence
Years Active: 2010 – 2013
TWITTER @Haigansencexxx
BRIAN OCKERT / CHAOS MEN INFO:
Start Age: 23
Debuted: August 6, 2012
Height: 6′
Weight: 165 lbs
Cock: 7″ Uncut
Haigan is a guy who had a rough youth, but now is trying to seek stability. He's been moving around, and finally landed a job dancing in a night club. He's been doing that a couple months now, and really loves interacting with all kinds of people, including his gay audience.
   He has a dominant fetishy-side to him, which means he loves to Top and get his dick sucked. He has of a Rough Trade attitude. There is room for that at Club Chaos, as I have found myself a little Bottom heavy lately.
   He is a polished performer and was keen on doing a G:hOle video for his first interactive video at ChaosMen. We went through the list of things he would and wouldn't do, and some of it kind of surprised me. You will have to wait till next week to see what I mean. Nothing shocking, but there is just no guessing where some guys draw the line.
   As for the solo, he is rock solid. He works his uncut cock until it is standing at attention, and 'aggressively' jerks-off for us.
   Nice nut that looks awesome on his Latin complexion!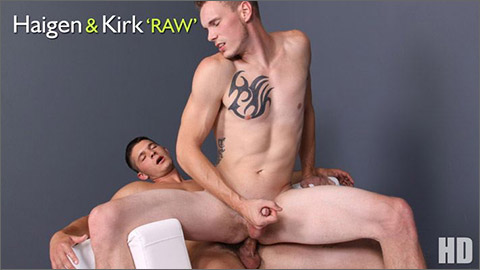 BOSSY DC: HAIGAN & KIRK
Director's Cut with all the action!
   Kirk swears this is his first time getting fucked by a guy, but I never know what to believe with these guys. I could tell Haigan was a polished performer, so knew he could take Kirk through his paces.
   Since Haigan has a bossy side, I figured he could boss around Kirk, who is naturally very passive. Haigan makes him strip down, suck his cock, and then shoves a rather large butt plug up his ass. Well, it seemed pretty large to Kirk, who then had to suck Haigan's big uncut meat with his ass stuffed.
   We get a tiny bit of ass eating as Haigan preps Kirk's ass to be fucked.
   Haigan stays all cool and chill sitting in his chair, while Kirk uses his super long legs to straddle Haigan's cock. It is challenging position that the two completely get into! Kirk's cock clearly loves grinding around on Haigan's cock, and wow! Haigan sure knows how to fuck!
   He gets him doggy style and really tears him up! Kirk is loving being dominated while Haigan fucks the heck out of him!
   We do get some fetish play in the Director's Cut. Just a quick minute of footage as Haigan rinses-off Kirk's hole before stuffing his cock in.
   Kirk was pretty eager to nut the entire time, and pretty sure having Haigan ramming him put him over the top very easy.
   Haigan breeds him after fucking the cum out of him, but what I like best is after juicing him, he slides on up and makes Haigan clean his cock off with his mouth! Ass to mouth lovers will love the ending on this video!
CHAOS MEN
MEN.COM
SOUTHERN STROKES
CORBIN FISHER / AMATEUR COLLEGE SEX
CLICK HERE TO GO TO HIS CHAOSMEN BIO PAGE