Sexy Blond Jock Gay Porn Star, Grayson Fabre
Known Aliases / aka:
Years Active: 2017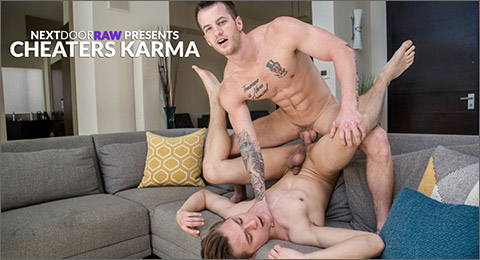 CHEATERS KARMA
Qunetin Gainz's birthday has quickly taken a turn from bad to worse with a simple knock at the door. Already disappointed because his boyfriend has to work late, he now finds a mysterious stranger in his threshold, and it's obviousthat the guy at the door has been messing around with Quentin's man. To Grayson Fabre's credit, he didn't know about Quentin, and would've never engaged with someone in a relationship, but that's little solace to Quentin. What would make Quentin's day a little better, though, is if he could return the favor (while also maybe getting his rocks off). Grayson seems interested and so Quentin just lays it out for him. Moments later he's on his knees, unzipping Grayson's pants and sucking him off. Grayson unbuttons his shirt as they kiss, and Quentin throws him against sofa and bends him over the back of it, plunging his raw cock deep into Grayson's hole. Grayson moans as Quentin has his way, pounding him from the back before flipping him over the couch and pile driving him from above, pulling out to empty his birthday load all over Grayson, then seeding his hole. As Grayson lay cum covered, Quentin realizes this hasn't been such a bad birthday, afterall.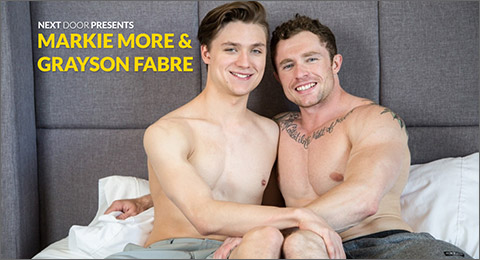 MARKIE MORE & GRAYSON FABRE
When Grayson Fabre made his debut a few weeks back, more than a few people stood up and took notice, not the least of which was Markie More. Markie has an eye for talent and also an insatiable lust for a guy with a pretty face, and Grayson checks all the boxes, so Markie was insistent on pairing with the newcomer. And now that he's got his hands on him, Markie is not disappointed. Grayson seems equally enamored with Markie, running his hands up and down Markie's chiseled features, before making his way down to Markie's waist line to pounce on his throbbing hard cock. Grayson sucks Markie until he's nice and hard, and after Markie returns the favor, he rolls Grayson onto his back and begins to get his ass ready for the main event. Markie tongues Grayson's hole before sliding his cock deep inside. Grayson moans from pleasure as Markie has his way with him, fucking him all over the bed. Grayson is in the throes of ecstacy as Markie continues to pound, bouncing up and down on Markie's rod before rolling onto his back as Markie fucks the cum out of him. Grayson begs for Markie's load and is not disappointed when Markie soaks him with his well-earned reward. Cum covered and ready to hit the showers, Grayson invites Markie to shower off with him, as Markie prepares himself for round 2.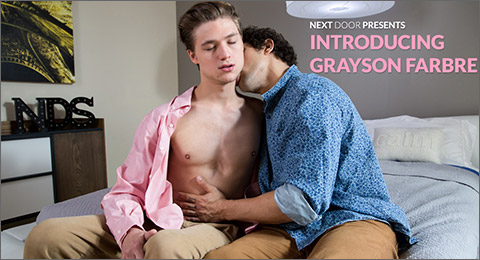 INTRODUCING GRAYSON FABRE
Grayson Fabre is a smart, young, quiet guy from the Midwest, making his on screen debut. Jimmy Clay is on hand to guide him through the process and to see if he's up to the task. Grayson is hesitant and a bit nervous, but also full of excitement and eager to prove he belongs. Jimmy senses this and eases him along, first sucking him off before sliding his hard cock deep inside Grayson and slowly working it in. Grayson rides him slowly at first, then proceeds to bounce up and down on Jimmy's cock, before flipping over and taking every inch of Jimmy's pounding like a vet. Jimmy watches as Grayson strokes his cock, telling Jimmy to fuck him harder as he spits his first load on camera. Jimmy pulls out and blasts Grayson with a huge load that covers Grayson from his waist to his face, proving that Grayson has what it takes to make it.
CLICK HERE TO GO TO HIS NEXT DOOR STUDIOS DETAILS