Sexy Italian Daddy Gay Porn Star, Giorgio Arsenale
Years Active: 2015
TWITTER
BUTCH DIXON INFO:
Fresh from Rome this sexy, daddy is a total DILF, just flick his nipples and stand back, he's a dynamo, and a totally versatile stud, with a great body, tight hole and delicious, uncircumcised cock.
LADS NEXT DOOR INFO:
Italian DILF alert! At 44, Giorgio is the oldest model I've had on the site to date. But a pretty buff one at that! Typically Italian, he looks after his appearance and goes to the gym. So he's smooth and buff and groomed and his 7" uncut cock gets hard suitably easily in his designer jock. His bum is shaved too, and as gay and versatile, I think I ought to get him back so it sees some action!
Age: 44
Nationality: Italian
Sexuality: gay
Height: 5′ 8″
Body Type: muscular
Cock: 7″ uncut
Pubic Hair: trimmed
Piercings: no
Tattoos: yes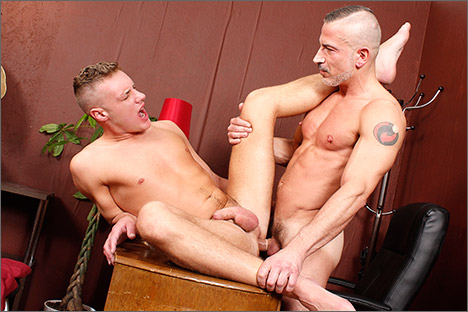 REVEREND DADDY
SCENE 1 – PRIEST OFFICE PUNISHMENT: Giorgio Arsenale fucks Jason Goddard
Always trying to please his superior, blond cutie Jason brings his priest a hot cup of coffee to his office whilst working hard. Jason has a nervous crush on the father, so much so he gets distracted by his muscled body bursting from beneath his black shirt and spills the hot drink over the desk! Father Giorgio has a bad temper at the best of times, something Jason's always found to make him even hotter, and when told to clean up his mess, Jason jumps to it and is soon found on his knees in front of the towering mountain of muscle! The perfect height to swallow dick, Jason's dream comes true as Giorgio takes his anger out on the poor choir boy, fucking his throat before taking further action on that peachy ass of his, right over the coffee-laden table! Ramming home his big thick dick, Jason has no option, or inclination, but to take this penance and be thankful for it! Spurting huge amounts of boy juice over himself as the father fucks him hard, Giorgio adds to the spunk and swiftly leaves his office, telling the boy to clean that u as well!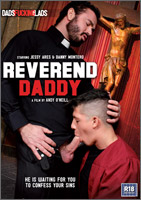 BUTCH DIXON
   EUROCREME
   LADS NEXT DOOR
   TIM TALES