Hunky Uncut German Born Gay Porn Star, Hans Berlin
Years Active: 2012 – 2020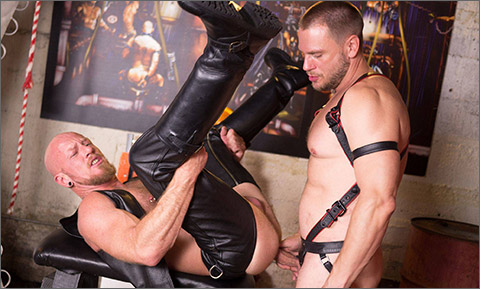 DICK SAVVY & HANS BERLIN
In a dungeon playspace, decked out in leather, Dick Savvy and Hans Berlin get rough while making out in a display for dominance. Bearded, younger Hans sports a big cock and Dick is just as massive, especially with his Prince Albert piercing! They soon turn their attention to the others throbbing meat. Dick is the first to drop to his knees, taking Hans and sucking him even as Hans fucks his face and throat. The two trade blowjobs, getting more aggressive with their roughhousing. Hans then bends Dick over a fuck bench, spanks his ass and spits on his hole before priming him with a good tongue fucking before the main event. Once tattooed Dick is ready, Hans slides his long and thick uncut tool inside and pounds away. Hans is slow at first but once he's in, he bareback fucks Dick rough and hard, fast and furious. At times Hans is even brutal but the harder he fucks Dick, the more he wants it…until he spews, pumping out a thick, copious amount of jizz, breeding Dick with his seed before Dick cleans him off with some ass-to-mouth cock sucking and blowing a load of his own.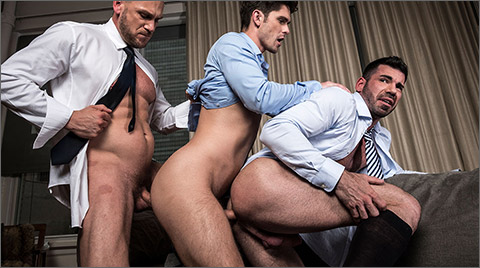 GENTLEMEN 21 – TOP MANAGEMENT: Hans Berlin And Billy Santoro Fuck Devin Franco
Billy Santoro and Hans Berlin are waiting for Devin Franco's final decision — is he or is he not going to sign off on their final deal? Honestly, Devin couldn't care less about the deal these guys are after — he just wants to strip them out of their suits so they can take turns banging him in the ass bareback! Devin loves hunky gay guys who can pretend they are his daddy, and both Billy and Hans are more than happy to play along, especially when Devin is always eager to be a good little boy.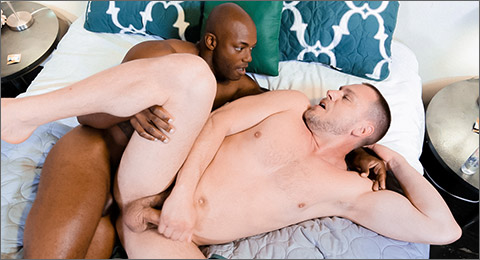 I LOVE BIG COCK
Hans and Osiris have been chatting online swapping pictures of their cocks. Hans has been extremely curious about being fucked by a BBC. Osiris shows up to his pad since he only lived about twenty minutes from Hans. Right away Hans wants to see Osiris's big cock. He pulls it out and Hans is even more excited. Hans begins to suck on the massive meat and it slowly begins to grow bigger and bigger inside his mouth. As it grows to full length he can no longer deep throat it but he still tries his best. Osiris is enjoying every moment of Hans exploring his BBC. Osiris wants a taste of some dick as well so the switch it up into a sexy 69 where now they both can enjoy each other's hard dicks. Hans is pretty much making love to that big dick with his mouth as Osiris tongue fucks his ass prepping it for his big thick dick. Hans is ready for that sexy dick so he lubes up and spreads his legs for Osiris and he pushes slow and deep into Hans. Hans gasp for air as that dick hits balls deep. Osiris can feel Hans ass open up and take him all in so he starts to pump faster into Hans. Hans can barely control himself with the feeling of that BBC pulsating inside of him. Osiris continues to fuck Hans in a few positions until finally Hans can't take it no more and needs to nut. Osiris flips him on his back and fucks the cum right out of Hans and once Hans begins to let loose with all his cum he pushes Osiris out of him and Osiris strokes his big dick until he shoots an extremely long load all over Hans chest and face. They embrace with a passionate kiss and you can see the cum glimmer off of Hans face.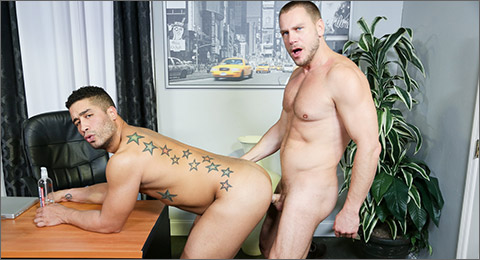 LUNCH BREAK
Hans is in his office and having a very heated conversation with a client on the phone which is upsetting him. As the conversation escalates, we can tell that Hans is beyond frustrated and having a bad day. As he hangs up the phone there is a knock on his office door. When the door opens we see Trey who is in a happy mood and he is carrying a bag. He has made lunch for Hans and when he discovers that he is upset, he begins massaging his shoulders in an effort to relax him. Soon they are making out and Trey is on his knees sucking Hans's fat cock as to ease all the stress. Hans picks up the phone and tells his secretary to hold his calls for at least 30 minutes. The two continue and Hans begins by rimming Trey's meaty ass before fucking him bent over the desk. Trey then rides his cock for a while. Hans then sucks Trey's cock and tells him that he wants Trey to fuck him. Trey rims his ass for a while and shoves his huge cock deep inside Hans eager ass. They fuck until Hans cannot hold back and he shoots his thick cum on his pelvis. Trey then shoots his own load all over Hans balls and then cleans it all up with his tongue.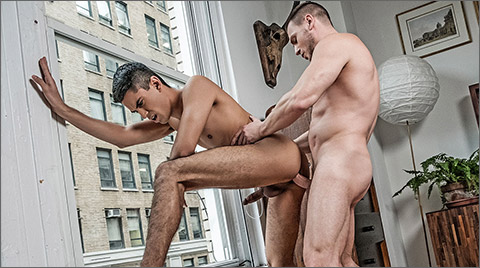 RAW DILFS: Lee Santino Bottoms for Step-Daddy Hans Berlin
Lee Santino is caught jerking off in bed by his stepdad Hans Berlin. Lee's embarrassed, but continues to have a hard-on despite being found out. Hans notices this, and instead of walking away decides to show Lee what sex is actually about and not just how it appears on the internet. Lee learns from his stepdad just how much he loves sucking on uncut cock and getting fucked in the ass bareback. Hans Berlin is rough in bed, so Lee Santino gets one hell of a workout from his stepfather!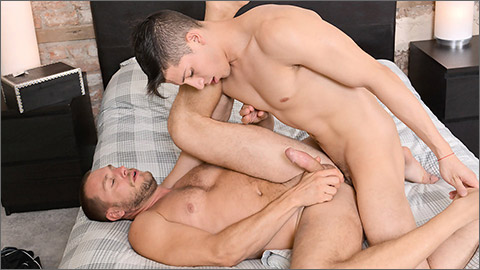 HANS BERLIN & DANNY MONTERO FLIP-FUCK
That famously thick and meaty tool is ready for some hole, and Danny is definitely up for it! Handsome hunk Hans wastes little time getting that cock between the young mans lips, and gets plenty to suck on from Danny too before the fucking starts. He stretches and fills Danny's butt in some hot positions, pinning him on the bed and using his arse before giving up his own! Yes, it's a flip flop, and Danny gives as good as he gets before their cum shots are pumping out!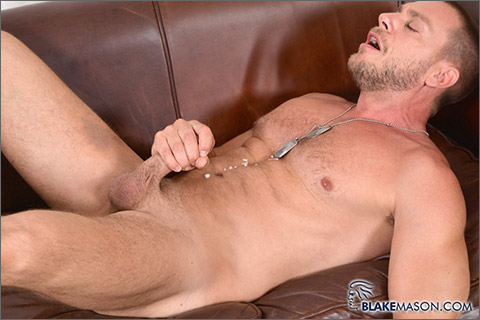 HANS BERLIN BLAKE MASON SOLO
Hans is no stranger to us, so we're very happy to have him appearing on video in his first wank scene for the Blake Mason audience. The gorgeous hunk is a famous porn star already, known for being a great versatile top with a big uncut cock that all the guys can't get enough of. Find out more about him and enjoy his first video with us, we hope there'll be a lot more of him after this!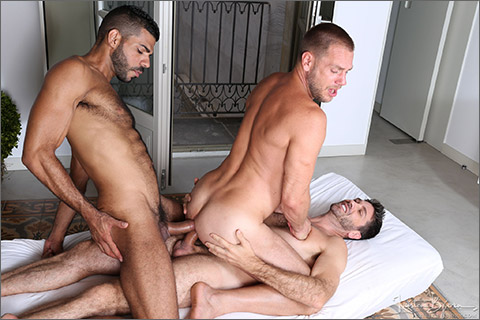 SKINS – DOUBLE OR NOTHING: CRAIG DANIEL & HUGO ARENAS DP HANS BERLIN
While checking out the goods in the shop windows, Daniel and Hugo find themselves being checked out by Hans. Hans knows what he wants and is ready to close the deal. Daniel and Hugo immediately take Hans back to their new apartment where he is quickly put into action. Hans finds that Daniel and Hugo like it rough, just like himself. Hugo unleashes his mammoth cock and begins stuffing Hans' mouth and throat to capacity. Daniel then whips out his huge cock and takes Hans by the head and fucks his mouth hard. Hans' limits are stretched with these enormous cocks as Daniel and Hugo tag-team Hans' hungry mouth. Hans is spun around as one man fucks his hairy, pink hole with his tongue as the other fucks his mouth with his hot cock. After both men tongue fuck his ass, Hans' mouth is then jammed full with both of those huge cocks. Now that these two gargantuan cocks are hard as rocks and well lubed, Hans sits down on Daniel's cock. Just as he gets Daniel's raw cock all the way inside of him, Hugo comes from behind and rams his raw cock deep in his ass as well. Both men gyrate and pump their cocks in that hot hole as Hans repeats "that's too big" but he never stops the incredible sex. Hans is then flipped and squats down on Daniel's cock. With his legs spread wide open Hugo comes along and shoves his cock back in his drenched pucker hole. The fucking continues until Hans can no longer hold back and lets his hot load of cum fly. While Hans' cum is flying Daniel showers his load all over Hans' balls and ass as Hugo shoots his thick load and mixes it with the other two loads. You never know what you might find while shopping!

FIRE ISLAND – HOUSE BOY: Hans Berlin fucks J.P. Dubois
In EPISODE 1, we meet the home owner, Hans Berlin, who has put up signs all around Fire Island looking for a houseboy. Among the many boys interested in the job is red-headed British hunk J.P. Dubois. But the interview is more than J.P. bargains for. In fact, it includes the first watersports scene ever at DominicFord.com. Hans has to pee, and J.P. is more than happy to help him out with that. The scene unfolds as J.P. auditions for the role of house boy, doing everything Hans asks of him, which includes getting fucked senseless and take Hans' load to his face. Who else wants to be the house boy on Fire Island? Stay tuned all summer long as this series unfolds.
CLICK HERE TO GO TO HIS LUCAS ENTERTAINMENT DETAILS
CLICK HERE TO GO TO HIS KRISTEN BJORN DETAILS
VIDEO ON-DEMAND: Hans Berlin @ AEBN SMUTJUNKIES THEATER
DVDs & ON-DEMAND: Hans Berlin @ TLA VIDEO