American Daddy Gay Porn Star, George Glass
Known Aliases:
Years Active: 2000 – 2016
PANTHEON PRODUCTIONS / HOT OLDER MALE INFO:
Age: 42
Weight: 170 lbs
Cut/Uncut: Cut
Position: Bottom
Handsome daddy George Glass has a thick beard with a nice warm smile that will make any man want to cuddle up with him. But when this muscle daddy is turned on and his thick dick rock hard, George is determined to have some sweaty hardcore daddy action.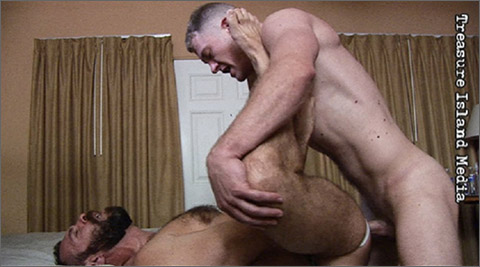 BAD SEED: SERVICEMEN
The Marines get the job done. Ever been in the mood to get fucked but the buddy you're with needs it more? That was the scene here, and DJ–despite a powerful hankering to get ass-ridden–realized George Glass needed it even more. Ever the gentleman, DJ fucks Glass hard 'n' deep, delivering a thick toxic load deep in the bottom's hungry hole.
   Mission accomplished!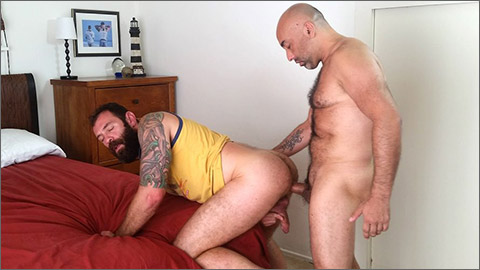 BRIAN DAVILLA BREEDS GEORGE GLASS
Man do we love George Glass' beefy furry fuck hole. So does Brian Davilla's big raw cock. When the two meet that cock works that hole to just about perfection. Brian fucks George in every possible way so that when he finally gets George belly down, he's ripping that thing apart. And George loves it! So will you. This is a breed to see.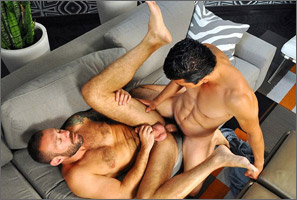 FRANCISCO FUCKS GEORGE GLASS
Francisco and George are online looking at porn and comparing what turns them on. George likes daddies and guys with big dicks. Francisco is more of an ass man and really appreciates a nice round butt – on guys AND girls. The guys are getting hornier and hornier as they stare at the screen. Soon they're mackin on each other like college kids at their first kegger. As they make out, they begin ripping each others' clothes off. George begins pawing at the bulge in Francisco's jeans. George whips out the thick, uncut, purple sausage from it's blue prison. He's impressed by the size and commences trying to swallow the whole thing. He slides his lips around the engorged member all the way to the thicket of black hair surrounding the base, while stroking his own cock; which is sticking out of his jock strap. Francisco is ready to return the favor and George lays back to enjoy the oral pleasure. Francisco is anxious to get at the furry bubble butt. George lays back and raises his legs so that his partner can easily access his pucker. Francisco slides it in slowly at first, and then increases the speed of his thrusts. George strokes his hard cock as he's penetrated, both of them caressing each other's muscular bodies. George moves to the coffee table and Francisco stands above him, pile driving his asshole. Ready for some deep penetration, George gets on all fours and offers his furry curves to Francisco from behind. Francisco slides up behind him and jams his thick tool into George's stretched rectum. When Francisco is ready to blow, George obediently flips over so that he can catch the thick white juice on his tongue. Francisco cums for what seems like 10 minutes as stream after stream of pearlescent goo issues from the tip of his swollen manhood. George happily slurps up every drop, sucking the last bits from the end of Francisco's cock. Then he lets his own load loose in the hairy treasure trail on his tummy.
PANTHEON PRODUCTIONS / HOT OLDER MALE
CLICK HERE TO GO TO HIS HOT OLDER MALE DETAILS
VIDEO ON-DEMAND: AEBN SMUTJUNKIES THEATER