Men At Play Aussie Gay Porn Star Hunk, Franky Fox
Known Aliases:
Years Active: 2020 – 2021
MEN AT PLAY INFO:
Body Type: Athletic
Eye Color: Blue Green Eyed
Hair color: Brunette
Nationality: Australian + British
Sexuality: Gay
Sexual Role: Versatile Top
Age: November 19th
Height: 179 cm
Franky Fox, a piggy Aussie based in Germany, says he plays nice with others. And we wanted to see how nice he played!
While having sex, Franky says he loves to make eye contact – so fucking a guy from behind doggy style in front of a mirror is hot! He often finishes off with his bottoms on their back.
The most pleasurable sex Franky Fox has had was a threesome with two sexy muscular guys with beautiful cocks and asses. The other guys were both versatile, so they kept taking turns on each other; flipping back and forth. One of the guys let them double fuck him. Franky remembers almost cumming from DPing him. He also loved the feeling of one cock in his ass while his cock was in the other guy's ass (it's called a lucky pierre). In the end, Franky bred one of the guys and they both came on his face.
The hottest place Franky Fox has had sex is in the steam room at his local gym. Literally hot, but also sexy because the guy was hot. It was completely spontaneous. The guy cruised Franky from across the steam room before coming across to suck his dick and then bent over begging to get fucked. It was wild — they could have been caught at any moment, after all.

SEXUAL ATTRACTION
Newcomer Gustavo Cruz is feeling quite stressed and goes to see psychologist Franky Fox, Psy.D at his home office. Gustavo blames his stress on work and distance from his wife. But soon, understanding that confidentiality is a respected part of psychology's code of ethics, Gustavo opens up about his sexual attraction to a new male colleague. Except Gustavo is straight and married.
   Franky suggests he seek "professional" help (perhaps hiring a sex worker) to clear his mind regarding his sexuality. But, Gustavo's huge hard-on bulge suggests he may be ready for Franky's own help right now!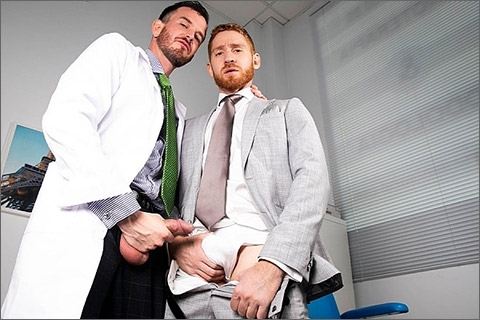 THE PODOPHILIC PODIATRIST
Leander arrives at Franky Fox's podiatry clinic for a final checkup for his broken toe.
   Franky removes Leander's shoe and starts checking on the recovery. Leander seems to enjoy it and they can't stop giving each other flirtatious looks. Franky confirms that everything is fine and signs off Leander to go back to work tomorrow. But, Leander prefers to start on Monday as he has plans for the weekend, and asks the Podiatrist to extend his leave.
   At first, Franky hesitates but in his head, he sees an opportunity to interact more with Leander's foot. Franky explains to Leander how much of a hassle it is with all the paperwork and since it is personal favor it would only be fair for Leander to pay for the extra time with a favor.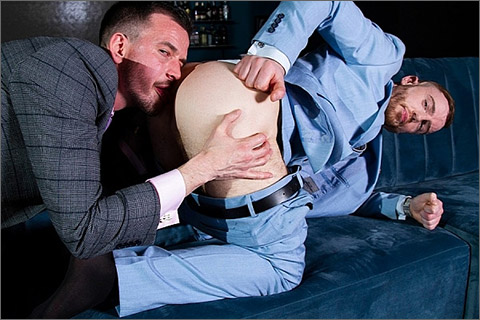 MAFIOSI
Mafiosi Franky Fox has come for the weekly cut (money) which every club owner around the city has to give. Lamentably, JP Dubois tells Franky that he's a bit short for the second week in a row.
   With consequences looming, Franky tells JP to serve him a whiskey on the rocks and to join him in the VIP area of the club to talk some more.
   Franky is stressed too as he'll have to explain the situation to his Bosses. JP may not be able to do anything about last week's shortage, but right now he can help release Franky's stress. A deep-throated blow job, raw ass fucking and facial may just do the trick… this time.
CLICK HERE TO GO TO HIS MEN AT PLAY DETAILS
VIDEO ON-DEMAND: Franky Fox @ AEBN SMUTJUNKIES THEATER
ENDLESS UNLIMITED STREAMING: MENATPLAY @ NAKEDSWORD