Colt Studio Muscle Model Gay Porn Star, Frank Vickers
Known Aliases: Ramsey Reese, Roger
Years Active: 1983 – 1991
COLT STUDIO INFO:
Sign: Gemini
Height: 6′ 00″
Weight: 225 lbs
Dick Size: 7″ cut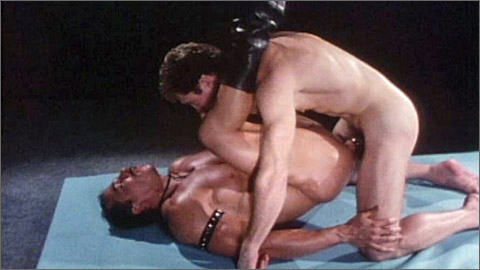 MAGIC OF POWER
As Neal Shaw sleeps he envisions the kind of man he most desires. How else but in a dream could he experience the magnificence of Frank Vikers? His excitement rises as the tower of power changes from fantasy to flesh and blood with the feel, touch and taste of reality. Especially the taste! This scene captures the sweaty intensity of man-to-man sex. Hardened biceps, swinging cocks, booted calves, hairy armpits, swollen balls, and wet open mouths collide on every frame. Stunningly photographed, THE MAGIC OF POWER is set on an empty stage where the only players are Vickers and Shaw, and the only props are the unlimited reaches of their imaginations.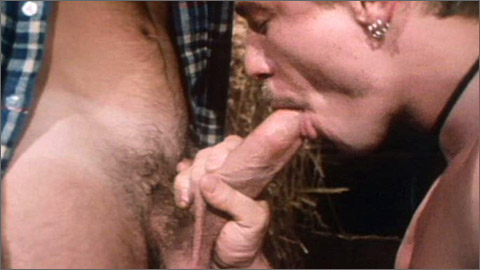 HAYFEVER
A long day of travelling on foot has Frank Vickers looking for a place to lay his head. Coming across an old barn Frank sneaks inside and finding an empty stall he strips down to his underwear and settles in for a long rest. Later in the day, farmer Glenn Steers is strartled when he discovers a sleeping hercules lying in his barn. Seeing Frank's muscled body splayed out in front of him with that hard cock bulging form the tight underwear is hard to resist. Stripping out of his overalls and stroking his thick cock, Glenn reaches down for a feel, rubbing Frank's hard body from head to toe. Frank slowly rouses to the erotic touch and finds himself the object of pure desire. Welcoming the touch, Frank pulls out his already hard cock as an offering for his host. Glenn lovingly strokes licks and slurps on every inch of Frank's hot body. Glenn's huge cock throbs and twitches for more. Bending Frank over a bale of hay, Glenn makes his guest earn his keep.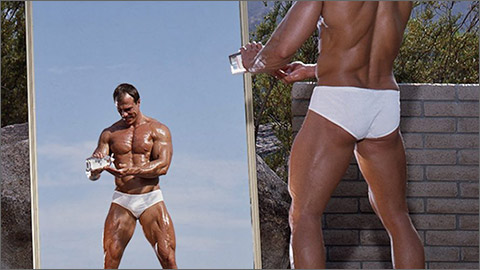 PUMPING OIL
With his impressive physique on full display, bodybuilder hunk Frank Vickers shows us how a perfect body is made. Picking up the heavy weights Frank pumps out rep after rep, his muscles bulging and throbbing with every pump. Oiling up he hits his poses and shows every specatular detail of his muscle ripped body. Leaving nothing to the imagination Frank strips off his posing strap and shows his nude form in all its glory. In the mirror, Frank admires his own accomplished physique and indulges in much deserved session of self-love.

LIVE VIDEO

CLICK HERE TO GO TO HIS COLT STUDIO DETAILS

COLT CALENDAR MEN #11 – LEATHER
COLT Calendar Men Digital Magazine #11 – Leather is a full-color digital compilation of major highlights from various COLT Calendars which features some of our most iconic COLT Men from over our 52+ years in PDF downloadable format.
Features COLT Men Icons: Cover man Walt Ford, Pete Kuzak, Mike Pereyra, Joe Falco, Mark Alexander, Haus, Neal Howard, Nick Dipalma, Franco Corelli, Joel Hancock, Tony Mills, Beau Wheeler, Pat Webb, Ed Ventresca, Mike West, Skip Piston, Tom Chase, Erik Korngold, Buddy Houston, Ken Ryker, Buck Hayes, John Bell, Tony Lombardy, Jake Andrews, Wade Neff, Rod Roddick, Rio Majeska, Jesse Ditmar, Jake Tanner, Chet O'Roark, Mike Dasher, Billy Herrington, Marshall Cline, Todd Maxwell, Jason Brahm, Carlo Masi, Nick Battle, Scott Butcher, Frank Vickers, Link Benedict, Gus Mattox, Ray Dragon, Diego De La Hoya, Zak Spears, Gunner Hyde, Paul Underwood, Bruce Abidor, Matt Horner, Fritz Bowman, Tony Ganz, Taylor Burbank, Jeff Williams, JD Amos and Brant Royale.

COLT ANNIVERSARY ALBUM #2
COLT ANNIVERSARY ALBUM #3: MACHO IMAGE
COLT CALENDAR MEN #3: LEATHER
COLT CALENDAR MEN #4: LEATHER
COLT CALENDAR MEN #11 – LEATHER
COLT OLYMPUS 7
COLT PRIVATE COLLECTION #2 – HERCULEAN MEN
COLT LEATHER CALENDAR 1984
COLT LEATHER CALENDAR 1988
COLT COUPLES CALENDAR 2001
COLT MEN IN UNIFORM CALENDAR 2004
COLT COUPLES 2010 CALENDAR
COUPLES 2011 CALENDAR
COLT LEATHER CALENDAR 2007
COLT SLIDE SET: MS-17, MS-18, MS-19, MS-20
COLT NAKED MUSCLE PLAYING CARDS

TORSO May 1985, July 1985, September 1985, April 1987, March 1991
ALL MAN Summer 1987
IN TOUCH #137
JOCK December 1985
MANSHOTS October 1991
STALLION November 1988
STUDFLIX v02 n02, v05 n03
dam "PUMPING MEAT"
RAMSEY REESE

MEN MAGAZINE PRESENTS: COLT STUDIO

WATCH IT NOW AT: Frank Vickers @ AEBN / SMUTJUNKIES THEATER
AVAILABLE FROM: Frank Vickers @ TLA VIDEO