Spanish Muscle Gay Porn Star Power Bottom, Flex Xtremmo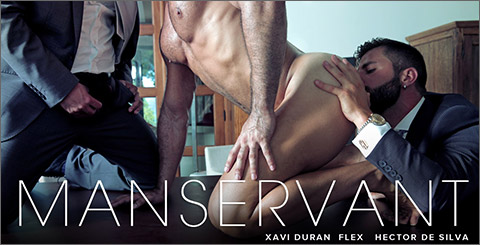 MANSERVANT
What a beautiful piece of beef to put between a suited sandwich! The ever stunning Flex gets played like a rich playboy's toy, as the obliging servant of Hector de Silva, in this weeks "MANSERVANT". Handsome Spaniard Hector returns as the wealthy business man who likes to show off and conduct meetings in his hillside villa. When sexy young associate Xavi Duran notices the stunning new butler, half naked after having a relax in the pool on his day off, the two tycoons decide to have a little fun. The subservient Flex knows his place and is happy to go down on his Masters house guest. Hector is so turned on by the show he finds he needs servicing too. Before long both Flex and Hector are doing all they can to give Xavi a welcome he won't forget simultaneously sucking on his thick hard dick. With both businessmen primed and ready for some carnal action, they take turns to fuck, rim, and get sucked off by Flex as his stacked body kneels doggy style on the table just asking to be used. What follows is pure Tag-Team Spit-Roast Heaven!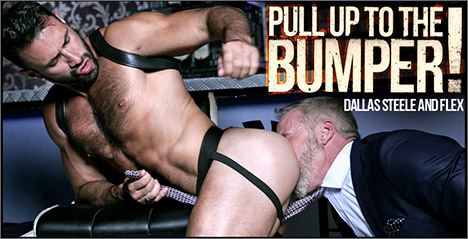 PULL UP TO THE BUMPER
We've imported a masculine, towering ex-anchor man from the U.S. to enjoy a selection of some of our finest European men. And this week you can witness his European initiation when we throw him right in at the deep end – literally, Flex's deep end.
   Former WBBH anchor, Jim Walker has reinvented himself and gives us "Dallas Steele" – 6ft 2" (188cm) of mighty muscled, silver fox. Having worked for 25 years as an anchor we knew he'd be well adjusted to working in full suit and tie so he was perfect for Menatplay. The power of his stature, coupled with the Menatplay sartorial styling make him an impeccable and worthy candidate to sample his pick of the best M.A.P. models.
   Meeting with one of our top men, Flex , seems to have brought out the philanthropist in Dallas . With money in his wallet and a suit across his broad muscled shoulders Dallas has an air of the high and mighty, and willingly flashes his money in-front of Flex's face to see how much it will take to get Flex to expose a little more of his flesh in front of Dallas. Like a trained puppy Dallas has Flex's perfect body down on his knees in-front of him without too much persuasion. Flex is eager to serve his new sugar daddy and laps up Dallas' juicy cock before rolling over and letting Dallas play with his beautiful big butt. But as compliant as Flex may seem, Dallas does thing with Flex's hole so good that Flex just doesn't want it to end so he reaches through his legs, grabs hold of the business mans hanging tie, pulling it up between his butt cheeks like a leash manoeuvring Dallas' mouth in to rim that hole over and over. Flex holds that tie tight to bury Dallas' face deep in to the mounds of muscle and to get his tongue right round the rim of his perfect hole. Flex's Bumper is well and truly serviced but Dallas has a bit of extra poking around to do with his cock making sure that he regains his rightful place as the mighty dominating imposing man that he is.
DIEGO LAUZEN & WAGNER VITTORIA FUCK / DP (DOUBLE PENETRATE) FLEX XTREMMO
ROCCO STEELE FUCKS FLEX
TIM KRUGER FUCKS FLEX 2
HOT SHOT
SELFIE SEX
THE CAT'S AWAY
UNDER THE INFLUENCE
2 TO 1
PULL UP TO THE BUMPER
MANSERVANT
GORAN FUCKS FLEX
FIND THE MOLE – PART 2
MEN AT PLAY
TIM TALES
STAG HOMME
MEN.COM
Hot or Not? Let us know.
[Total:

105

Average:

4.1

]