Cute Blond William Higgins Czech Gay Porn Star, Filip Fialka
Known Aliases / aka:
Years Active: 2018 – 2019
WILLIAM HIGGINS INFO:
Model Name: Filip Fialka
Age: 18
Home Town: Klatovy
Height: 180cm/5'10"
Weight: 79kg/173.8lb
Foot Size: EU43/US8.7/UK8.2
Penis Size: 16cm/6.3″
Profession/Student of: IT
Hobbies: Computer gaming
Favorite Sports: Jogging
Active Sports: Swimming
Movie/Music/Sport Stars: Dominic West
Visited Countries: Italy
Want to Visit Countries: Switzerland
Dream of My Life: I do not know.
Zodiac Sign: Scorpio (October 23 – November 21)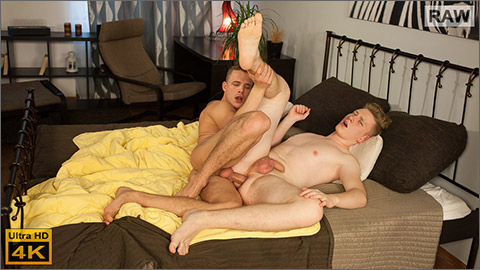 CHERRY BUSTING: FILIP FIALKA & HUGO ANTONIN
Our sexy newcomer Filip Fialka gets his cherry busted today, by Hugo Antonin. They sit on the bed as Hugo does a brief interview with Filip. Then Hugo begins to kiss Filip and feel his body. Then Hugo bares his chest and pushes his jeans down, releasing his rock hard cock. Filip leans over and takes that dick in his mouth, as Hugo encourages him to suck. He sucks on the big stiff cock and licks Hugo's balls too. Hugo's hand is on the back of Filip's head, encouraging him to suck as the dick fucks into his mouth. His head bobs on Hugo's throbbing cock. Then he licks the cock head and kisses the balls. Having shown that he can suck well Filip lays on the bed and soon his big cock is out for Hugo to suck. Hugo's hot mouth works hard on that big dick as he rubs the balls too. He licks up and down the fat shaft and sucks on the balls. Then he takes that fat cock in his mouth again and works hard on it. Then Hugo pulls Filiips jeans off and removes his own too. Filip lifts his legs in the air and Hugo is quick to slide his huge cock deep into the waiting hole. Hugo fucks that hot hole hard as Filip moans with each thrust of the cock. His ass takes the dick so well as with goes deep inside. AS he fucks hard into the ass Hugo rubs Filip's cock and balls too. He pulls out and shoves that cock back into the hot hole as Filip keeps up his moaning. Then Hugo lays on the bed for Filip to sit his sexy ass down on the big cock. That hot ass rides up and down on Hugo's cock as it thrusts up into the hole. Filip's cock bounces on his belly as he rides Hugo's dick. Then Filip is on his back again for more deep fucking. He wanks his own dick as Hugo continues to fuck him hard and fast. Filip keeps up his wanking until he shoots his cum onto his belly. He milks his cock dry as Hugo keeps up his fucking. Then Hugo pulls out and dumps his hot load too, shooting over Filip's cock and balls.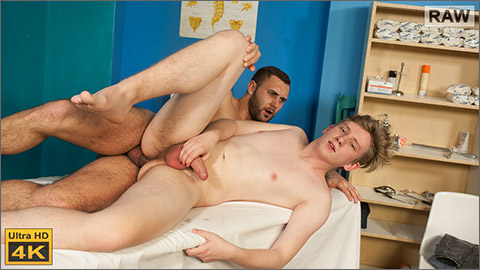 CZECH UP: DR GERASIM SPARTAK EXAMINES FILIP FIALKA
Dr Gerasim Spartak has a new patient,Filip Fialka. It seems that Filip has injured his groin in a soccer match. He opens his jeans so that Gerasim can exam him a little. Then Filip continues to strip, down to his underwear. He lays on the table and Gerasim begins the feel his thighs. Gerasim massages the thighs as Filip's underwear seems to bulge. His cock is hard as Gerasim reaches to the underwear as he massages. Seeing the hard cock Gerasim takes hold of it an wanks it a lttle. Then he leaves over to suck on the hard cock. His head bobs up and down on Filip's throbbing cock. Then Gerasim removes Filip's underwear and returns to sucking on his dick. His mouth wraps tight around the fat cock as he sucks it. Gerasim then gets naked too and that reveals his rock hard dick as well. He climbs over Fliip so they can 69. They suck each other as Gerasim kneels over him. Then Gerasim moves up on his knees and rubs his cock and balls over Filip's face. Filip climbs down from the table, bending over it, and presents his ass. He soon feels Gerasim's big cock sliding deep into his hot hole. Gerasim starts to fuck that sexy ass, with long, hard, strokes. His cock pounds the eager hole as Filip moans. Gerasim's dick really works deep into Filip's ass. Then they lay on the table, spooning as that big dick bangs into Filip's hole. He grabs his own cock and wanks hard as he takes Gerasim's dick in his ass. Filip continues to wank himself as Gerasim's cock works his hot hole. Filip keeps wanking and soon delivers his hot cum . Gerasim keeps fucking that sexy ass until he is ready to cum too. Then he pulls out and wanks the cum from his cock as well.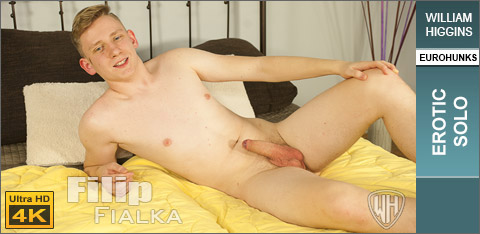 EROTIC SOLO: FILIP FIALKA
Filip Fialka is aged 20 and lives in Prague. He is a shop assistant who enjoys computers, swimming, running and football. He sits on the bed wearing just a tee shirt for his interview. This sexy bi guy looks very good and does a nice interview. Then, dressed, he lays back and starts to feel all over his body. He opens his pants and pulls out his cock and starts wanking. As he wanks his dick Filiip feels under his tee shirt to rub his chest. Withi his cock nice and hard he removes his pants and continues to rub his chest. He wanks his cock, rubbing a hand over the big head. Then the tee shirt is removed and Filip lifts his legs to show off his sexy ass and the tight hole. He wanks with one hand and rubs his ass with the other as his hot hole is fully exposed. Then he uses both hands to spread the ass cheeks even further apart, rubbing a finger over his hole. He slips a finger into his hole and fucks it gently.. Then Filip drops his legs and returns to wanking his cock. He wanks hard and soon delivers the hot cum on to his belly. Then he milks his cock dry and goes off to the shower to clean up.
CLICK HERE TO GO TO HIS WILLIAM HIGGINS BIO PAGE
CLICK HERE TO GO TO HIS STR8HELL BIO PAGE