Handsome Hung British Gay Porn Star, Felix Chase
Known Aliases:
Years Active: 2016 – 2017
UK HOT JOCKS INFO:
Location: Bathgate, Scotland
Age: 24
Height: 5′ 11″
Weight: 82kg
Hair: Dark Brown, Short
Eyes: Brown
Cock: 8″ uncut
Role: Top/Versatile
Orientation: Gay
Meet Felix Chase! Cheeky, cute, fresh faced and absolutely full of enthusiasm! This smiley scottish lad was dead excited to do some porn and BOY did he set out to impress! Trained as a dancer he's super flexible and isn't afraid to show it off, loves to model and has an instant rapport with the camera, which clearly loves him back! He's got a tight, tanned and banging toned body, including a perfect peach arse you could bounce a caber off. His adorable accent is very clear and obviously from the Scottish borders, just in between Glasgow and Edinburgh. He say's more top but open to bottoming in the future, though he's a bit of a screamer! Though he's a solid 8" around the other side, no one will complain if he doesn't bottom!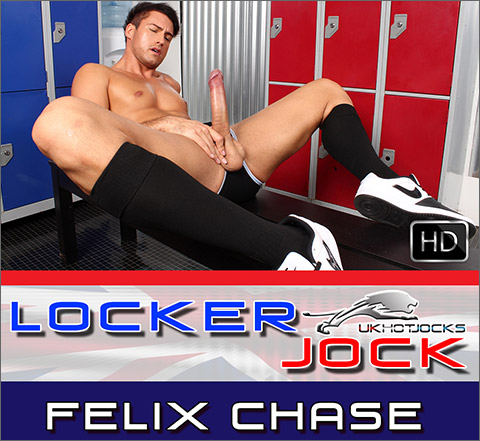 LOCKER JOCK: FELIX CHASE
Fun and young Felix Chase makes his gay porn debut here at UKHotJocks! Full of enthusiasm, swagger and smiles for days, we chat about how he's doing and his aspirations. Looks like he's planning to do a few more movies certainly! Silky smooth, tanned skin, mondo thick 8″ chick and a power bubble butt that doesn't quit. It's a shame he's more top, though he says he's open to doing some bottom scenes a little down his porn path. We welcome that Felix! Stripping out of his gear, wearing some black briefs that hug his peachy booty just right, he flexes and stretches for us… and I mean stretches! Getting one leg on top of our lockers, pulling the back of his pants down, that's quite a view! Getting hard and getting out, he thwacks out his big piece of prime Scottish meat. Laying back and beating off, pulling his cheeks apart, giving us a full show! He grabs a bottle of water and pours it over his body, tanned, glistening and a little sticky, the cool feeling is enough to push him to the brink!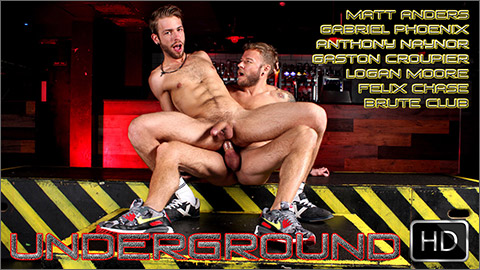 UNDERGROUND
In the underbelly of the city, where the horny boys play, is a place with no windows, no light or life. It's in the Underground where prying eyes can't reach, where inhibitions are left at ground level and the guys fuck long and hard. Atmospheric, dark and hot!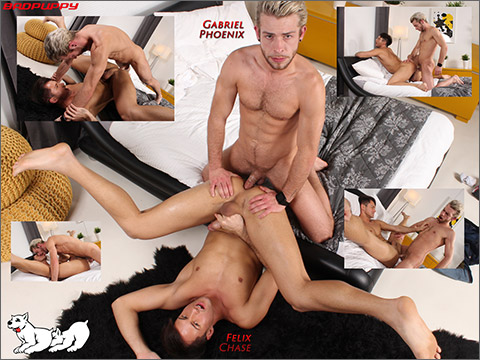 GABRIEL PHOENIX FUCKS FELIX CHASE
The passion was immediate between blond haired Gabriel Phoenix and hunky Felix Chase. After a brief interview these two young studs start kissing; and I mean, very deep kissing. As they take turns stripping each other out of their clothes Felix is the first to discover the extremely large piece of meat Gabriel was hiding in his underwear. Gabriel's cock springs to attention and Felix eagerly woofs it down. Felix's cock is rock hard in his underwear and Gabriel wants some of it. Felix lies back and enjoys a rather masterful blowjob as Gabriel works his cock and balls. Then, Gabriel grabs onto both of Felix's legs, shoves them back as far as he can push them and drives his cock deep into Felix's waiting hole. After some pretty deep pounding Gabriel rolls Felix over on the bed, drives his cock back in and starts fucking the shit out of Felix's ass once again. They move the ass pounding to the floor where Felix finally grabs his cock yelling that he's about to blow his load; and, that's exactly what he does. Cum goes everywhere. All over him, the ruh and the floor and all the while Gabriel keeps shoving his cock in and out of Felix's ass. Gabriel pulls out and begins shooting jizz all the way up and over Felix's head, coating him from face to crotch. Yes, I'd say these two young studs were really into each other.
UK HOT JOCKS
BADPUPPY
UK NAKED MEN
BLAKE MASON
CLICK HERE TO GO TO HIS UK HOT JOCKS DETAILS