Sexy Pocket Gaysian American Gay Porn Star, Eli Lewis
Years Active: 2014 – 2016
TWITTER @EliLewisXXX
PETER FEVER INFO:
Age: 22
Height: 5'7″
Measurements: Average
Astrological Sign: Capricorn/Aquarius
Fun Fact: Eli was the winner of the Pie-Hole Eating Contest at Folsom Street East in 2012
Eli Lewis is a good ol' southern boy from Austin, Texas who is now based in New York City. It is from the Big Apple that he works as a professional ballet dancer and budding porn star, who finds time in his busy schedule to cause a little trouble here and there. Whoever said you couldn't have your cake and eat it, too, clearly hasn't met this boy on fire!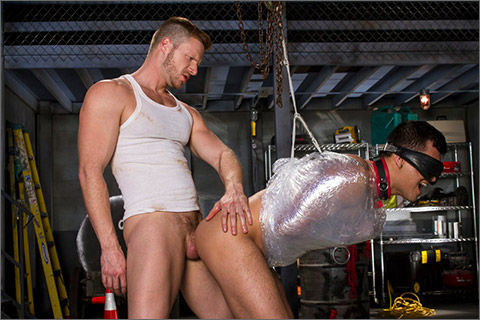 BONDAGE GARAGE: Brian Bonds & Eli Lewis
Brian Bonds rolls into the 'Bondage Garage' with junk in his trunk: specifically, Eli Lewis, who is lying naked, bound, gagged, and blindfolded in the back of Brian's SUV. Brian pulls Eli out of the car and has him stand in the center of the dark, dirty garage. Utilizing his rope skills, Brian connects Eli's wrist restraints to his collar. Grabbing an industrial-size roll of shrink wrap, Brian encircles Eli's entire body until his arms and torso are completely immobilized. A rope running down Eli's back, underneath the shrink wrap, enables Brian to suspend Eli from a pulley. Brian gets out his big, thick cock and feeds it to Eli, giving the captive sub the change to practice his oral skills. As a reward for a job well done, Brian sucks Eli's cock for a spell. Now focusing on Eli's ass, Brian spreads the firm cheeks and uses his tongue to lube up the tight hole. Picking up a massive industrial pipe wrench, Brian lubes up the handle and slides it into his submissive bottom. Eli moans as the huge tool disappears inside his stretched hole. Brian fucks Eli's ass with the handle, then makes Eli clean the handle with his tongue. Grabbing an oil can, Brian slicks up his fat cock and thrusts it in Eli's backdoor. Eli submits completely, shouting out, 'Thank you, sir!' in between moans as Brian relentlessly pounds away. Picking up speed, Brian pummels Eli's hole with his cock, and the intense penetration makes Eli cum. But Brian's not done with him yet…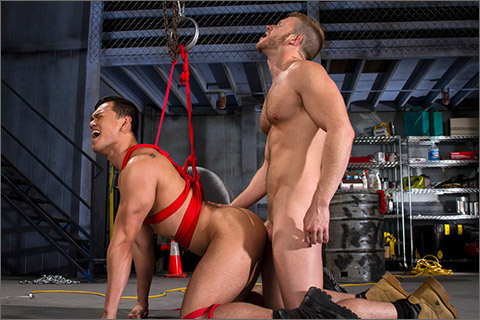 BONDAGE GARAGE: Brian Bonds & Eli Lewis
Dom top Brian Bonds releases his sub, Eli Lewis, from his cage for some intense, deep cocksucking. Eli's chest is bound in a red rope harness, which Brian attaches to a suspended ring. Gathering more rope, Brian connects Eli's legs to the ring and suspends him several feet above the ground. Brian lays on the ground underneath Eli and they 69 each other's cocks. Lowering Eli to the floor, Brian unties the ropes binding Eli's legs knot by knot. He raises the ring, forcing Eli to assume a doggy style position, and probes Eli's asshole with his tongue. Using an oil can, Brian applies lube and starts to fuck his sub. Eli jerks his cock as Brian thrusts deep inside the sub's tight hole. After having his fill, Brian lowers Eli to the floor once more and stomps Eli's ass with his leather work boots, leaving a red mark on Eli's ass cheeks.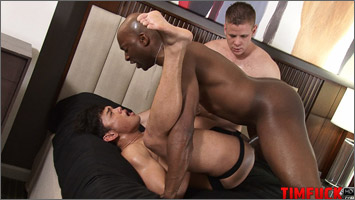 ELI LEWIS, TONY BISHOP & CHAMP ROBINSON
Now that self proclaimed "Pocket Gaysian" Eli Lewis has gone bareback, he's adding interracial breeding to his long list of talents. He's ecstatic to take on Champ Robinson's big black cock and Tony Bishop's tatted white dick. Champ and Tony spit-roast Eli, switching off to take turns impaling him at each hole, ultimately leaving him breathless and full of seed.
ROCCO STEELE & ELI LEWIS
ELI LEWIS, TONY BISHOP & CHAMP ROBINSON
ELI LEWIS & TOMMY DELUCA
RAGING STALLION
FISTING CENTRAL / FETISH FORCE
BAREBACK THAT HOLE
TREASURE ISLAND MEDIA
TREASURE ISLAND / TIM SUCK
TREASURE ISLAND / TIM FUCK