Young Handsome Willing MormonBoyz, Elder White
Known Aliases:
Years Active: 2015 – 2016
MORMONBOYZ INFO:
Elder White's cute face, winning smile and evident goodness have endeared him to the other missionaries and to the mission leaders alike, and everyone is sure he'll be an important church leader one day – maybe even a General Authority.
   He has been a full-time missionary for many months, and he is rising quickly through the ranks, earning the trust and love of his companions, and the respect of the mission leadership.
   But just when he thinks he has figured out Mormon missionary life, another Elder tells him that the church is secretly run by a group of men known as The Order.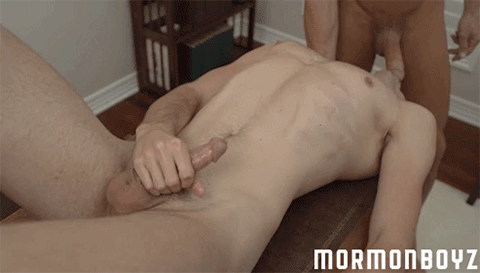 THE INITIATION OF ELDER WHITE:
CHAPTER 1 – THE CALLING
His companions have dropped countless, subtle invitation – leaving the bathroom door open while they shower, hanging out in the apartment in their underwear, sleeping naked.
   But Elder White has taken perverse pleasure in turning all of them down. Even the boys he's attracted to have never got so much as a hug out of him.
   But the moment he sees President Nelson, he knows that his show of being untouchable is about to end.
   The man is one solid chink of muscle. His square jaw, his big hands, his deep voice – everything about him makes the young missionary want to get on his knees and worship the man's cock.
   And when the President strips him naked, tosses him on the desk, and then slides his monster cock out of his pants, the boy can hardly believe his luck.
   He opens his virgin mouth and sucks greedily on the president's cock No matter how uncomfortable it is to have all that meat stuffed down his tender throat, he doesn't complain and he doesn't pull away.
   And when the man's giant cock is rock hard, the president flips the boy over and fucks hi tight hole with one of his sausage fingers. The sensation is painful but Elder White doesn't resist. He tries to relax and open up, knowing that the cock is going to be much more painful.
   And he's not wrong. Wetting the head of his cock with spit, the President teases his hole, which puckers up as the tip of his penis rubs against it.
   Then, gently, the man pushes his cock into the hole. But "gently" doesn't mean much with a cock that big. Elder White feels like it's going to rip him in half.
   He keeps thinking it must be all the way in, only to feel the man push it in an inch further.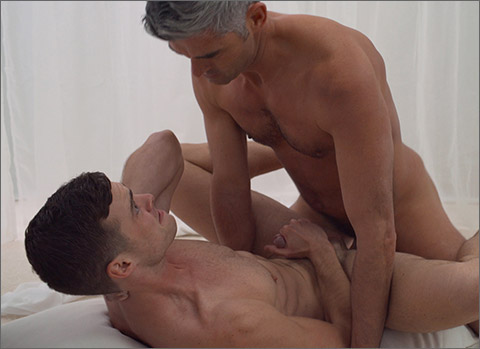 THE INITIATION OF ELDER WHITE:
CHAPTER 6 – INITIATION
As President Oaks licks Elder White's erect cock, the boy can't take his eyes off the man. He can see in the man's eyes just how badly he wants to get inside his hole, but Elder White waits patiently for him to make the first move.
   He knows who's in charge.
   And when Oaks flips him over and lubes his hole, Elder White can feel the mounting desire, from his balls to the tip of his cock, which is soaked in precum.
   Unable to resist any longer, he drops his head down on the stool and sticks a finger in his own butt. The relief is immediate, but Oaks pulls the boy's finger out — that hole his do whatever he wants with….

THE INITIATION OF ELDER WHITE:
CHAPTER 14 – THE SACRAMENT
Ever since Elder White had his first sexual feelings, he has always been attracted to older men.
   Every father figure in his life has been an object of his desire, especially the older men at church. Just the sight of those masculine priesthood leaders, dressed in suit and tie, would make him get an embarrassing erection.
   But it wasn't until he became a full-time missionary that he was able to put these desires into action.
   He would never have dared to act on his feelings, but luckily he had attracted the attention of The Order. His handsome face, fit body, sweet ass and submissive attitude made him a perfect candidate for recruitment.
   Without his having to take the initiative, he was called in for an inspection that ended with a monster cock in his virgin hole.
CLICK HERE TO GO TO HIS MORMONBOYZ DETAILS