Handsome Spanish Muscle Gay Porn Star, Edu Boxer
Known Aliases:
Years Active: 2005 – 2015
STATS / INFO:
Name: Edu Boxer
Hometown: Andaluzia
Current Residence: Madrid
Zodiac: Taurus
Hair: Dark Brown
Eyes: Green
Waist: 30
Legs: 32
Body Hair: Hairy
Endowment: 8.5
Cut/Uncut: uncut
Hobbies: swimming and horseback riding
Sports: weight training, bicycling, soccer, and gymnastics
Special Interests:
Personal Accomplishments:
Marital Status: Single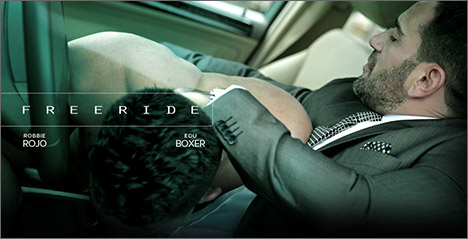 FREE RIDE
Newcomer Robbie Rojo has run away from home and is heading to the big city, with dreams of making it big. But its a long and cold journey, that's until a kind business man stops and offers him a ride. But things are not all that they seem as Edu soon makes its clear that he has other interests in the young 26 year old when he stops the car, unzips his suits trousers and takes out his hard dick. Robbie is faced with the choice of giving this man a blow job, or walking all the way back so it doesn't seem like he has much choice, after all how hard can it be? Robbie takes his dick, and gives him a long, deep blow job that has Edu moaning with pleasure and to his surprise he loves the taste this man's dick and the sticky pre-cum in his mouth. The heat between Edu and the boy steams up the car windows and he takes the young boy outside of the car where he can get his dirty way and give his cute, little ass a hard and deep Daddy-fucking. If he carries on this way, Im sure Robbie will make it very big in the city and on Menatplay!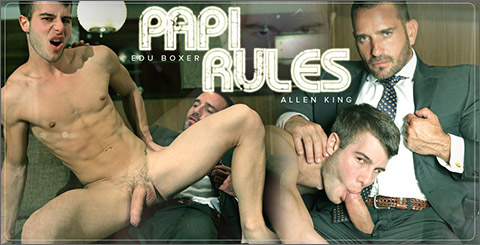 PAPI RULES
Who doesn't long for a bit of daddy loving. Especially if you're a young student and your best friend's dad is Hot Papi Edu Boxer. Allen King is lucky enough to be the Uni study partner of Edu's son and when Mr Boxer comes home from work to find Allen just chilling in the pool instead of studying he isn't impressed. After a bit of back chat from Allen, Edu decides to nip this in the bud and steps down into the pool in full suit and tie to retrieve the cocky youngster. Allen may not get any studying done but he sure works hard to abide by the rules of his best mates Dad! Lesson one – Be Receptive , learn to lay back and takeas much as your Papi want to give you as he rims you and deep fingers your tight young ass. Lesson two – Show Respect , get down on your knees and deep throat his hard cock, and of course Lesson three – Work Hard – bounce your ass up and down on you Daddies erect dick until you both splatter cum all over your hot sexy Papi!!

INDUCTED
Edu Boxer makes his big return to Menatplay this week, and he's coming back looking sexier than ever and ready to give our newest recruit Dani Robles his official Induction – Menatplay style. The strikingly handsome 29 year old looks exceptionally sharp in his brand new suit and is adamant about not getting it ruined, but that only gets Edu even more turned on and decided to give the young business man a bit of rough treatment – getting his ass well and truly pounded, his suit completely ruined and his tie covered in his hot spunk. And make sure you check out Dani's mouthwatering, squirting cumshot! What a debut for our latest MAP Stud!
CLICK HERE TO GO TO HIS MEN AT PLAY DETAILS

COLT 40
COLT 40 is a 160 page retrospective that highlights the beautiful men that were chosen to step in front of our cameras over the last four decades.

MEN MAGAZINE PRESENTS: COLT STUDIO
VIDEO ON-DEMAND: Edu Boxer @ AEBN SMUTJUNKIES THEATER
DVDs & ON-DEMAND: Edu Boxer @ TLA VIDEO