Titan Men / Raging Stallion American Gay Porn Star, Eddie Moreno
Known Aliases / aka: Ed Moreno
Years Active: 2000 – 2002
CATALINA INFO:
HEIGHT: 5′ 7″
WEIGHT: 160 pounds
COCK LENGTH: 8 inches
POSITION: Versatile Top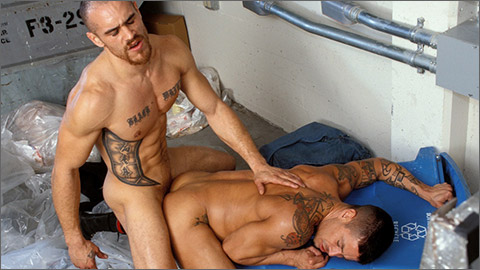 DETOUR: Dred Scott fucks Eddie Moreno
The city streets bring out the best, the worst and even rough boy Eddie Moreno, for an afternoon walk in the sun. Shirtless and pumped, he is instantly captivated by chiseled TitanMen exclusive Dred Scott. Scott detours down an alley after realizing that this dark hunk is in pursuit of him. From behind a trash bin, Scott grabs Moreno and throws him to the ground, pinning him with a foot on the neck, rendering him helpless. Moreno's curiosity plans have suddenly changed. A thoroughfare of erotically intense punching, kicking and spitting ensues, as Scott demands to know why he is following him. Moreno struggles to gain control but is overpowered. He confesses that it's Scott's cock he is after. From atop the trash bin for serious rimming, Scott then delivers heavy-duty fucking, pounding Moreno's willing ass however he chooses. Deviating from his walk could not have been better.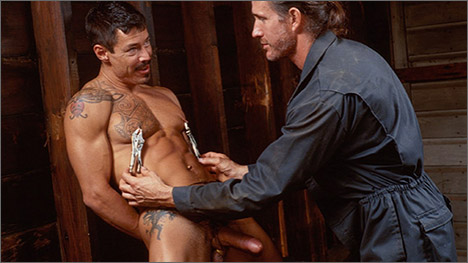 JACKED UP
The hard bodied guys in this car repair garage are always using their tools, but never seem to work on any cars. Tits get tuned up with pliers, balls are torqued with weighty wrenches, the tool chest is stuffed with dildos, and the work-pit and front office are jumpin' with a four way fuck-stack and a sweaty gangbang. Tattooed Eddie Moreno wants customer service delivered fast and hard, and long-haired garage boss Joe Hix makes sure he's wracked with pleasure and pain. When Steve Carlisle clocks in for work, foul-mouthed Joe piston fucks his hairy blond hole. Jack Simmons' big black crankshaft is a center of attention, and two studs in the john are pissing rivers everywhere but in the urinal. When a snotty kid with a cell phone stuck to his ear complains his car isn't ready, he's tied up to the pit rack and cooled off with a stinging shower of piss and abuse. It's just a normal workday for eight tool obsessed, super horny workmen, who keep their valves wide open and well lubed. Over two hours of twisted tool play and hot garage action.
TITAN MEN
RAGING STALLION
CATALINA VIDEO
HOT HOUSE
HOT HOUSE CLUB INFERNO
CLICK HERE TO GO TO HIS TITAN MEN DETAILS

MEN MAGAZINE PRESENTS: TITAN MEN

BLUEBOY  August 2003
ADAM GAY VIDEO: 400 PORN STARS
ADAM GAY VIDEO: XXX INTERVIEWS
RAGING STALLION: INKED 2010 WALL CALENDAR
VIDEO ON-DEMAND: Eddie Moreno @ AEBN SMUTJUNKIES THEATER