ChaosMen Amateur Gay Porn Guy, Eddie
Years Active: 2016
BRIAN OCKERT / CHAOS MEN INFO:
Start Age: 22
Debuted: January 25, 2016
Height: 6'4″
Weight: 220 lbs
Cock: 8″ Cut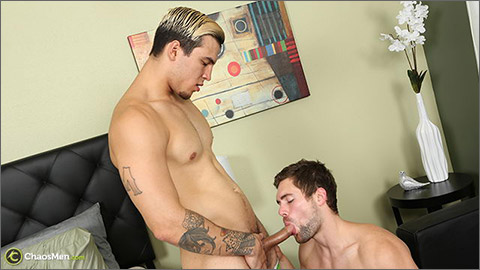 SERVICED: EDDIE & GRIFFIN
This video has TWO facials, ONE guy!
   How'd that happen? Watch now, or read on!
   I was really happy that Eddie came to the studio, eager to swap oral with a guy. I think it something he truly likes to do with a guy.
   And of course Griffin is the master cock sucker on the site. He was pleased to have 8-inches of cock sliding down his throat.
   Both guys are hungry for each other's cocks, trying their best to outdo their buddy. Griffin starts by giving him head, but Eddie swaps places and shows us his aggressive cock-sucking skills.
   Griffin has him sit down, so he can really attack his cock. He edges him in that position until Eddie wants to fuck his face. Griffin's favorite position! You can tell that Eddie really knows how to fuck based on the way he face-fuck Griffin!
   Eddie gets his ass rimmed while he sucks on Griffins cock.
   Eddie gives Griffin an amazing open-mouth facial. With cum dripping everywhere, he pulls Griffin's ankles up into the air, and Griffin dumps his own load on his face. See! Two facials, one guy! 😉
   Eddie's cock jumps around as Griffin's cum drops down on to his chin and mouth.
   Eddie kisses Griffin, combining both their loads in the sloppy kiss!

SOLO: EDDIE
Eddie is a friendly and outgoing type of guy.
   He said he used to be very shy, mainly because he was tall and skinny growing up. He finally started working out hard while eating right, which boosted his self-esteem. At 6'4″, the dude has 'presence'.
   Eddie was great to talk to and also was professional and detailed oriented. He seemed way more mature than 22. He is finishing up college in the computer arena, and says he is basically a computer geek at heart.
   He identifies as Bi, though it sounds like all he has done with guys is to swap oral. And thankfully it wasn't just a drunken moment; he has actively sought out a few hook-ups with guys.
   For doing the solo video, I put on a bi sex video, and that seemed to make him happy, though I did have to keep scrubbing the video to the part where the girl gets fucked, and guys swap oral. Definitely saw a pattern with the guy on guy cock-sucking.
   Eddie puts on a great show, and his 8″ cock spurts out a ton of cum!
CLICK HERE TO GO TO HIS CHAOSMEN BIO PAGE