Hung Uncut Daddy Gay Porn Star, Dylan Henri
Known Aliases:
Years Active: 2015 – 2016
TWITTER @DylanHenrixxx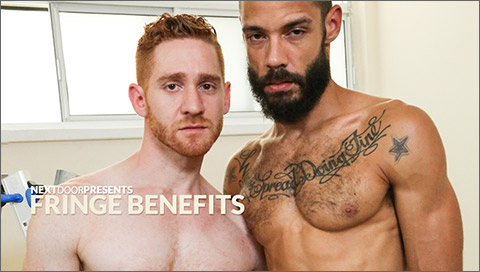 FRINGE BENEFITS
When Leander interviewed for the position with Dylan Henri's home restoration company, he got the feeling there might be more to the job than met the eye. Sure enough, he was right. It turns out Dylan Henri is a sex-hungry deviant who takes advantage of his employees…and Leander likes it!Mr. Henri routinely has showed up on job sites not only to make sure Leander isn't fucking around on his phone, but also to get his big cock sucked. On this occasion, Mr. Henri finds Leander slacking hard. That's call for some serious repercussion, so Mr. Henri has Leander get up on a ladder so his pants may be pulled down enough for Mr. Henri to access his ass. Once in position, Mr. Henri licks Leander's sweet, tight hole. Leander doesn't let on, but he actually enjoys this brand of punishment.Next, Mr. Henri sucks Leander's firm dick. Now THIS does feel good to Leander, very good. Then Leander returns the favor and slurps down his boss's fat cock for a while. From there, the two engage in some passionate, on-the-job kissing and nude, full-body grinding. This leads right into full-on, boss-on-employee ass fucking. That's right, Leander is happy to take Mr. Henri large, erect cock deep. And boy, Mr. Henri is really letting him have it! Maybe Leander will learn his lesson…if he wants to be pounded nice and hard, be sure to slack off!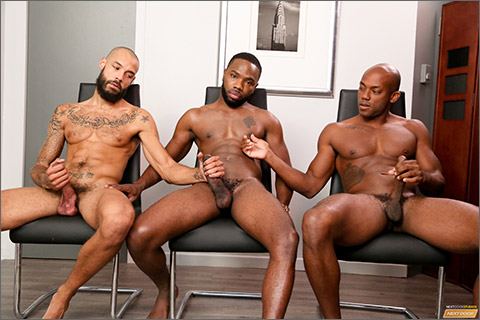 CARD DECKS & HARD DICKS
It's a good thing Osiris Blade is always prepared for friends to drop by. On this occasion, his good buddies, Bam Bam and Dylan Henri happened to show up to hang out. Osiris pulls out a deck of cards to inspire a playful attitude and enjoy some friendly, competitive fun.
   Instead of playing a boring game of Old Maid, Osiris tells the guys that the game they'll be playing is a version of the classic favorite, Strip Poker! Bam and Dylan don't protest, and before long, Bam is pulling his pants down to expose to his friends his large, swelling cock.
   When Bam loses yet again in the next round of play, he finds himself with Dylan's big dick in his mouth. That's the way it goes at Osiris's house…it's all or nothing!
   After Bam Bam gets a taste of both hard cocks, Osiris lets Dylan slide his fat erection in and out of his mouth, while Bam Bam works on Osiris's boner. From there, they switch things up so Dylan can enjoy a taste of Osiris's tight hole as Bam Bam gets a turn having his dick sucked.
   This gets the trio juiced up for some fucking, so, being a gracious host, Osiris takes Bam Bam's thick cock in his eager ass. Dylan and Bam Bam kiss passionately as Osiris takes a good banging. Then Dylan gets in there and slams that sweet hole for a while too.
   Bam Bam likes this and offers up his own tight pocket. Dylan takes advantage and pounds him for a while.
   This is an adventure that must be experienced to be believed! Join these three as their simple card game turns into a fuck fest where everyone gets a piece of ace!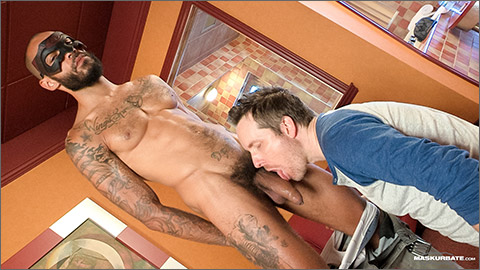 9 INCHER ENCOUNTER
Don't get me wrong, I like my models, but sometimes I just need a bad boy to play with. True story! During Pride weekend in Montreal, I saw this tall dude on Ste-Catherine street. Looked like a dangerous person to approach but I decided to smile at him . He looked at me as if he wanted to kill me so I stepped back. He said hello. I asked him if he was here for the Pride celebrations, he said no. At that moment I though to myself, ok you stupid, just move on. But as I was getting away he said, I need money to go back home to Toronto. So we started talking… Minutes later his huge 9 incher was down my throat. This unplanned scene was easy to edit simply because it happened as you'll see it. As real as it can get! Sit back, relax, and watch me enjoy every inches of this bad boy's muscular body. I didn't feel safe, but I had an amazing time!
NEXT DOOR STUDIOS
NEXT DOOR EBONY
MASKURBATE