William Higgins Czech Gay Porn Star, Dusan Polanek
Known Aliases / aka:
Years Active: 2016
WILLIAM HIGGINS INFO:
Dusan Polanek is from Prague. This hot straight guy is aged 22 and is a student. He enjoys motocross, fitness and swimming. He does look so good as he stands in tee shirt and sweatpants. Lifting the tee shirt shows us the promise of a hot body. With the tee shirt removed we confirm that Dusan has a very good chest. He lays on the sofa to show it off and then stands again for more posing. Removing the sweatpants he has his back to the camera, showing off his sexy ass. After some lovely poses with that ass on view he sits, with a big soft cock and his balls dangling between his thighs. That cock looks impressive as he works through some poses. Then it looks even better as he gets it rock hard and holds it up as he lays back on the sofa. He stands with the cock poking out in front of him. As he goes back to the sofa his legs are up and his hot, tight, hole is on view too. With the cock hard and the inviting hole on show he is just perfect. He kneels on the floor, back to camera, to give us more of that hot ass. Then he lays, on his belly, on the sofa, that really shows the beautiful shape of his sexy ass. He finishes sitting, arms around his knees, with the cock and balls poking through his thighs.
Model Name: Dusan Polanek
Age: 22
Home Town: Prague
Height: 179cm/5'10"
Weight: 77kg/169.4lb
Foot Size: EU43/US8.7/UK8.2
Penis Size: 16cm/6.3″
Profession/Student of: University student
Hobbies: Motocross
Favorite Sports: Swimming
Active Sports: Fitness
Movie/Music/Sport Stars: Carla Bruni
Visited Coutries: Italy
Want to Visit Coutries: RSA
Dream of My Life: I don't know.
Zodiac Sign: Sagittarius (November 22 – December 21)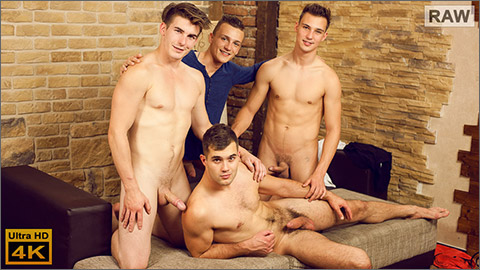 WANK PARTY 2016 #11 RAW
Wank Party 2016 #11 has Nikol Monak, Dusan Polanek, Milan Major and Adam Rezal. In this second part we see Nikol and Dusan rimming and playing with the holes of Milan and Adam. Then, in unison Nikol and Dusan slides their throbbing cocks deep into the waiting asses. Nikol fucks Milan as Dusan does the same to Adam. The fat dicks really stretch the holes as the guys moan. the fucking speeds up, going deep into each ass. Then Adam and Milan turn onto their backs and take more of the rock hard cock that has been pounding them. As Nikol slams his dick deep into his ass Milan wanks himself to a big creamy cumshot. The juice shoots all over his sexy body. Nikol keeps pounding his hole as Milan milks his cock dry. Dusan continues to pound Milan's ass as Nikol repositions Milan for more fucking. Nikol is soon ready to cum and pulls out to shoot a massive load of hot cum all over Milan's ass. Adam turns over onto his knees for Dusan to fuck him some more, grabbing his hair as he fucks. He pulls out and dumps his cum on Adam's hot hole, then pulls him up and kisses him. Then they all sit around Milan as he wanks himself.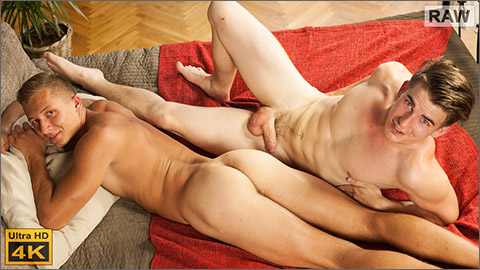 FULL CONTACT: DUSAN POLANEK & MIREK BELAN – SCREEN TEST RAW
Dusan Polanek was keen to do a screentest, so we paired him with Mirek Belan. Mirek interviews Dusan as they sit on the bed and then they kiss. Mirek then helps Dusan off with his tee shirt and they start to feel each other's bodies as they kiss again. Mirek then kisses over Dusan's body and opens his shorts to get access to his cock. The cock is swollen already as Mirek takes it in his mouth for sucking. Dusan pushes his shorts off to give better access to his hard cock. Mirek sucks on it, licking up and down the shaft too. He sucks the balls too and his head bobs up and down on the cock. Then Mirek gets his own cock out, it is already hard, and Dusan goes right down on it. He wraps his lips around the head and sucks, slapping it against his mouth too. Then they move to 69, both sucking and wanking on the stiff dicks. Dusan sits up and Mirek slides his hot ass down on the waiting cock. He rides up and down on Dusan's rock hard dick, going right down to the balls. Then he holds his ass still and Dusan fucks his dick up into the eager hole . Keeping the cock in his ass Mirek turns around on it, wanking his own stiff dick as Dusan fucks him. Then Mirek lays on the bed with Dusan's dick deep inside him, fucking him deep and hard. Mirek wanks himself as Dusan keeps up his deep fucking. Mirek's wanking speeds up, and his balls tighten as the cock shoots its' creamy load all over the place. Dusan continues to fuck that ass as Mirek milks his cock. His dick slams in and out of the ass until Dusan pulls out and shoots his hot cum all over Mirek's balls and his hole. They then kiss again to end a great screentest.
CLICK HERE TO GO TO HIS WILLIAM HIGGINS BIO PAGE