Blond Handsome Rock Hard American Gay Porn Star, Duncan
Known Aliases: Mike (Sean Cody), Dom (Fratmen)
Years Active: 2008 – 2015
ChaosMen Start Age: 28
Debut: October 29, 2014
Height: 5'9″
Weight: 165 lbs
Cock: 8″ Cut
Duncan brings his 'Grade A Meat' to Monster Cock Week, along with his 'A Game'!
   He has an amazing body, a hot sexy vibe, and a 7-8 inch cock that he literally can't wrap his hand completely around! I am sure there are longer cocks out there, but the dude has got some monstrous girth on him!
   Duncan did a solo about 6 years ago, and has changed much since then. He did a stint in the Navy, and now devotes his time to personal training. You can tell by his amazing body that he is his best client.
   He likes the Latinas, but his current girlfriend is Asian. Duncan didn't say it exactly, but I think he likes girls shorter than him, and gets off on seeing them suck his cock to it's full mass.
   His stroking action is hot to watch! As I said, his hand barely wraps around his cock, and he does this great twisty motion around the head and shaft, leaving much of his cock exposed. It is like he is stroking a flashlight handle that he can't quite seem to surround.
   Sorry about the pubes, but I got him here very last minute, wanting him for Monster Cock Week. Duncan normally is shaved bare, so that is the best we could do on short notice. Still, he actually looks awesome all hairless.
   Clearly he also shaves his ass hole. I find it 'interesting' when straight guys pay so much attention to their hole, but he doesn't seem to be interested in having his ass played with. He sure does a fine job showing it off to us though!
   The dude is made for video too. Strokes and plays to us viewers like a pro!
   Like I said, he is 'A Grade Premium Monster Meat'!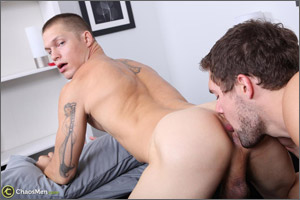 SERVICED: DUNCAN & GRIFFINRelease date: November 2, 2014
Griffin really has gotten a workout this week! Let's all take a moment and bow down to his cock sucking skills!
   And swallowing Duncan's cock was no easy task, though I think Griffin makes it look easy!
   I love how these guys are so impressed with his deep throat skills. Duncan is so fun to watch getting his cock sucked. He is so expressive!
   He rolls his eyes into the back of his head, then he throws his head back in ecstasy, and basically squirms through this his Servicing. He is so fun to watch. He is even fairly vocal!
   His ass is perfect, and with it all shaved-up, you can see his perfect hole. Griffin gets it all slick and rims his hole like a pro.
   One of Griffin's best skills is throat fucking, so Duncan gets up right and fucks the heck out of his throat. His fat cock distends his throat and you can see it go all the way down.
   And talk about a perfect cum shot! With the exception of one massive spasm that overshoot a foot, Duncan drops his load down Griffin's throat.
   Then hearing Duncan to tell him to "Suck all that cum out" of his cock, will make you bust your own load!
   HOT!
   and others
   CLICK HERE TO GO TO CHAOSMEN BIO PAGE ON THIS PERFORMER