Randy Blue American Gay Porn Star, Duke Campbell
Known Aliases: Griffin @ Sean Cody
Years Active: 2013 – 2015
TWITTER @dukecampbellxxx
RANDY BLUE INFO:
If you are looking for some good old southern boy charm, then you have come to the right place. Duke Campbell is one huge piece of southern grade A prime beef. And he is not just ready to dip his toes into the world of gay porn. He is ready to do a fucking cannon ball in. He identifies as straight, but this this boy has a bunch of curiosities he wants to scratch. And wait until you see him get them itched. He has a beautiful dick, a gorgeous muscular gym physique and has learned that guys give better head, and that his dick gets really hard when he is getting fucked. I cannot wait for you to see this guy do some hot gay fucking in full HD hard core action.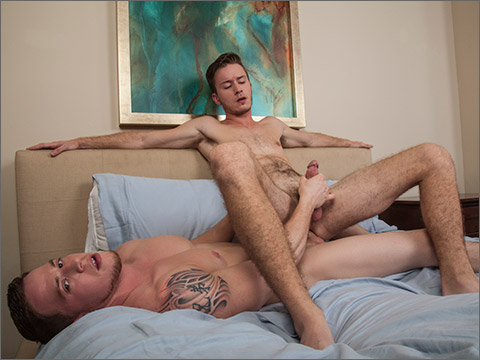 KYLE MOORE BEGS FOR MORE AS DUKE CAMPBELL BREEDS HIM
Kyle Moore found us on Instagram and told us he wanted to be a Randy Blue model. He did it on a whim and didn't think we would ever get in contact with him. But with his ripped twink body and gorgeous face, we called him back right away. I started to interview him before the scene and he was nervous as fuck. He told me that he got into porn just to prove to himself that he had what it takes. He hadn't met his scene partner yet, and finally brought Duke out. Duke is such a fucking tease. He knows that his muscled body is perfect and loves to show it off. He walks out like a peacock and introduces himself to Kyle. He then gets totally naked and jumps in the pool. Kyle is dumbstruck. He looks at me in awe and says, "He's going to fuck me?" I told him, "That's right. Go ahead and join him in the pool". Kyle eagerly stripped down and walked in after Duke. He started feeling up his muscles like a kid in a candy store. He asked Duke, "Do you mind that I'm touching you?" and Duke replied, "You can do whatever you want to me". That was all it took from this moment on these guys were inseparable. They kissed and made out and acted like fucking boyfriends. I finally brought the action in the bedroom and basically sat back and watched the love making unfold. It was sweet and passionate as they took turns sucking each other off. And finally they started to fuck. Duke usually is a bottom, but hell he took to topping like a champ. These two barebacked until finally Kyle was begging to get the cum fucked out of him. Duke plunged his raw dick inside of Kyle when they both finally got overwhelmed by how hot they were for each other. Kyle burst first shooting ribbons of cum all over himself. Duke followed next filling Kyle up with his hot cream. This is one hot debut for Kyle. Welcome to Randy Blue.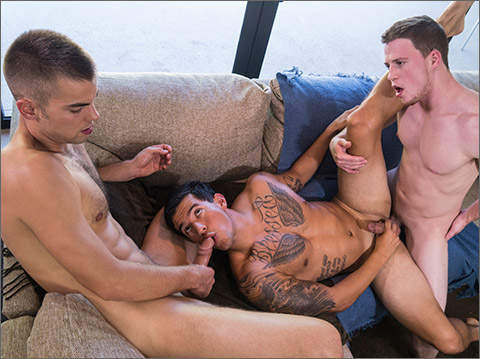 HALLOWEEN HANGOVER – PART 1 JOEY RICO GETS SPIT ROASTED BY MALACHI MARX AND DUKE CAMPBELL
Halloween is the funnest night to get laid. You put on your slutty construction guy outfit. Or your slutty boxer outfit. Or your slutty cowboy outfit and you wait to for the tail to come your way. But Halloween is also a night to party too hard. And sometimes too many shots and too many smokes and too much goofing around with the ouija board can leave you blacked out with blue balls. Joey Rico, Malachi Marx and Duke Campbell wake up the next morning the only ones left at the party and they need to get off. Luckily they are all willing to help each other out. They start to strip and immediately. Joey and Duke go down on Malachi sucking his big fat cock. Then Joey stands up to let Duke take two big dicks in his mouth at the same time. But Malachi wants to get some cock in his mouth, so they all drop to the floor and have a triangle blow job. Everyone is getting their cock sucked, and once Malachi starts playing with Joey's ass, he tells Duke how good it feels. They lift Joey up and start to eat it out. Joey begs to be fucked. And Duke, our usual bottom guy decides to give it to Joey nice and hard and raw. He shoves his raw dick in him and fucks Joey bareback while Joey sucks on Malachi's uncut cock. Finally Duke cream pies Joey with a fountain of cum. Be sure to stay tuned this Friday for the second part filled with some hot bareback fuck action here at Randy Blue.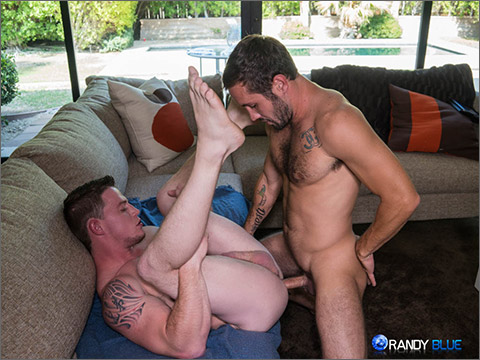 STRAIGHT SOUTHERN STUDS DUKE CAMPBELL AND JEFF POWERS BAREBACK
Duke Campbell and Jeff Powers are in hog heaven. They are relaxing at the pool and just chilling out. Jeff admitted to me that he was turned on and equally jealous of how jacked up Duke was. Duke has these massive pecs and arms and Jeff had no problem letting Duke know that he wanted to touch him. Since both of these boys are southern, they got along famously. Justu two straight dudes exploring their bisexual side with each other. After some making out in the pool. They took the heat inside. Duke sucked off Jeff and then they sixty nined each other. Then Jeff decided to rim Duke and warm up his hole. Duke laid back and begged for Jeff shove his dick inside of him. Jeff spit on his cock and shoved it inside. They barebacked missionary, cowboy and then doggie style. Finally Duke shot out a load of cum while he was getting fucked nice and hard. Then Jeff pulled out and came all over his back. He then wiped all the cum with his dick and shoved it back inside Duke. Duke loved getting cream pied. You are going to love this scene. Be sure to check out the free gay porn trailer in full HD of the bareback action here at Randy Blue.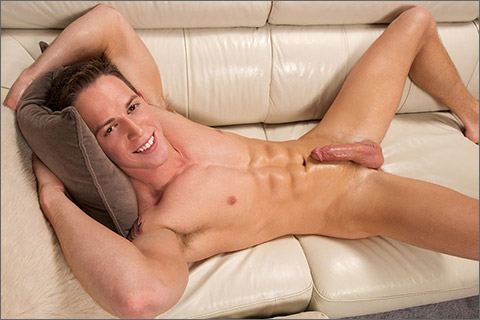 GRIFFIN
Griffin is 25 and he's from the deep, deep South!
   "You got bad country boys and good ones," he explained. "I think I'm a good one!"
   "Yeah, I think you are are," I said. "I bet you can take of yourself!"
   "If you dropped me off in the middle of nowhere I'd be alright!"
   He's a big, muscular guy but he does have one weakness: spiders!
   "I don't care how big they are," he said. "They freak me out!"
   Griffin has been working as a phlebotomist in a hospital for the last six years.
   "It can get crazy sometimes, working in the ER," he said. "But I love it!"
EZRA FINN AND DUKE CAMPBELL BAREBACK
STRAIGHT SOUTHERN STUDS DUKE CAMPBELL AND JEFF POWERS BAREBACK
DUKE CAMPBELL GETS A BARE BACK LOAD IN HIS ASS FROM ATTICUS FOX
STRAIGHT BOY DUKE CAMPBELL GETS A SURPRISE BLOW JOB IN HIS SOLO
GRIFFIN
CLICK HERE TO GO TO HIS RANDY BLUE DETAILS