Nasty Uncut British Gay Porn Star & Butt Slut, Drew Dixon
Known Aliases:
Years Active: 2016 – 2021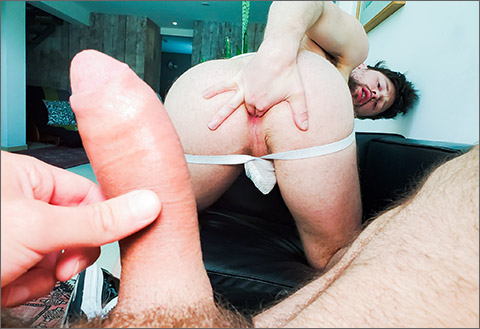 I'M A HUGE FAN
What would you do if your porn crush knocked on your door? Invite him in and treat the power bottom hoe to your meaty cock, of course!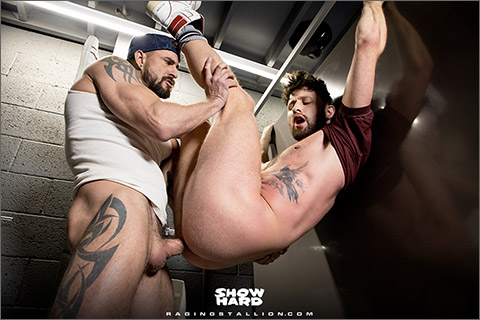 SHOW HARD: Sean Maygers fucks Drew Dixon
Drew Dixon is alone and cruising in a restroom when Sean Maygers shows up and stands at the urinal. As soon as they notice each other, Drew shows Sean his ass to let him know it's a go, and Sean turns around with a rock-hard dick. Drew likes what he sees and sinks to his knees to get a mouthful. After gagging on his restroom buddy's dick, Drew bends over to let Sean prepare his hole for a bareback pounding. After some tongue and finger action in front of the urinals, Drew bends over and Sean fills his hole with cock. After pounding him doggy-style, Sean lifts up Drew and drills his prostate. Sean doesn't ease up with the ruthless pounding on Drew's hole. While bent over, Sean keeps delivering cock until he can't hold back and shoots his load all over Drew's ass. Before Drew can get off, they hear someone pull up outside, so they grab their clothes, and scramble to get dressed and head out.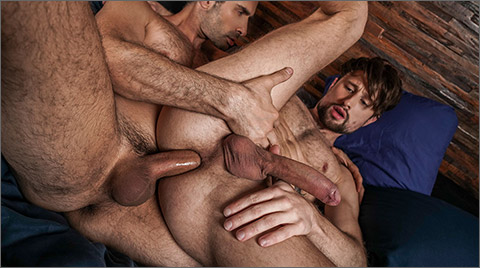 ROCK HARD & RAW: Drew Dixon Bottoms For Michael Lucas
The bigger the cock, the happier Drew Dixon is. Drew is always on the hunt for the next huge dick to plow his ass. Drew is ready and waiting when Michael Lucas is ready to slam him with his 10-inch uncut Russian cock!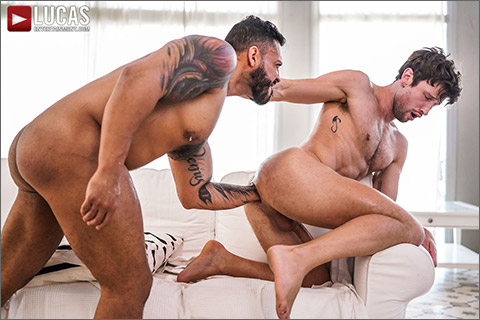 BAREBACKING BRENT EVERETT: Viktor Rom Destroys Drew Dixon's Ass
The more dominant and powerful a top guy is, the more Drew Dixon feels up to the challenge he's presented with. Viktor Rom and Drew Dixon are an ideal match, because Viktor loves pushing a bottom to his absolute limit, and Drew doesn't like surrendering to any limit. Viktor stretches and slams Drew's ass with his huge uncut cock, a butt plug, a dildo, and even his fist. The question is — how much can Drew take?

GAPE: Ashton Ducati, Drew Dixon
Brit bottom boy DREW DIXON loves the big black uncut cock and one look at ASHTON DUCATI's joint and the pig goes to town. Drew sucks Ashton's cock hard. Ashton rims Drew's hole. Then the fucking begins. "Oh fucking gape out that hole." Ducati fucks non-stop. Drew begs him to keep it in and fuck it hard and breed it deep and fuck him with his own cum.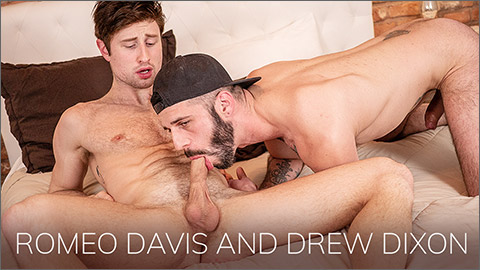 PAY HIM A VISIT: ROMEO DAVIS FUCKS DREW DIXON
When Romeo Davis gets a call from Atlas Grant to pay Drew Dixon a visit, the tall bearded stud immediately jumps at the chance. He is down for the challenge of getting into Drew's pants, all so Atlas can get dick elsewhere. Romeo teases and taunts Drew, who puts up a good fight, but soon caves. Naturally, he ends up with Romeo's big uncut dick in his mouth. Romeo takes great pleasure in watching Drew choke on his slab of meat before fucking his face and throat and then eventually returning the oral favor. Romeo soon gets Drew face down and eats out his ass with great relish. Romeo then lines up his enormous shaft with Drew's hole and works the entire length inside. Romeo proceeds to fuck Drew bareback, eventually fucking the cum out of the horny bottom before spraying a thick load all over Drew's face and into his mouth.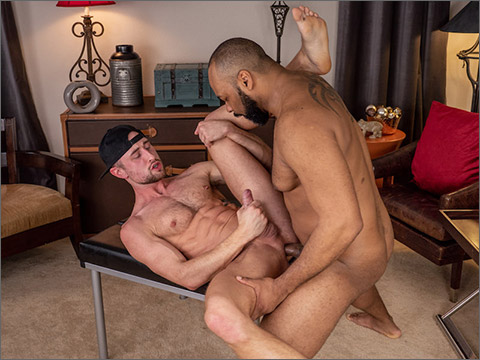 FUCKING DADDIES: Ray Diesel fucks Drew Dixon
British power bottom, Drew Dixon, needs dick and there's no one better to give him what he wants than monster hung American, Ray Diesel. Drew chows down on Ray's big brown monster cock, then Ray returns the favor. He sucks the skinny little white boy before once more offering up his own meaty tube steak. Ray sucks on the curved slab but he doesn't stop, not even when he gags, or when Ray fucks his face, and even then, it's only to come up for air. Soon tattooed Drew is on his knees, ass up. Ray makes a meal out of his hole, and the sex faces Drew makes are HOT! It's a rimming delight for those who like to eat ass or get tongue fucked. Ray primes Drew full of spit, getting him ready for that "Diesel Dick." Things get deliciously nasty as Ray continues with more dirty trash talk. And as he breaks past Drew's first, then his second, inner ring, the dirty talk gets even filthier! Drew doesn't just take Ray's raw cock. He doesn't just get fucked bareback. Drew gets his hungry hole STRETCHED and pounded, deep and hard, the way a whore should be taken. Ray fucks the cum out of the power bottom then splatters his own seed all over Drew. It's a copious load, one of the largest we've ever seen. For full effect, we suggest you pop in those earbuds and listen to these horny bastards rut like pigs!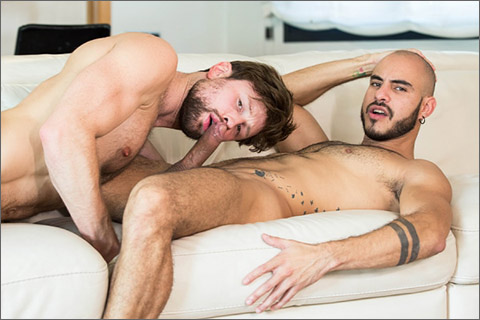 THE B&B ENCOUNTER – PART 2
Max Adonis' pounding by Patrick Dei left him wanting more and they agree to meet in the living room (sans girlfriend) in an hour. In the BNB's main living room, Patrick awaits naked and blindfolded. Host Drew Dixon finds him while room tossing. And even though he's waiting for Max, Patrick lets Drew do whatever he wants with him. Including, a sticky end to flip-flop fucking and ass rimming. What a great host!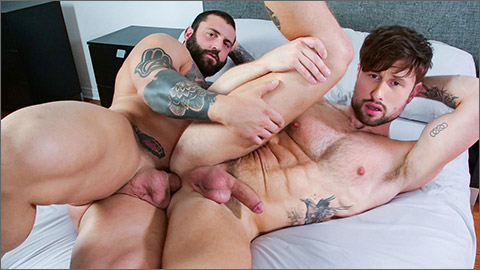 THE MASQULIN PROJECT: MARKUS KAGE
A project looking to find up and coming wannabe porn stars sends Drew Dixon off to meet new applicant Markus Kage. Will Markus have what it takes to become part of the Masqulin Project?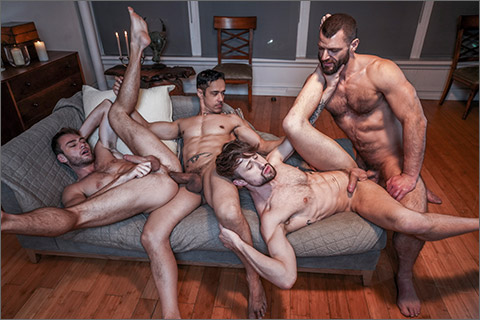 GENTLEMEN 26: LONG, HARD HOURS: Rafael Alencar, Drew Dixon, Max Adonis, Jake Morgan | Late-Night Meeting
The high-level executive from South America, Rafael Alencar, is powerful in the business world, and he uses that power over all of the beautiful young men who are working long and hard to make their way in the world. While conducting business in the United States, he has a late-night meeting at his Manhattan apartment with three beautiful young men trying to build a career in his white-collar empire. Drew Dixon, Jake Morgan, and Max Adonis all have heard the stories of Rafael, and they're fully prepared to strip off their clothes and take their sexuality to the extreme, including rough and raw double-penetration!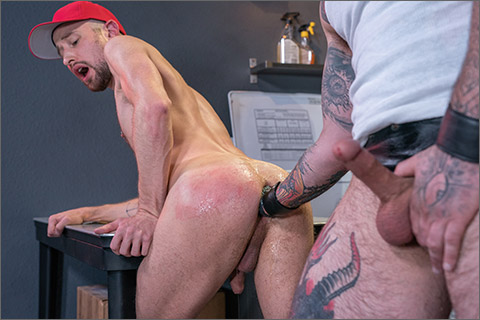 STRONG ARM LANDLORD: Teddy Bryce fucks & fists Drew Dixon
Drew Dixon is late on his rent again and landlord Teddy Bryce has had enough. Teddy catches up to Drew in the laundry room and Drew begs for just a few more days to be able to pay up! Until Drew can make rent, Teddy decides his tenant will have to give up his ass. Instantly, Teddy bends Drew over the washing machine and spreads his smooth ass cheeks apart to bury his tongue and beard into. The dominant landlord wants more and instructs Drew to get on his knees to service his cock thru his jock. Drew chokes and gags on his landlord's thick hog before bending over again to take some whips from a belt. With Drew's ass bright red from his spanking, Teddy gags him with a sock and slides his cock into Drew's crack. Drew is liking getting his hole reamed by cock, but the landlord has something bigger in mind. To the tenant's surprise, Teddy lubes up and slides his fist wrist deep into his overdue tenant's smooth hole. Drew wants to get his hole spread out even more and lays back to let Teddy bust his hole. Drew pushes out a bulging rosebud to show his landlord he's willing to pay his debt. As Teddy is reaching deep inside the stud, Drew oozes out a thick load onto his smooth abs.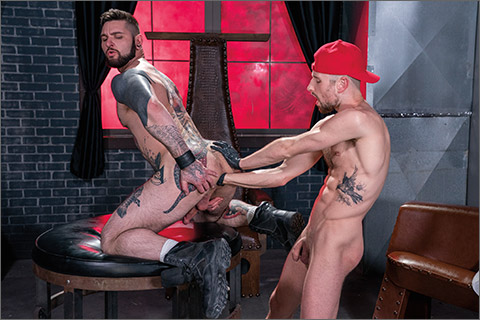 STRONG ARM LANDLORD: Drew Dixon fist-fucks Teddy Bryce
Just when Drew Dixon thinks he's done paying up for past due rent, Teddy Bryce coaxes him again. Drew begs to be let off because his ass can't take another stretching. Teddy laughs and responds, "you're not even close to being paid up! Get over here and suck my dick" Drew does as he's told if he wants to have a roof over his head. Teddy grabs the back of Drew's head and jams his cock all the way down his tenant's throat. After face-fucking Drew, Teddy lays back and tells Drew to eat out his manhole and get it prepped to be busted. Teddy is ready for more so Drew gloves up and heads straight in with his hefty fist directly into his landlord's eager asshole. It's Drew's first time fisting and he's loving every minute of gaping Teddy. Teddy makes sure Drew knows he's the one in control when he switches on his back and grabs Drew's fist to put it up his ass for Drew. Teddy shows Drew how it's done when he spreads his cheeks and pushes out his own blooming rosebud for Drew to tap. Drew kicks it up a notch fist punching Teddy with each hand until Teddy shoots his load that sprays all over the room.
AMATEUR GAY POV / THE BRO NETWORK
RAGING STALLION FETISH FORCE / FISTING CENTRAL
VIDEO ON-DEMAND: Drew Dixon @ AEBN SMUTJUNKIES THEATER
DVDs & ON-DEMAND: Drew Dixon @ TLA VIDEO