Next Door Studios American Gay Porn Star, Drake Riley
Known Aliases / aka:
Years Active: 2016

RED ASS LOBSTER
With sun-soaked buddy Mikey Junior just waking up by the pool, Drake Riley realizes he's going to be in quite a bit of pain as soon as the sunburn sets in, so Drake offers to rub aloe on Mikey's tender spots. Mikey can't believe how cooked he is, and Drake's soothing hands feel amazing as he rubs the lotion on Mikey's back and shoulders. Flipping him over onto his stomach, Drake rubs Mikey's legs, inching his hands up Mikey's thighs and resisting his temptation to squeeze Mikey's perfect looking bubble butt.
   As Mikey relaxes and closes his eyes, Drake gives in to his urges and takes a cursory swipe with his tongue of Mikey's ass. Mikey's eyes bulge as he looks over his shoulder, but Drake is indignant, asking Mikey if he wants him to stop. Mikey hesitates, unsure how to answer, and Drake takes that as confirmation to continue, diving in full bore and tonguing Mikey's hole. Mikey is not sure what feels better: the aloe soothing into his skin or Drake's tongue penetrating him, as he flips back over and kisses up Drake's body, making his way back down to Drake's hard dick. Mikey sucks him off and then begs Drake to finish the job, so Drake bends him over and gives Mikey every inch of his cock, plunging it in raw and filling Mikey up in a way he's never experienced. Drake takes it slow at first, but once he's confident that Mikey can handle it, he slowly increases his speed and ferocity, fucking Mikey hard in every which way. Mikey strokes himself off as Drake continues to pound away, shooting jizz across his chest as Drake pulls out. Drake tells Mikey he wants him to suck him off, and Mikey obliges, so Drake pulls out and fucks Mikey's mouth, shooting his load all over Mikey's sun-drenched face.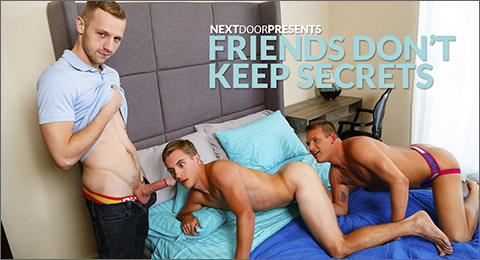 FRIENDS DON'T KEEP SECRETS
With roommates acting a little odd, Austin Everett makes his way to the store for some household goods. Before he leaves, a strange premonition tells him to double back inside for just a second, and when he does, he hears strange noises coming from upstairs. Quietly, he creeps to the bedroom door where he can make out the muted moans of Brandon Wilde and Drake Riley, mid-coitus, nary a care in the world. Spying on them, he watches Brandon sucking off Drake in Drake's bed, and they are so into it that they don't notice Austin peeking in on them. When Brandon finally does notice, an awkward silence ensues, and Drake and Brandon begin reeling for excuses. Austin tells them to shut up and asks why he wasn't invited. Confused, the two guys ask Austin if he wants to join, and they have their answer when Austin begins unzipping his pants.
   Brandon takes one look at Austin's huge cock and immediately regrets not asking him to join sooner, but he makes up for that transgression by deep throating the giant dick in front of him as Drake eats his ass from behind. Austin slides around to where Drake is operating and replaces Drake's tongue with his hard cock, plunging it deep inside Brandon, who takes every inch as Drake looks on. Fucking his roommate hard, Austin smacks Brandon on the ass as Brandon takes Drake's cock into his mouth, and they pig roast him like that before switching. Drake flips Brandon over onto his back and continues to pound his hole as Brandon strokes himself off, letting his load fly all over his stomach as Austin and Drake pull out and further douse him with a man made shower.
   Laying there, cum covered and exhausted, the three roommates make a pact to share and share alike from now on.
CLICK HERE TO GO TO HIS NEXT DOOR STUDIOS DETAILS