Ripped Hung Puerto Rican Lucas Entertainment Gay Porn Star, Drae Axtell
Known Aliases:
Years Active: 2015 – 2017
TWITTER @DraeAxtellXXX
LUCAS ENTERTAINMENT INFO:
Height: 5'10
Weight: 160 lbs
Dick Size: 8″
Position: Top
Lucas Entertainment's new exclusive model Drae Axtell is an all-in-one package: a stunning face, cut body, and one hell of a big Latin cock hanging between his legs. Drae is a beach bum in his spare time: he loves swimming in the ocean and tanning on the beach. In the bedroom Drae Axtell is a top: he's not shy asking his bottoms to suck his dick before bending them over and fucking them doggy style. After some friends let him know he has what it takes, Drae decided to give the porn industry a shot. With his looks and charisma, he will certainly go far in his adult career.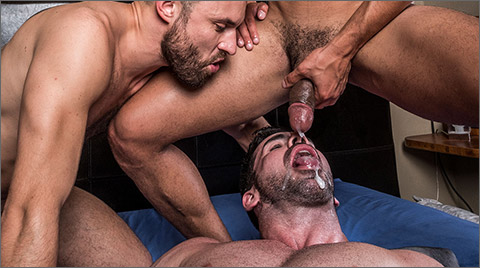 MUST SEED TV: DINE ASS-TY | Drae Axtell, James Castle, Billy Santoro
It's a parody, it's a reboot — it's a reboot-parody! It's Must Seed TV! Lubricant tycoon Drake Barrrington (Billy Santoro) has it all: a life of luxury, decadence, and debauchery. It's a life he's ready to share with his soon-to-be husband, Kristoffer Jennings (Drae Axtell) — but just when life seems to be a wet dream come true — ENTER ALEX! Alex Barrington (James Castle), Drake's hot-tempered first husband, returns to makes things as sticky and slippery as the lube magnate could imagine. These three are ready to dine on drama, and on ass.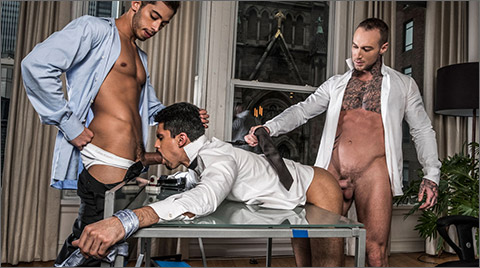 GENTLEMEN 20 – INSIDE TRADE: Dylan James And Drae Axtell Double Team Lee Santino
Lee Santino is doing exactly what you should never do while at work: watch porn at his desk. His colleagues Dylan James and Drae Axtell catch him — but hey, if Lee is horny at the office and if no one else is around, why not answer his needs' Rules and norms be damned: Dylan James and Drae Axtell both take turns on Lee Santino's mouth and ass.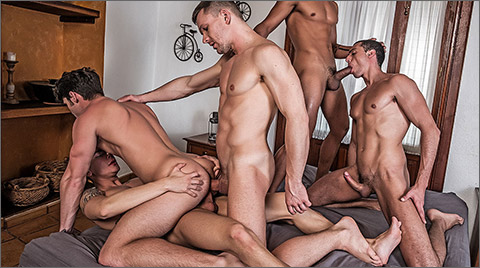 RAW DOUBLE PENETRATIONS 5: Devin Franco, Andrey Vic, Javi Velaro, Drae Axtell, Angel Cruz | Raw Double-Penetration
Devin Franco is the center of attention in this five-way raw fuck fest, and it's Andrey Vic who takes a special interest in pounding his ass bareback. Angel Cruz, Javi Velaro, and Drae Axtell get in on the fun — and it's guaranteed that you'll see plenty of thrusting asses and hard cocks ready to cum. But not before Andrey and Angel squeeze into Devin's ass and fuck him together. Two cocks in one butt is a lot of bottoming to handle, but Devin is up for it. He's one dependable bottom!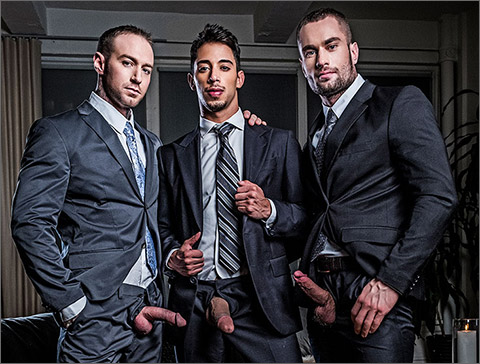 GENTLEMEN 19 – HARD AT WORK: Drae Axtel's Corporate Threesome With Dylan James And Stas Landon
Drae Axtell is determined to work his way up in New York City's corporate world, even if that means staying in the office after hours and answering the needs of his boss, Dylan James. Dylan shares Drae with his business partner, Stas Landon, so the subordinate has his work cut out for him if he's going to earn a promotion. Dylan James has a really big dick, and he's not nice with it when he's fucking a needy bottom bareback like Drae. Stas, meanwhile, aims to impress Dylan himself by eating out Dylan's ass like a fine delicacy!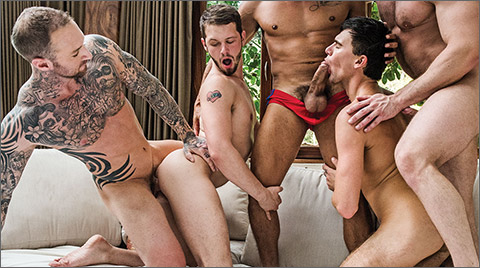 GREEDY HOLES: Dylan James And Drae Axtell Lead A Seven-Man Orgy
Dylan James, Drae Axtell, and Stas Landon spend some time bonding in the hot tub. They share their sexual stories while soaking in the water, but when it's time to get out the towels are missing. Koda Gold and Asher Devin were in charge of giving the other guys their towels, but they instead started making out and messing around with one another. When Dylan and his pals find them they don't hold back from joining the fun. Asher Devin and Koda Gold quickly turn into two bitch bottoms as Dylan, Drae, and Stas make use of their mouths and butts. They don't take it easy, either. These tops are alpha males and they're not shy about showing off their prowess. Later on Alejandro Castillo and Andrey Vic join the fun and continue using Koda and Asher as sex objects.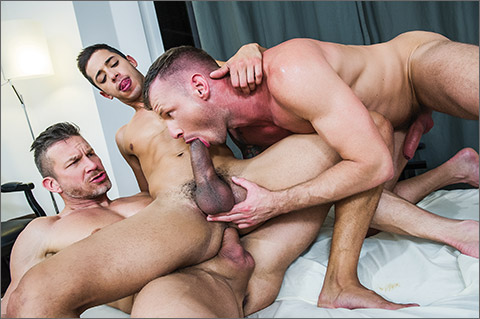 TOMAS BRAND AND LOGAN ROGUE SHARE DRAE AXTELL'S HUGE LATIN COCK
Who knows what was going through the minds of Tomas Brand and Logan Rogue when they saw Drae Axtell walking onto the set, other than the fact that they're going to pound a gorgeous Latin man. Judging by the smile on Drae's face, he's excited at the chance to switch back and forth between to daddies that are eager with their new paramour. This humble Lucas Entertainment writer has never seen Drae Axtell's monster cock in person, but judging from what's seen on camera it is ridiculously large. And when Tomas and Logan get a look at this kid's meat, both diligently take their time rotating turns servicing it. Check out 6:50 to see some awesome three-way oral sex action; Tomas is doing everything he can to swallow that cock up! Tomas soon after wants to induct Drae into the hall of men he's had take a ride on his cock, so the Latino hops on to stretch out his hole. But because Logan is a true sport, he happily jumps in the middle and takes Tomas and Drae at the same time!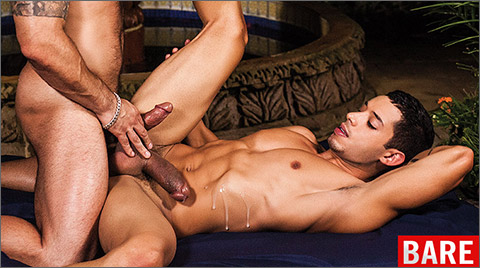 DRAE AXTELL TAKES A RAW FUCKING FROM PEDRO ANDREAS
Drae Axtell takes a raw fucking from Pedro Andreas! Drae is a model who has been building a presence on the web for a bit before this initial scene's debut, and when you finally see him in action you'll realize what all of the hype is about. Pedro Andreas is a seasoned performer, and he knows how to guide guys who are new to the industry. He takes it relatively easy on this newcomer, but even when he's trying to be a bit gentle Pedro still fucks hard after awhile. He gets into his men, as Drae Axtell can attest!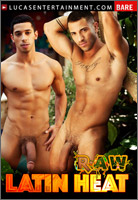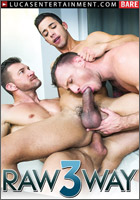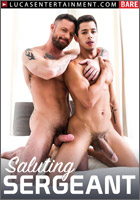 RAW LATIN HEAT
RAW 3 WAY
SALUTING SERGEANT
CLICK HERE TO GO TO HIS LUCAS ENTERTAINMENT DETAILS