Handsome Colt Studio Model Bodybuilder Champion, Doug Perry
Known Aliases: Darin Lannaghan
Years Active: 1996 – 1998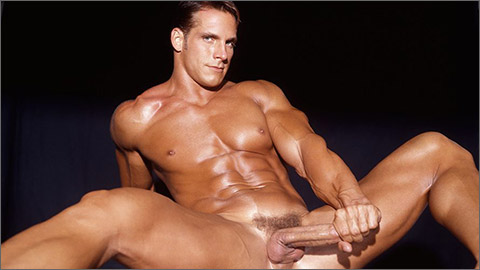 LEGENDARY BODIES – SERIES: DOUG PERRY
Doug shows off his thick muscled torso as he takes an extended walk along the public boardwalk. At the end of the long walk Doug finds himself at the edge of the wooded hills. He continues his long walk and explores the more secluded paths of the woods. Eventually he finds himself alone, far from other eyes and the busy world. He takes advantage of his seclusion and strips nude. Feeling at one with nature he finds a nice relaxing spot and oils up his hard muscled body. The late afternoon sun lights up his body as his muscles glisten in oil. He continues his exploration, wandering nude through fields of open woods, enjoying the naked freedom of the great outdoors.
CLICK HERE TO GO TO HIS COLT STUDIO DETAILS

COLT ANNIVERSARY ALBUM #6
The COLT Digital 35TH ANNIVERSARY ALBUM #2 – Superstars Part 2 – An extraordinary chronicle of highlights from COLT Studio's first thirty-five years, showcasing the highest standards of male erotica.
Featuring COLT Men Joe Reitano, Tony Ganz, Ken Ryker, Skyler Hawks, Tim Rawlins, Jason Braham, Terry Delong, Doug Perry, Dick Huge, Derek Kraus, Dusty Manning, Anthony Page, Thor Anders, Beau Wheeler, Dave Sansone and last, but not least COLT Man Superstar Pete Kuzak.

COLT 50th ANNIVERSARY ALBUM #1 – HUNG
An extraordinary chronicle of highlights from COLT Studio's last fifty years, showcasing the highest standards of COLT Men who have been generously endowed!
Since 1967 COLT Studio has been setting the standard in masculinity, showing the male physique in all its glory. The world has changed a lot over the last 50+ years, but what hasn't changed is COLT's dedication to providing you with the world's hottest and strongest men… COLT Men are what dreams are made of.
In celebration of our anniversary, we have put together a brand-new set of magazines dedicated to our rich history of COLT Men. Our 50th Anniversary Albums show you exactly what you want to see and much, much more. Our first installment, Part 1 – HUNG, brings into focus those men who are blessed in many ways… Including what's in-between their legs.
Whether you like em' hairy or smooth, bulging muscles or lean and ripped… We can all agree that there's nothing quite like a man with a huge bulge in their pants. These men have what it takes and they know exactly how to use it. Why not find out for yourself?
Follow along as we offer you the legendary equipment of legendary COLT Men, such as Terry DeLong, Vito Cesari, Big Bill Eld and Tom Chase along with newer editions to the COLT stable of studs such as Gage Weston, Kristian Alvarez, Buck Santiago and many more! ?

COLT CALENDAR MEN #10 – ICONS
COLT Calendar Men Digital Magazine #10 – Icons is a full-color digital compilation of major highlights from various COLT Calendars which features some of our most iconic COLT Men from over our 50+ years in PDF downloadable format.
Features COLT Men Icons: Steve Kelso, Mike West, Carl Hardwick, Jerry Haymes, Jeff Williams, Taylor Burbank, Tom Chase, Anthony Page, Tony Mills, Coe Faulkner, Mack Boudreau, Rudy Burke, Spike Maynard, Mark Christian, John Pruitt, Franco Arbruzzi, Andrew Berlin, Roger Hickock, JD Amos, Boyd Hanson, Peter Lovette, Dusty Manning, David Hubble, Link Benedict, Roger Price, Haus, Pete Kuzak, Kevin Ritchie, Gavin Blake, Martin Kramer, Terry DeLong, Alain Gerard, Joe Reitano, Fred Slinger, Dick Huge, Tony Lombardy, Dave Sansone, Doug Perry, Thor Anders, Rio Majeska, Rick Koch, Tony Ganz, Franco Corelli, Don Arden and Chet O'Roark.

COLT OLYMPUS 15: HERO
Once Rip COLT assembled the men and photos, the title "HERO" was perfect.
Doug Perry, Carl Hardwick, John Pruitt, Dave Sansone, Gavin Blake, Pete Kuzak, Boyd Hanson and Terry DeLong.

COLT SPURS 26: UNDERCOVER
This digital magazine edition under our SPURS line is dedicated to the garments that are hopelessly trying to hide what lies beneath… In PDF format just for you!
Featuring Dick Huge, Bill Flagstaff (AKA Ken Ryker), Tom Chase, JD Amos, Skip Piston, Tony Ward, Fred Slinger, Ray Dragon, Mike West, Beau Wheeler, Justin Kincaid, Terry DeLong, Pete Kuzak and Max Schling.

COLT STUDIO PRESENTS 19: FANTASY MEN
COLT STUDIO PRESENTS 20: MUSCLE IN LEATHER #1
COLT 40
COLT SPURS 25: WHOPPERS #2

COLT ANNUAL MAN DESK CALENDAR 1996
COLT ANNUAL MAN DESK CALENDAR 1997
COLT ANNUAL MAN CALENDAR 1998
COLT LEATHER CALENDAR 1998
COLT MEN CALENDAR 1998
COLT JIM FRENCH ANNUAL MAN CALENDAR 2000
COLT BUTT BEAUTIFUL CALENDAR 2002
COLT HUNKS WITHOUT SHIRTS 2002
COLT BUTT BEAUTIFUL CALENDAR 2003
COLT NAKED MUSCLE CALENDAR 2006
COLT MEN 2010 CALENDAR
COLT MEN 2011 CALENDAR
COLT NAKED MUSCLE PLAYING CARDS

COLT COLOR PRINTS: CP-350, CP-351
COLT B&W PRINTS: L-49
COLT SLIDE SET: S-357

MEN MAGAZINE PRESENTS: COLT STUDIO