Sexy American Power Bottom Latino Hunk, Dorian Ferro
Years Active: 2014 – 2018
TWITTER @dorianferro
CHAOS MEN / BRYAN OCKERT INFO:
Start Age: 27
Debuted: September 29, 2014
Height: 5'9″
Weight: 170 lbs
Cock: 7″ Uncut
Dorian Ferro is really interested in doing porn and getting into the industry. He seems pretty driven, so I suspect we will see him eventually at other studios. But he makes his first appearance at ChaosMen.
   He has done a lot of conventional modeling, but this was the first time doing anything adult. Well, maybe he has done naked photos, but the solo is his first foray into video.
   He is great in front of the camera, and loved showing-off for the still and video cameras. He says he tends to be orally-oriented, as well as an eager bottom, so we will put his hot Latin bubble-butt to work!
   For today he does a solo, and we start right away by showing-off his delicious ass. He takes his time showing it all off, then sits back to get his cock hard for us.
   He is uncut and really jerks his cock fast. Though, he is real good about slowing it down and letting us get a look at it. Same thing goes for his cum shot. He deliberately slowed down his pumping action so we could see his jizz catch some air!
   He will be back next week to swap some oral, so stay tuned!

ULTRA FAN: Brent Corrigan & Dominic Pacifico spit-roast Dorian Ferro; Dominic Pacifico fucks Brent Corrigan
After years of being stuck in a webcam rut, adult mega-star Brent Corrigan has promised something completely different to his fans, his beloved 'LoverBees.' Little does he know that a twisted Ultra Fan has incriminating evidence and will use it to hijack his live show. A series of orchestrated events go from mild to wild to downright dangerous, all in an attempt to bring Brent back into the business. Who is behind this master plan and how far will they go? The real question is how far will Brent go to save someone he loves? Find out in Ultra Fan!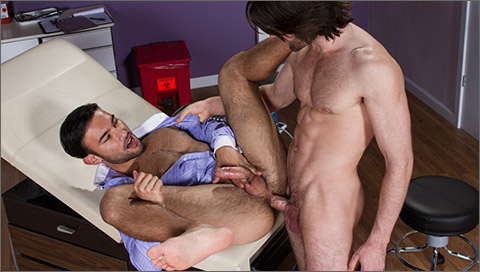 INTERNAL SPECIALISTS: Woody Fox fucks Dorian Ferro
Woody Fox visits Dr. Dorian Ferro for a routine physical so he can play baseball. 'What position do you play?' asks Dr. Ferro. 'I'm a pitcher,' Woody says with a wink and a smile, trying to get a rise out of his hot doctor who he expects plays for his 'team'. Seeing just how far he can push his doctor fantasy, he continues to see if Dr. Ferro will bite. When Dr. Ferro has Woody drop trou to cup his balls, Woody's cock swells and throbs. After a little fondling and hesitation, Dr. Ferro finally gives in to his desires. Eager to play catcher to Woody's pitch, Dr. Ferro wraps his lips around Woody's enormous cock. While stroking Woody's shaft with his left hand, Dr. Ferro uses his soft tongue and lips to stimulate the sensitive tip. Dropping trou, Dr. Ferro bends over the table: it's time for Woody to play doctor and examine Dr. Ferro's hole with his tongue. Parting Dr. Ferro's furry cheeks, Woody presses his wet mouth into the crack and spreads his saliva all around. Grabbing his rock hard cock, Woody thrusts himself into Dr. Ferro's hole, all the way down to the base. Dr. Ferro puts one leg up on the exam table to spread his cheeks and take Woody's dick as hard as possible. Flipping over to missionary position, Dr. Ferro's huge cock whips through the air in rhythm with Woody's pumping. With Woody still inside him, Dr. Ferro blows his wad, spurting thick, white cum everywhere. Woody pulls out and adds his own load to the puddles of cum streaking across Dr. Ferro's torso.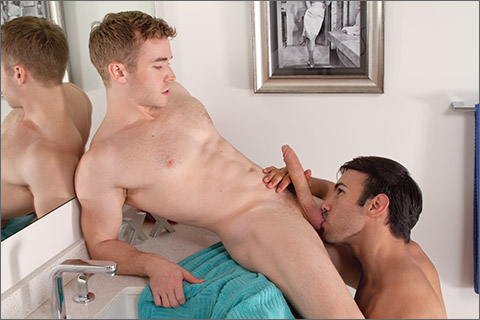 HEATED – PART ONE: Gabriel Cross fucks Dorian Ferro
On his way to shower, Gabriel Cross is intercepted by Dorian Ferro, who asks if he wants to get dirty. Gabriel responds by dropping his towel and latching onto Dorian's nipples. Gabriel hops on the sink for Dorian to suck him, leaning back to display chiseled abs, rock-hard nipples, a faint scattering of body hair and red pubes. Dorian sucks like a rock star, putting his head, neck, lips and hands all into action. He shakes his muscular shoulders and swivels his hips. Gabriel thanks him with his tongue, first in Dorian's mouth, then in Dorian's gorgeous, smooth bubble-ass. Dorian spreads his cheeks with pride, awaiting the cock that will replace Gabriel's tongue. He gets it standing, squeezing his cock and balls, clenching his hole around Gabriel's dick. They grab a chair and Dorian sits on Gabriel's fat rod. Dorian spins, facing one way, then another, until they can't contain their cum. Dorian shoots all over himself and Gabriel takes aim at Dorian's face, blowing his wad on Dorian's tongue.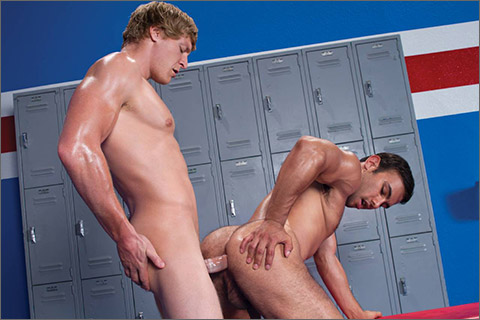 RIPPED: Gavin Waters fucks Dorian Ferro
Lean and athletic Gavin Waters is readily on his knees sucking the cock of sun-kissed stud Dorian Ferro. Gavin licks his way to a standing position, slurping up the salty perspiration that glistens on Dorian's chest. They slap their uncut cocks together, then Dorian stoops to give Gavin a brief but deep blow job before giving Gavin his ass. They move in tandem, in a repeating cycle of push-withdraw-push back. Dorian's hole moves in every direction as he bounces on Gavin's throbbing cock. Gavin's hefty load shoots across the room in rapid spurts. Dorian captures the last of them in his mouth as he shoots his own load onto his abs.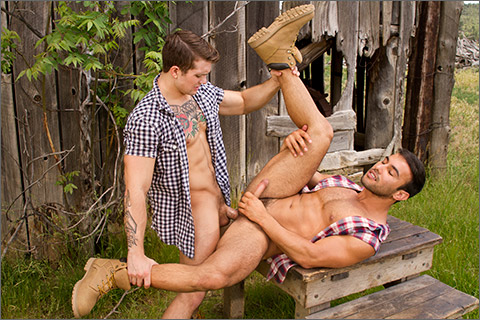 TOTAL EXPOSURE 1: Sebastian Kross fucks Dorian Ferro
A scenic hundred-year-old barn looks even better when hot studs Sebastian Kross and Dorian Ferro decide to get naked and fuck there. You can see Dorian's chiseled abs and Sebastian's etched cum gutters from across the meadow. Deep, wet kisses are a prelude to the blow job Sebastian gets, but Dorian's furry ass is so sensational, that's all Sebastian can think about. He can't wait another minute to get his tongue down there. As the clouds darken and thunder rumbles, Sebastian decides Dorian's hole is ready for his dick. Dorian's only wish is "fuck me hard." First he is on his back, legs spread, one hooked over Sebastian's shoulder. His broad chest and meaty pecs are dusted with hair, and Sebastian can't keep his hands away. The feeling is mutual. Dorian crunches forward, further defining his abs as he reaches for Sebastian's brightly inked torso. A sit fuck brings them to climax, with Dorian drilling his hips hard to make Sebastian's cock go as deep as it can. They kiss and let their loads fly, Dorian catching Sebastian's cum in his mouth and feeding it back to him.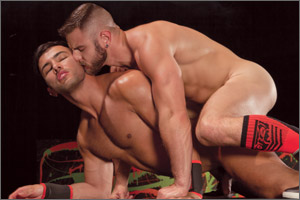 KROSSFIRE (FEG-006) SCENE 2: Nick Sterling fucks Dorian Ferro
Nick Sterling and Dorian Ferro press their muscular bodies together and pull each other closer. Their torsos glisten; each man has a dusting of chest hair and a hard on begging for release. Dorian's tongue travels south, tasting and teasing Nick's muscled chest, navel and nipples. Nick's abs flex and ripple with sensory overload. Dorian tears the pouch off Nick's jockstrap, exposing his huge cock. The jockstrap's built-in cock ring reinforces his rigid rod, propelling it into Dorian's mouth. Stripping off the last of his clothes, Dorian lays on a table and spreads his legs, and Nick buries his bone in Dorian's inviting ass, perfectly positioned for heavy fucking. Dorian tells Nick how good it feels as they roll over, and Nick pounds away into him, feeling the pressure of Dorian's hole on the underside of his cock. They explode together, basting their torsos with hot cum.
NAKEDSWORD
HOT HOUSE
CHAOS MEN
FALCON STUDIOS
CLICK HERE TO GO TO HIS CHAOSMEN BIO PAGE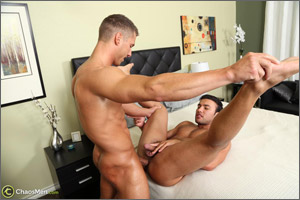 RAW: BRANNON & DORIAN FERRO
SERVICED: DORIAN FERRO & NATHAN
RAW: DORIAN FERRO & DUSTY
SERVICED: DORIAN FERRO & RANSOM
SOLO: DORIAN FERRO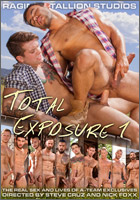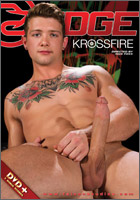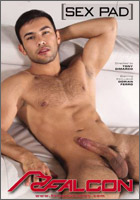 TOTAL EXPOSURE 1
KROSSFIRE (FEG-006)
SEX PAD (FVP-254)
VIDEO ON-DEMAND: Dorian Ferro @ AEBN SMUTJUNKIES THEATER
DVDs & ON-DEMAND: Dorian Ferro @ TLA VIDEO