Black Handsome SelfSucking Randy Blue Gay Porn Star, Dominic Santos
Years Active: 2014 – 2015
RANDY BLUE INFO:
Dominic Santos is half black, half italian and 100 percent hot. This boy has a lean and toned body and one of the biggest dicks you have ever seen at Randy Blue. This limber adonis told us that he had a few tricks up his sleeve. But we did not know just how amazingly talented this guy was. He told us he could suck his own dick. Now a lot of people say they can suck their own dick, but they end up looking very strained as they barely lick the tip of their head. This dude can fucking suck his own dick for real. When he said he would show us, it took him only a few seconds to get hard. He just had to think about having some hot public sex in the gym, and the next thing we knew he was hard as a rock and sucking down on his own shaft. He is a versatile performer and loves to top and bottom. He showed off his bottoming skills by turning over and finger fucking the hell out of himself. Finally he lays on his back, finger fucked his ass and sucked his dick until he came in his mouth. This man will blow you away. Literally. You are about to witness the start of a big gay porn star. I hope you are ready.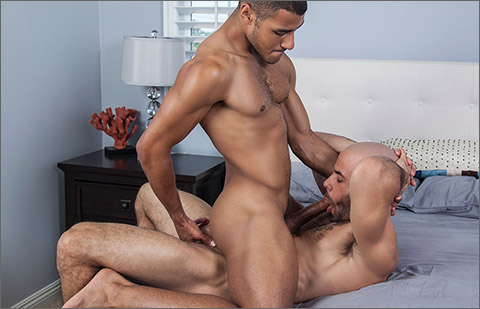 DOMINIC GETS BAREBACKED BY AUSTIN
We recently partnered up with Randy Blue, and the result was a couple of the hottest videos we've ever seen! This first one was with Austin and Dominic Santos- two dark skinned studs with massive cocks, who cleared had a thing for each other. Their sexual chemistry was like something we've never seen. Have you ever seen a guy getting his dick sucked… while he's also sucking it? What about a guy getting fucked raw while sucking his own dick? Both of those things happen in this video, plus MUCH more- including Austin blowing half of his load on Dominic's cock, and the other half finished inside him! Fucking awesome video!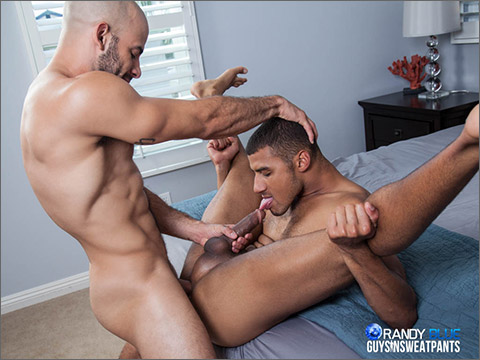 DOMINIC SANTOS GETS BAREBACKED BY SPECIAL GUEST STAR AUSTIN WILDE
I am so excited about this one. The man, the legend, Austin Wilde agreed to guest star in a scene for Randy Blue. Austin is so fucking hot with his muscled dark skin and big meaty dick. I knew I needed to find the perfect bottom for him. Dominic Santos was begging for me to send him a top with a giant dick that could pound him into submission. I asked Austin if he minded doing a scene with Dominic. Austin was more than happy too. Austin told me that on his site, he just likes to have sex. No plot, no theatrics. Just two men doing some hot gay fucking. So I agreed. I told him that he was a master at what he does, and I was just going to sit back and let the magic happen. And there is no other way to describe it than magic. These two nude men began to make out and real passion ignited between them. They were acting like they had been dating for ages. And then Austin fucked Dominic in almost every position imaginable. It was one of the easiest shoots I ever shot. And finally when Austin pulled out and nutted, Dominic begged for Austin to stick it back in. This is one of the hottest bareback scenes we have shot to date. Be sure to check out the free gay porn trailer at Randy Blue, and in a few weeks, you can also catch this scene at Guys In Sweatpants.
GUYS IN SWEATPANTS
RANDY BLUE
RANDY BLUE LIVE CHAT & PRIVATE SHOWS