American Military Active Duty Amateur, Dominic
Years Active: 2015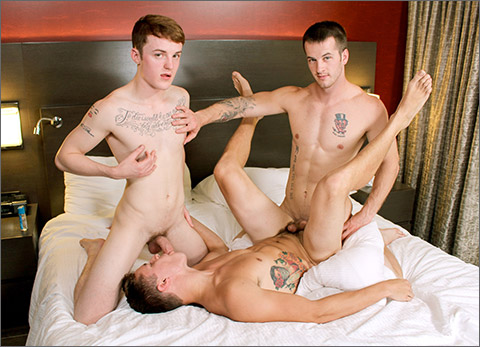 DOMINIC & SAWYER FUCK QUENTIN GAINZ
This one turned out to be a real blast, in more ways than one! It's Quentin, Dominic, and Sawyer, and not a one of 'em has ever been part of a threesome on camera. I loved this mix from the jump. The chemistry was definitely there in a big way, and it was an all-around sexy good time.
   This one started off with a ton of great energy, and the vibe continued through the rest of the time they spent together. This was just a good group that meshed well. I think Sawyer was the most dominant of these boys and definitely the most vocal. He kicked things into gear when he asked Dominic, 'can I borrow that mouth for a second?' And how could Dominic resist that wry little grin?! He didn't hesitate to wrap his lips around Sawyer hard cock.
   It wasn't long before Quentin was on all fours on the bed, presenting his ass to Dominic. Dom went in pretty slowly, like a young gentleman, and worked up his pace a bit. Only moments after sliding his dick in, Sawyer joined the party and made it a three-man FUCK train! What I enjoyed a lot was the contrast of skin tones while they all worked together. We had nicely tanned Sawyer bringing up the ol' caboose, then Dominic in the middle with his gorgeous fair skin, and Quentin, who's pretty much in between. For a fuck train, the action got pretty wild and hot, especially considering all three were popping their threesome-on-camera cherries. Wow, we're lucky to have these boys on our recruitment roster, that's for damn sure!The train led to Quentin on his back, taking Sawyer's cock in his ass and Dominic feeding Quentin a mouthful of boner. Then it was Sawyer's turn to get pounded, so he gave Dominic, our freshest soldier, fuck his eager ass.
   Join this three-man-squad as they have a great time making new friends, pushing their boundaries, and blasting hot loads, side-by-side!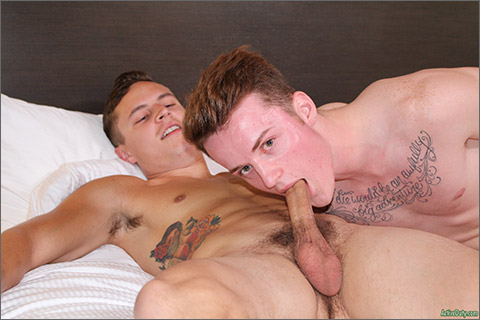 DOMINIC & SAWYER FLIP-FUCK
We have someone very special and near to my heart back with us. If you've been hanging around the Active Duty barracks for a little while now, you no doubt know of this delicious, eager soldier named Sawyer. He's hitched up this time with a brand new recruit, Dominic. If you know the level of sexy to which Sawyer naturally cranks the action, you know you're in for quite an extraordinary treat.
   Once Claude leaves, Sawyer suggests to Dominic that, 'it's too hot for those pants.' Dominic, obviously, knows exactly what Sawyer's after, and the two nervously laugh just a bit. It's not long after Sawyer's playful suggestion that Dominic has lips wrapped around Sawyer's fattening dick.
   From there, Sawyer climbs atop Dominic and we see Sawyer eeeeaaaase that dick into his hole ever so gently until it's ready for a good ol' ride. And boy does he enjoy it. I think this was really great for Dominic to see, especially being his first time here with us at Active Duty. Any first-time jitters melted away quickly once he saw how much fun Sawyer was having.
   As Sawyer takes Dominic's hard cock, Claude tells him not to worry, as he'll be pounding Dominic's ass very soon! And indeed he does. The boys switch so Sawyer can try out this fresh recruit's tender hole. He lets Dominic take a ride and BOY! For a first timer here at Active Duty, Dominic knows how to have a good time riding a nice cock! He ends up spraying his hot cum while Sawyer works his hole. This is a great, feel-good hook up that reminded me why I've missed Sawyer so much. And it's also got me anticipating the next time we'll get to see this cute, willing recruit, Dominic. He did an amazing job for his first time and I'm thinking he took some mental notes on Sawyer. Perhaps we'll see these two together again at some point. The chemistry was certainly right!