Hung Russian Gay Porn Star, Dmitry Osten
Years Active: 2015 – 2020
LUCAS ENTERTAINMENT INFO:
Height: 5'9
Weight: 143 pounds
Dick Size: 7.5″
Position: Bottom
Dmitry Osten is a hungry bottom that strongly believes two hard cocks ready to fuck him are better than one. He was born, raised, and currently lives in Russia, and his debut in "Rocco Steele's Breeding Party" fulfills his desire to be filmed with two daddy tops: Rocco Steele and Tomas Brand. Dmitry prefers the doggy-style position, and he has a strong fetish for men in the military. He acted on this by riding the cock of a Russian soldier on a military base. Despite that, he favorite place to have sex is at home in his apartment.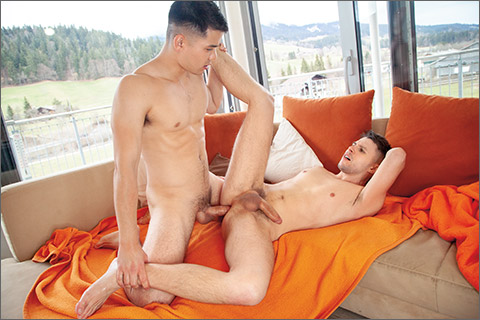 THE CHALET: Colton Reece fucks Dmitry Osten
While exploring around the village, Falcon Exclusive Colton Reece runs into a sexy couple that he hopes might be able to show him around and have a little three way fun. When only one of the two is up for it, Colton and Dmitry Osten head back to 'The Chalet' for something a little more private. Behind closed doors, clothes quickly come off and Dmitry can't wait to wrap his lips around Colton's girthy member. Colton shows no mercy with his throat reaming and Dmitry does his best satisfy his new friend. Wanting more, Dmitry bends over the couch to take Colton's raw meat deep in his crack. After stretching Dmitry's ass bareback, Colton sits back to let his new friend taste the cock that was just in his ass. Passionate cock sucker Dmitry gets into it and makes his way down to Colton's hole with his tongue. Colton returns the favor by tasting the hole he's been fucking before sliding back in and pounding Dmitry's prostate until Dmitry is covered in both of their loads.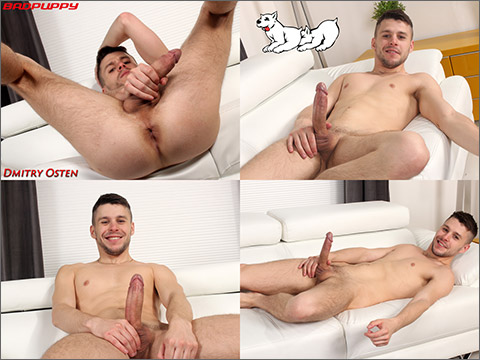 DMITRY OSTEN SOLO
Russian born Dmitry Osten is a tight, lean young man who apparently has quite the uniform fetish. His desires led him into a 3 way encounter on a military base with 2 soldiers and apparently he took turns bottoming and topping. Over the last 3 years Dmitry has been quite interested in sex and has been willing to try just about anything. Once his pants come off we understand exactly why this stud is so popular. He has a freaking horse dick; and, it is rock hard, waiting to be jacked. Dmitry takes matters in hand and starts pumping. As he jacks his cock with one hand the other hand's fingers are teasing away at his sweet tight asshole. As he moves between the sofa and the floor you can tell that Dmitry is getting into jacking his cock. His balls are full and tight. They barely move when he's jacking that dick of his. Lying back on the sofa, legs spread, Dmitry gets some relief as his cock spits thick globs of jizz all over his tummy and chest. He slowly scoops up the cum with his fingers and licks them clean before swallowing every drop.

STRAIGHT DREAMBOAT RICK JONAS FUCKS SEXY NEWCOMER DMITRY OSTEN BAREBACK
Rick Jonas has been around the Randy Blue block a few times. So it is great that a pro is here to break in the newcomer Dmitry Osten. Dmitry is gay compared to Rick being straight as an arrow. So Rick is not going to have to do a lot of convincing to get Dmitry to start fucking. Dmitry is a hot and sexy talkative Russian boy. He is super gay and loves to bottom. He starts the scene off by sucking Rick on the stair bannister. He gets super into it. And then he has Rick go down on him. Holy shit. This straight dude sucking off Dmitry sets him off. He starts dirty talking like crazy. You can tell he really wants to get fucked by Rick. Finally fick just lifts him up against the stairs and fucks him standing up! It's an incredibly demanding and hot position. They finally decide to take it easy and move to the bed. Then fuck every which way they can. The gay fucking of these two hot nude hunks climaxes when Dmitry busts all over Rick's just while riding him. Then he jumps off and lets Rick bust white hot cum in his mouth. This new Russian boy is a slut! And I like it!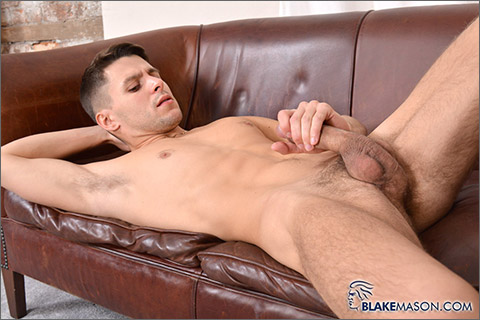 DMITRY OSTEN – A BIG UNCUT RUSSIAN DICK
The moment we saw 25 year old Dmitry we knew he was going to be one of the most popular performers we've seen for a while. He's so sexy he's bound to have thousands of fans in the coming months. We find out a little about life in Russia, being gay there, what he's been doing here and then it's time to get that big uncut cock out for some wanking! Stick around for more of this gorgeous young man!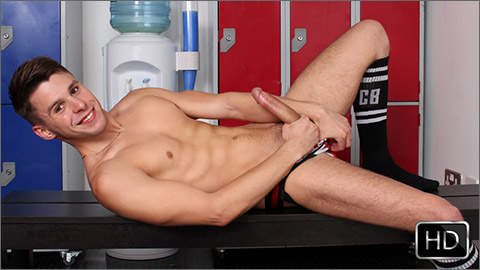 LOCKER JOCK: DMITRY OSTEN
Sexy and cute Dmitry in his white footie shorts and vest chats to us about his home town of Moscow. Despite what some people may think it's apparently a lovely and vibrant city, though extremely cold as you might expect! All thoughts of that are cast aside with this scorching hot boy. A smiley and lovely character but when he brings his sexual performance it's all about being a cheeky, cocky bad-boy… we like this side of Dmitry very much! Completely exuding sex appeal, teasing his hot smooth and muscular body, pinching his nipples and no bad boy is complete without plenty of crotch grabbing, although this is about to go much further, The vest goes back over his head and his shorts come down to reveal a sexy jock strap that can barely contain his surprisingly massive cock. He shows off his arse, sliding some fingers in there and pulling his cheeks apart. His jock framed butt perfectly toned and tanned. Turning around there is no hiding or even any point in trying to conceal his huge 9" dick poking out of the top. The jock comes off and he beats it hard, groaning all the way through, a filthy soundtrack to a sexy boys performance. He hits it hard and slaps his dick on his tight abs before shooting a thick and creamy load up them!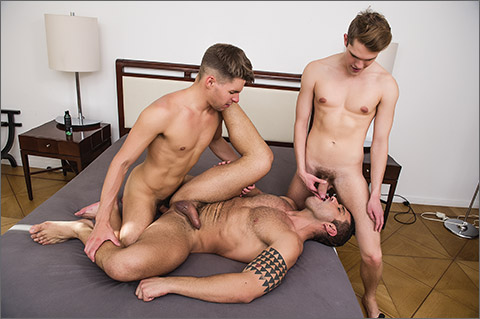 LETTERIO AMADEO TAKES TURNS ON DMITRY OSTEN AND TRISTAN ARCHER
Here's hoping that Letterio Amadeo is hungry for twink meet, because he has double the fresh face to bang in his threesome encounter. Dmitry Osten is the first on the menu, and I think you remember him: He's the cutie with the adorable face and the big uncut cock (it's fun to watch it flop against his stomach while he's taking cock on his back). And then the youthful Tristan Archer is invited over by Dmitry. You better believe me when I say these three are capable of getting into trouble with one another. And while Letterio takes his turn on both of them orally and anally, we also get the boys work some magic on the muscular daddy top. Don't be deceived: these two know how to fuck out a load!

DYLAN JAMES AND LOGAN ROGUE DOUBLE TEAM DMITRY OSTEN
Question: Can Dylan James, Logan Rogue, or Dmitry Osten ever get enough bareback action' Answer: Nope. In his first scene Dmitry Osten was with two guys (Tomas Brand and Rocco Steele) and in his second he finds himself in the same situation, but this time it's with Tomas' partner Logan and Dylan. It's apparent now that Dmitry is going to be a go-to needy bottom. That's not said lightly: check out 15:20 and see him get double-teamed bareback. But my favorite part personally' Look at 28:00 — Dylan pounds the hell out of Dmitry (this isn't porn hyperbole — he really does) until he shoots his raw load. Is there any wonder why Dylan James was signed as an exclusive after seeing him in action like that'
CLICK HERE TO GO TO HIS LUCAS ENTERTAINMENT DETAILS
VIDEO ON-DEMAND: Dmitry Osten @ AEBN SMUTJUNKIES THEATER
NOW STREAMING: Dmitry Osten @ NAKEDSWORD