American Hunk Gay Porn Star, Devin Franco
Years Active: 2016 – 2021
LUCAS ENTERTAINMENT INFO:
Height: 5′ 10″
Weight: 155 lbs
Dick Size: 8″
Position: Bottom
Devin Franco is known for his woodworking skills — and no, that's not a cheap sex joke. Devin builds custom furniture at his Albuquerque home as a profession. But he also spends a lot of time at the gym and is working toward a personal trainer certification. Devin believes in working hard, and that's one of the reasons why he performs in the adult industry — he's not going to waste any of his assets, and that includes his boyish good looks and beautiful good looks. More specifically, Devin enjoys an audience when he's with men: "I like to show off… I am a bit of an exhibitionist. I also love getting fucked and pleasing hot muscular guys." That's all good to hear, because we'll have the camera rolling when exactly that kind of action is going down!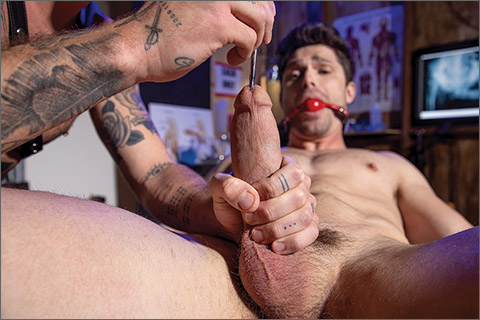 MANIACAL: Chris Damned punishes Devin Franco with sounding and ball torture
When Devin Franco arrives to 'Maniacal' Doctor Chris Damned's offices for treatment, the doc orders Devin to undress. The horny, psycho physician gets Devin laid back on the hospital bed in just his jock, so he can hike Devin's legs up and eat his ass. The rimjob is an easy distraction for Devin as Chris ties him down with rope and uses a penis pump to swell Devin's cock and an electro-shock wand to zap his balls. With Devin's cock growing and his cries intensifying, Chris uses a ball gag to muffle Devin's moans. Chris strokes Devin's cock and slaps his balls, demanding total submission. Chris continues elevating his dominance as he works a sounding rod down into Devin's throbbing cock, which Chris then strokes until all the kinky stimulation reaches a fevered pitch. The ecstasy gets so intense that Devin blasts off a thick load onto his abs.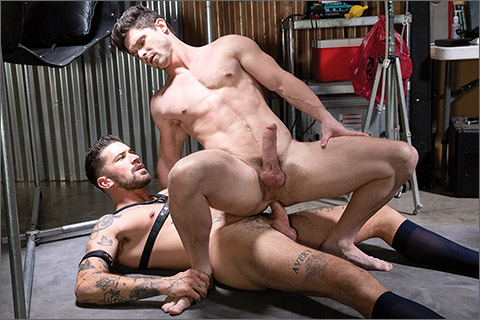 MANIACAL: Chris Damned punishes and fucks Devin Franco
'Maniacal' Doctor Chris Damned has Devin Franco chained up, and he's attached a number of clothes pins to Devin's torso. With the clothes pins pinching his body, Devin is writhing in pleasure in pain as Chris pulls strings attached to the clothes pins, ripping them from Devin's skin…one by one. Devin's rock hard from the sensations, and Chris grabs on to his dick. When he's ready to release Devin, Chris unchains him, gives his ass a quick lick for some lube, and shoves his cock deep up Devin's ass. All Devin can do is bear down and take the rough, bareback pounding Chris' cock is delivering. Switching positions, Chris lays down on the floor to let Devin bounce on his long dick. Eager to please, Devin takes the brutal pounding from the doctor until he's instructed to hop off and blow his load all over the doctor's cock. After Devin licks his own load off Chris' dick, the Doctor strokes one out.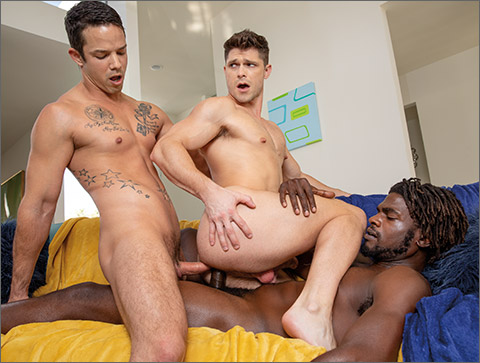 BORN TO PORN: Nic Sahara & Devin Trez DP Double Pentrate Devin Franco
As Devin Franco and Nic Sahara are about to get down to business, Devin Trez joins the duo to get his cock sucked by them both. Devin Trez savors every moment that Devin Franco and Nic spend, devouring his cock. After fucking their throats, Devin Trez lines up the studs to he can rim Nic's ass while Devin Franco gets his cock sucked. With Devin Franco's dick in his mouth, Nic takes Devin Trez's pole up his hole. When it's Devin Franco's turn to get stretched, he hops on top to ride Devin Trez's meat bareback while Nic licks them both from behind. Nic wants in on the fun and lines up to DP Devin Franco. After squeezing his cock into Devin Franco's tight ass, Nic switches it up to feed Devin Franco the cock that was just in his ass while Devin Trez keeps pounding away. Devin Franco keeps sucking Nic's cock until a fresh load is delivered right his mouth as he gets bred by Devin Trez. Franco sits back one last time to jerk his cock until his nuts while Devin Trez fingers his hole.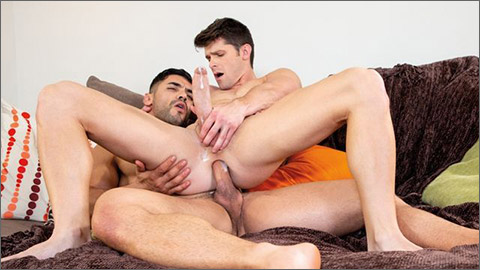 AFTERNOON AFFAIRS: Arad Winwin fucks Devin Franco
Devin Franco is on the couch inside watching porn and getting hard. With his cock in his hand, Devin notices Arad Winwin outside trimming the hedges. Arad loses his shirt while working under the sweltering sun, and Devin immediately invites Arad inside to join him. Arad steps inside and gets busy sucking the hunky homeowner's thick cock. Arad works his mouth up and down Devin's cock, taking the shaft down his throat until his lips meet Devin's balls. Making his way from his cock down to his hole, Arad pushes Devin's legs back and circles his hole with his tongue. Devin submits and lets the horny yard worker eat him out. When Arad has had his fill of Devin's hole in his mouth, he puts Devin on his knees and feeds him his massive rod. Devin takes every powerful thrust from Arad's cock as it hits the back of his throat. Wanting even more, Devin bends over and Arad slides his cock into Devin's willing ass. Switching positions, Devin gets on his back to take a deep, bareback pounding from Arad. When Devin wants to be in control, he climbs on top of Arad and bounces his bubbly muscle ass on Arad's thick meat. Devin riding his pole sends Arad over the edge, and he shoots his warm cum all over Devin's stretched out hole. With Arad's load covering his hole, Devin rides Arad's dick one last time, while Arad helps Devin out by stroking his rock-hard cock until Devin shoots a thick load all over Arad's sweaty abs. When it's all over, Devin hops off Arad's cock and licks up his own load from Arad's sweaty torso.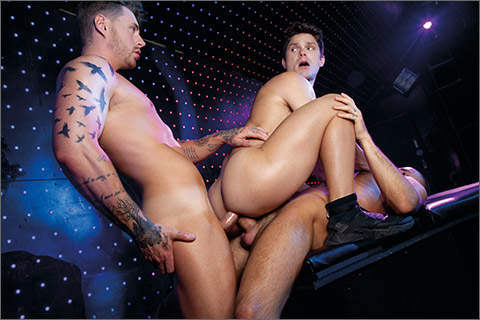 LONDON CALLING: Josh Moore & Jeffrey Lloyd DP Double-Penetration of Devin Franco
The neon lights are flashing and the music is pumping as Josh Moore and Devin Franco enjoy their last night out in London. Devin walks in, and immediately locks eyes with Josh, their pent-up attraction for each other can no longer be denied. The sparks fly and they look for a secluded spot to unleash their sexual tension. Josh pushes Devin up against a wall as they make out and get each other boned up. Josh is hard as a rock and wants a mouth around his throbbing dick. Devin is happy to oblige by getting on his knees and offering up his wet, drooling mouth to be used. While Devin is down on his knees, sexy club-goer Jeffrey Lloyd spots the two and starts rubbing his own cock to the hot and horny scene. Josh motions for Jeffrey to join in and Devin moves back and forth, servicing both cocks at the same time. Jeffrey needs more than just a mouth and bends Devin over to mount up and fuck his ass as Josh continues pounding Devin's face from the front. Taking a cock from both ends, Devin knows he's in spit roast heaven as his heartbeat matches the pumping music. As each man thrusts inside him from each end, Devin submits to his body's pleasure and takes everything they have to give. Josh and Jeffrey continue to fuck Devin with wild abandon, taking turns plugging his face and ass until they both cum all over the horny spent stud, coating his body with sticky, white cum.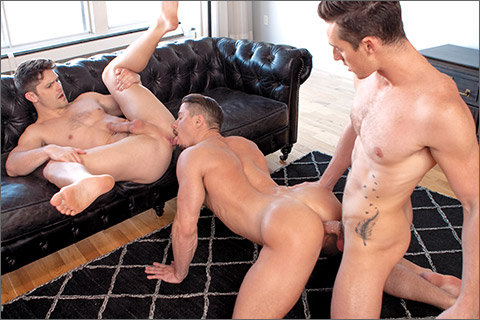 LOVE AND LUST IN MONTREAL: Skyy Knox & Steven Lee tag-team & fist-fuck Devin Franco
Devin Franco complains to Skyy Knox and Steven Lee about how he didn't get any Canadian cock while on his trip to Montreal. As a consolation prize, Skyy and Steven offer their cocks up to Devin, who happily accepts the offering. Skyy pulls down his pants as Devin and Steven pounce on his hard dick to suck it simultaneously. Not to be left out, Steven pulls out his hard dick as the other two take turns taking it in their mouths. All the sucking fun gets the guys naked and before you know it, everyone has a dick or an ass in their mouth. Devin is ready for more and as he makes out with Skyy, he bends over to let Steven fuck his ass. With a mouth on his dick and a cock up his hole, Devin is in heaven as Steven pumps him from behind. The three studs can't get enough of each other as they switch it up to take turns on Devin's eager ass. Skyy wants in on getting fucked and bends over to let Devin plunge inside of him. As Devin drives in and out of Skyy, Steven takes his place behind Devin and the studs form a chain with Devin getting pleasure from both the front and the back. Devin is ready to burst and with both Skyy and Steven fingering his hole, he lets go and bursts into Steven's open mouth. After Skyy and Steven lick up the load, Skyy cums on Devin's ass and balls. As he gobbles up his own jizz, Steven stands above Devin and blasts his creamy load down Devin's throat.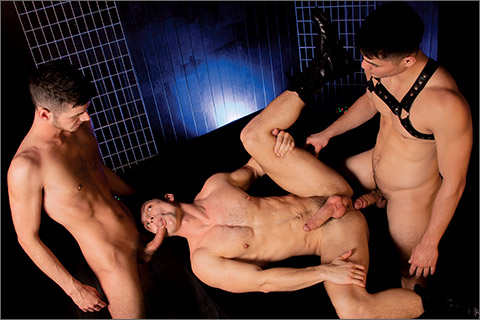 DIARY OF A SEX ADDICT: Colton Reece Christian Finch DP Double-Penetration Devin Franco
After a fucked-up day at work, Devin Franco heads to a sex club where he puts his ass in the air for any stranger to come along and pound his problems away. Christian Finch is the lucky man who discovers Devin face-down-ass-up and bends down to rim out his eager hole. As Christian is eating out Devin, Colton Reece joins the action with his massive hard-on and takes his place in front of Devin to fill his mouth with dick. Christian is ready to fuck and stands up to shove his dick into Devin's tight hole. Devin takes a stud from each end as he gets his ass and mouth pummeled at the same time. It's everything Devin thinks he wants until Colton decides it's time for him to enter Devin's ass. Colton and Christian change places with the studs taking their positions to keep both of Devin's holes filled at the same time. The horny hunks continue switching it up to give Devin the maximum amount of dick in every hole. Devin wants everything at once so Colton and Christian mount the stud at the same time to give him an epic double-penetration that leaves Devin gaping and begging for even more. Giving Devin what he desires is all that Colton and Christian have in mind and they take turns fucking the horny stud until they fill his mouth and ass with their loads. With his body writhing and his holes filled with cum, Devin erupts with his own load and covers himself with warm, thick jizz.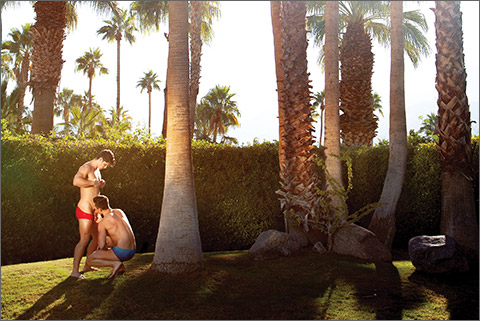 GET WET: Devin Franco & Steven Lee suck dick
Devin Franco and Steven Lee don't need a reason to get each other naked out by the pool. The two studs only take a minute to kiss before Devin drops to his knees to take Steven's big dick all the way down his throat. Devin loves having his face fucked and can't get enough as Steven leans against a palm tree and lets Devin have his way. Steven wants a taste of Devin's succulent hole and bends the stud over to tongue-fuck the horny stud. Steven's tongue feels amazing on Devin's asshole and it makes Devin even harder than before. With Devin throbbing hard, Steven opens wide to take the swollen member all in his mouth. Devin fucks Steven's face until he's ready to gag on more cock. Devin goes back down on Steven's stiff dick and gives him a sloppy, wet, stringy blowjob. Devin savors the tasty dick as glistening ropes of spit hang between his mouth and Steven's meat every time he comes up for air. Devin keeps working Steven's dick until it erupts on his face, giving the stud his reward for a job well done. With his face covered in jizz, Devin lets go and shoots his load in his hand and onto the grass as they come back together to finish off their meeting with one last kiss.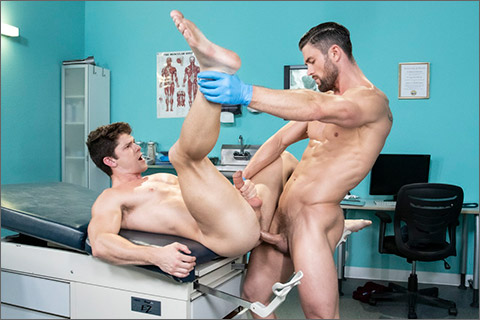 DIRTY DOCTOR: Ryan Rose fucks Devin Franco
At the doctor's office, Devin Franco is asked to change into a hospital gown by the RN and wait for the doc to see him. When Dr. Ryan Rose finally makes his way in, Devin explains that he's having stomach pains. Ryan begins his examination by placing pressure on different parts of Devin's body before asking him to lay back so he can take a closer look. With Devin's legs hoisted in the air, Ryan examines Devin's ass. When Ryan finds a blockage, he investigates and finds multiple toys lodged in Devin's tight ass. One by one, the doctor begins to pull out the toys stuck in Devin's ass. To confirm his insides are clear of any foreign bodies, Devin pushes out his rosebud to show the doc. It doesn't take long for Ryan to shed his scrubs and slide his raw cock fully into Devin's deep ass. The hunky patient lays back on the exam table and takes every powerful thrust that Ryan delivers. Going ass to mouth, Devin gets on all fours and sucks the sweaty doctors throbbing meat. Ryan makes sure Devin's hole doesn't get a break as he finger-fucks his patient while feeding him his rod. Devin makes Ryan's pole disappear down his throat before bending over and taking a bareback pounding from behind. In the heat of the moment, Devin gets on his back to take Ryan's powerful thrusts until the doc coats Devin's sore hole with his warm seed. Dr. Rose shoves his cock back in and tells Devin "cum for daddy" causing Devin to erupt with a thick blast of cum that lands all over his abs.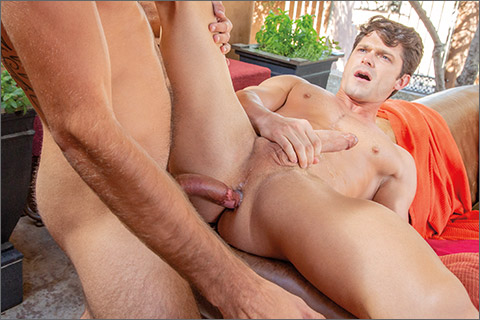 BAREBACK RANCH: Brian Adams fucks Devin Franco
Soaring over the rocky terrain below like a falcon in the wild, we land on Devin Franco and Brian Adams out on the trail with no one around, so they're goin' for it. Leaning against a rock in the sunshine with their work shirts open, pants around their ankles and their thick meat dangling, the pals feed their big ol' horse-cocks to each other with expert deep throat action before heading back to 'Bareback Ranch' for some real fun. There they strip down to their boots and get down to business, with Brian bending Devin over the arm of an overstuffed sofa and drilling him bareback. Devin can't get enough of Brian's dappled dick and backs into it with an eager unbridled power-bottom display that sends them both over the edge in a cum splattering climax.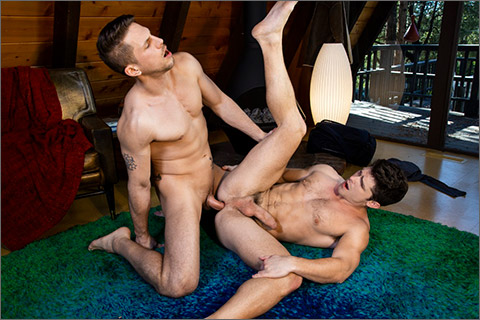 RIMROCK: Roman Todd fucks Devin Franco
Roman Todd surprises Devin Franco with a romantic cabin getaway in the woods for their anniversary. Once at the cabin, the couple drops their bags and kicks off their weekend by getting naked together. Devin can't keep his mouth off of Roman's tight body and drops down to suck his partner's thick dick. The taste of Roman's precum on his tongue makes Devin hard as a rock and Roman can't resist but to return the favor. After swapping some head, Roman is ready for more and bends Devin over to eat his man's ass. 'Oh yeah, get in there,' Devin demands as he enjoys Roman's experienced tongue rimming his hole. The sensation sends him over the edge and he gets down on all fours to receive Roman's thick, raw dick. Roman pounds Devin's ass from behind as Devin moans out begging for more. Roman picks up the pace, giving Devin everything he wants and needs. Switching things up, Devin flips over to take Roman for one last bareback go. The sight of Roman pounding his ass makes Devin ready to blow and Roman pulls out to watch Devin jizz all over himself. Roman quickly follows along by shooting his load all over Devin's sticky body. 'Stick it back in me,' Devin tells Roman. Roman does as he's told as they kiss and bask in the afterglow of a good pounding.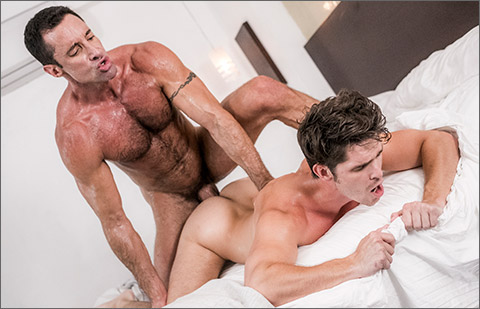 DADDY'S PLAY THING: Devin Franco Takes Nick Capra's Daddy Dick
Devin Franco always jumps at the chance to climb into bed with a hot daddy; Devin is upfront about loving the feeling of when a mature top man fills his ass with a throbbing hard cock. This past summer Devin hooked up with Tomas Brand, the King of All Muscle Daddies, and had an awesome time in the sack with him. Devin's next daddy conquest is Nick Capra, who gives Devin a massage before he starts sucking on his bottom boy's cock and licking his asshole. Devin Franco can really taking a pounding, and if you check out 21:40, Nick gets Devin on his back and shows him just how strong a muscle daddy he is!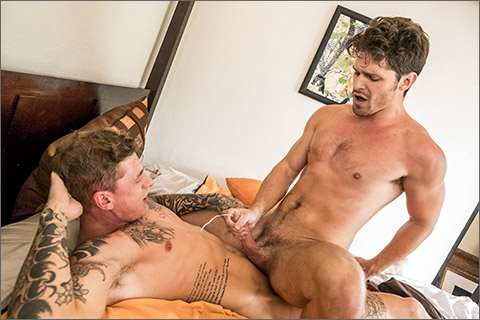 BAREBACK AUDITIONS 10 – RAW DOGGED: Geordie Jackson Pounds Devin Franco Raw
Geordie Jackson has proven himself to be a hot, European roughneck who treats his bottoms like objects instead of men — which is exactly why Devin Franco wanted a go in the sack with him. Georgie and Devin get to know each other in the first gay sex encounter of "Bareback Auditions 10: Raw-Dogged" before Devin gives in to Geordie's top cock. And rest assured: Devin takes Geordie's bareback cock long and deep in every position you can think of!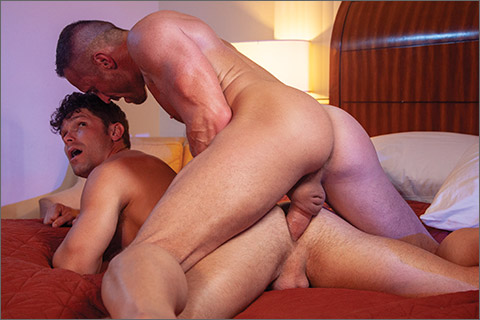 BEACH RATS OF LAUDERDALE: Myles Landon fucks Devin Franco
Devin Franco is chillin' by the beach when his buddies drop by looking for some weed. None of them have enough cash so they hatch a plan to roll a local hotel to get some money. After the heist, Devin is down on himself for being a part of the plan when he receives a text from muscle daddy Myles Landon and heads on over to his hotel for a quick fuck. The two meet with no words at all and Devin lies back on the bed while Myles pulls out his massive cock to cram it down Devin's eager throat. After face fucking the toned Beach Rat for a bit, Myles flips Devin over and shoves his tongue up his ass to open it up for his giant dick. When Myles has had enough of the foreplay, he slides his raw dick deep into Devin's ass. Devin receives the massive member with pleasure and loves the feeling of the muscle daddy pounding in and out of his hole. After throwing Devin around in multiple positions, Myles is ready to blow. He fucks Devin a little faster and drives a little deeper until he unleashes a geyser of cum all over Devin's hairy hole. Myles shoves his bare cock back inside and keeps Devin's ass full until Devin shoots a load of his own all over his muscled-up beach bod.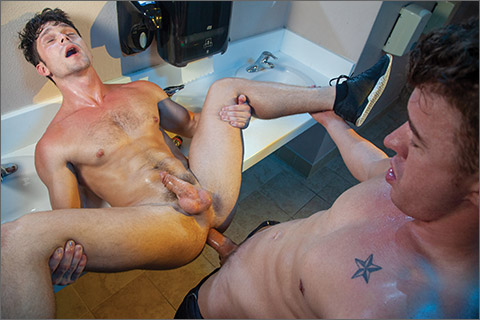 BEACH RATS OF LAUDERDALE: JJ Knight fucks Devin Franco
It's night time in Fort Lauderdale. Do you know where your weed is? Devin Franco has to admit to his buddies that he got rolled in the park and it doesn't go well. With nowhere to go and feeling deserted by his buddies, Devin rides his bike to a public restroom to drown his sorrows with big dick. When a car pulls up, he finds JJ Knight jacking off in the driver's seat. Devin can't resist JJ's monster cock and takes a quick taste. The two move the fun into the restroom where Devin continues his expert cock sucking. JJ plows Devin's face with his massive, raging hard-on and fingers his ass until both sweaty studs are ready to fuck. When JJ knows that Devin is ready for his raw, giant dick, he slips it deep into the panting hunk and quickly picks up the pace. As Devin gets slammed with his face in the sink, a random stranger enters and starts jacking off to the show. JJ wants to see the look on Devin's face as he's getting fucked bareback and gets the stud on his back. JJ keeps stretching Devin to the limits until he makes Devin blast a giant load all over himself. JJ takes his cue and dumps his load in Devin's ass before he fucks it deep inside. JJ isn't one to stick around after he's blown his load, and he takes off to let the stranger take over. Just as the random dude gets inside Devin's spent ass, the restroom door opens and suddenly Devin's fate is changed forever.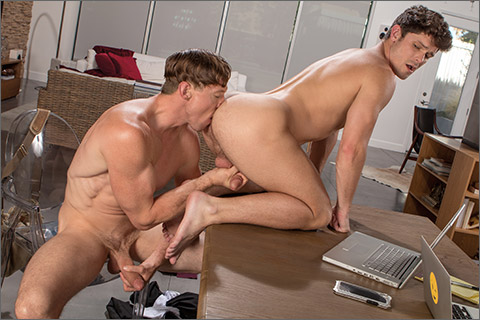 WORK IT UP: Pierce Paris fucks Devin Franco
Devin Franco arrives to the offices and accidentally walks in on Pierce Paris taking a leak. Embarrassed but amazed by Pierce's huge member at the same time, he sits at the conference table and waits for his co-worker to finish. Devin tries to apologize but notices Pierce didn't mind as his cock is bulging from his jeans. Devin smiles and unbuttons Pierce's pants to reveal his massive cock and wastes no time slurping it down. Devin makes sure not to forget to give attention to Pierce's balls as he continues with his oral fixation. Pierce decides it's time to open Devin up a little to prepare him for what's to cum and bends him over the table to lick his fuzzy hole. Devin loves each lap from Pierce's tongue and stays bent over to receive Pierce's hole-stretching dick. Devin takes the rough pounding like a champ welcoming each thrust from Pierce's giant cock with a load moan. Devin switches on his back and tweaks his nipples as Pierce gapes out his hole even more. To 'Work It Up' even more, Devin switches positions one last time to ride his fellow co-workers thick meat until he unloads all over Pierce's smooth abs. Getting covered in his co-worker's cum is enough to make Pierce launch his thick load into Devin's awaiting mouth.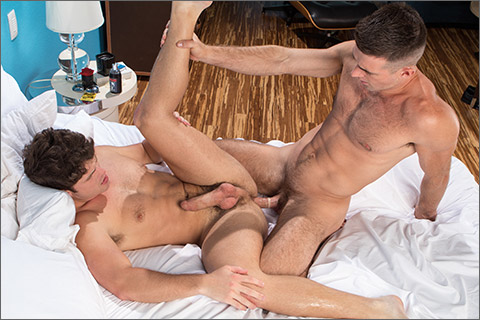 WORK IT UP: Woody Fox fucks Devin Franco
Woody Fox is closing up the office when he finds Devin Franco waiting for his ride to arrive. Woody offers to give Devin a ride home. The ride home instantly turns into Devin on his knees servicing his co-worker's huge, uncut cock as thanks for the lift. As Devin is gagging on his cock, Woody can't help but slip a couple fingers into Devin's scruffy hole. Woody asserts himself, throwing Devin down on the bed and heading straight for his hole with his mouth. Devin holds his legs up and spread wide to give Woody fool access to his ass, cock, balls and taint. After having a little more than a taste of Devin's hole, Woody's ready for more. He rams his cock hard and fast into the willing stud, pounding him deep. Devin holds his legs up and out to allow Woody to reach his full depth. Devin flips over and spreads his ass apart so Woody can continue to fuck him some more. In an attempt at reach new angles, Devin climbs on top of Woody and receives the ride he was talking about at the office. Devin gives his co-worker a run for his money on the ride of his life that ends with his cock shooting out a massive load onto Woody's convulsing abs. When it's Woody's turn to nut, Devin hops off his bull and takes his warm load straight to the mouth.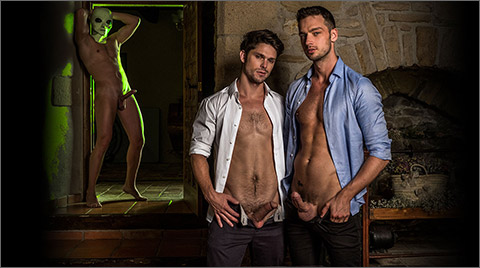 MUST SEED TV: THE XXX FILES | Devin Franco, Damon Heart, Bogdan Gromov
It's a parody, it's a reboot — it's a reboot-parody! It's Must Seed TV! Special Agent Cox Smulder (Devin Franco) wants to prove he was abducted by an alien, but with a skeptic of a partner like Agent Sully (Damon Heart) it's easy to get pulled back to earth. With one unsolved mystery after another, Sully and Smulder find themselves closer to the truth, until they come face to face — and face to cock… and ass to mouth — with a close encounter of the probing kind.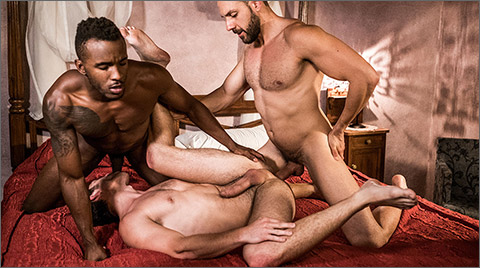 CUM HUNGRY BUTT SLUTS: Mario Galeno Barebacks Devin Franco And Pheonix Fellington
Devin Franco begins his encounter with Mario Galeno and Pheonix Fellington by rubbing their feet as they are relaxing in the sunshine. They move to the bedroom where Devin's ass is shared by both Pheonix and Mario; Mario in particular steps to the front as the alpha-male top in the scene. How so? Eventually Pheonix give his big black dick a rest from fucking Devin's hole, and he offers up his own cheeks for Mario to penetrate bareback!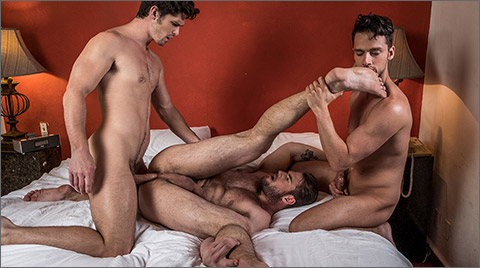 BARE TENDERS: Ace Era, Devin Franco, And Damon Heart's Raw Threesome
Devin Franco never says "no" to a beefcake, so when Ace Era makes a move on him they immediately start making out and exploring each other's bodies. Devin gets into sucking Ace's hard dick fast, and when they sneak into an empty hotel room to be kinky, they're not expecting the resident to return. But he does, and it is Damon Heart. If they're going to be in his room, he's going to get something out of it. Damon breaks out his arsenal of sex toys before he and Damon take turns breeding Ace in his ass.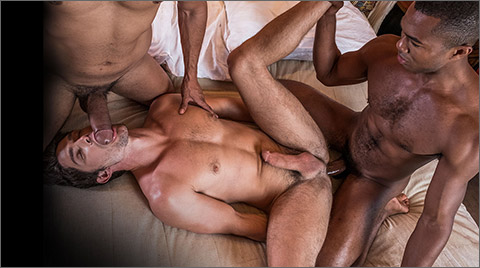 BARE TENDERS: Sean Xavier And Alejandro Castillo Double-Team Devin Franco
Sean Xavier's bill is ready at the poolside bar, and Alejandro Castillo is looking to collect. But Sean's money is upstairs in his room. Alejandro can't just let Sean dine and dash, so he follows him to his room to pay up. Sean's sleeping boyfriend, Devin Franco, is on their bed. When Sean vanishes to retrieve his wallet, Alejandro's libido takes over and he crawls up onto Sean and sucks his dick. Sean catches them, but he's not upset: he starts jerking his dick before joining in. Before Devin Franco knows it, he has one cock in the ass and the other in the mouth. But he's not complaining!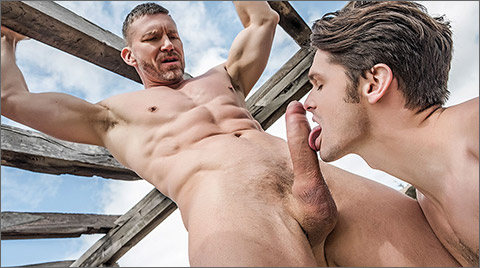 RAW DILFS: Devin Franco Bottoms for Muscle-Daddy Tomas Brand
Devin Franco has a major daddy fetish and enjoys hanging out with older men, and that includes befriending the King of All Muscle Daddies, Tomas Brand. Devin is always cruising for daddy dick, and when Tomas catches him checking out guys on his phone, he makes an advance. This is an opportunity Devin can't pass up: he's had a major crush on Tomas for a long time, and giving up his hole to an experienced power top like Tomas is a reward for any hungry bottom.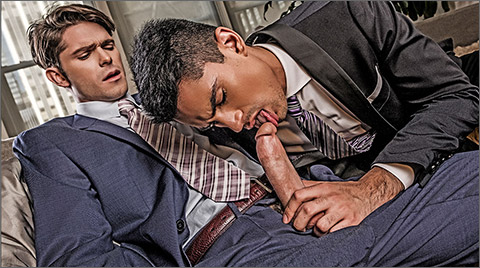 GENTLEMEN 19: HARD AT WORK: Devin Franco And Lee Santino Flip-Fuck In Suits
Let's face it: as a young executive, Devin Franco doesn't get by with his business savvy. He sticks around the office when no one is there and fools around with the guys that matter. The young hotshot Lee Santino has had his eye on Devin ever since he started his job, and when the opportunity strikes, the two throw all business decorum out the window and get naked together. Lee has a kinky side and takes the time to loosen up Devin's ass with an exceptionally large dildo. This gets Lee off big time, so he spins Devin around to fuck him in the ass with his own dick. He then flips and takes a ride on Devin's hard bare cock.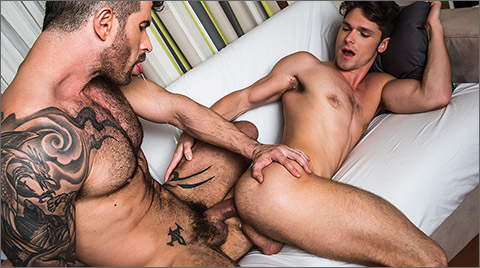 SPREAD CHEEKS & FILL: Devin Franco Makes His Debut With Adam Killian
The smirk on Adam Killian's face at the beginning of this encounter tells us everything we need to know: he's flirting with the handsome newcomer Devin Franco online, and it's all because he wants to fuck him… bad. Devin, who prefers the bottom bunk, loves being with men bigger and harrier than him, so when Adam gets naked to show off his body, Devin is instantly ready to go. Dick sucking and ass eating warms Devin up for the main course, which is Adam getting him on all fours and sodomizing the twink deep in the ass!
CLICK HERE TO GO TO HIS LUCAS ENTERTAINMENT DETAILS
VIDEO ON-DEMAND: Devin Franco @ AEBN SMUTJUNKIES THEATER
NOW STREAMING: Devin Franco @ NAKEDSWORD
Hot or Not? Let us know.
[Total:

111

Average:

4.4

]