Next Door Studios Gay Porn Star, Derrick Dime
Years Active: 2013 – 2016
TWITTER @derrickdimexxx
NEXT DOOR STUDIOS INFO:
Derrick Dime is a gear head who comes to us originally from San Antonio, TX. When he's not working on his shredded physique, you can find Derrick in the garage, wrenching on muscle cars, or out at the track, racing one of his creations. Here we pull him out from under the hood and have him laid out for a different sort of monkeying around. Unbuttoning his shirt, he runs his hands over his chest muscles, and down his stomach, before unzipping his pants and sliding out of them. Reclining back in a desk chair, Derrick spreads his legs and props his feet up on the table, gripping his hard cock and wagging it around for you, before commencing to the serious business at hand. Beating his cock like a piston, he bites his lip, then, all at once, relaxes his muscles as his cock explodes his load in a dripping puddle on the his chair.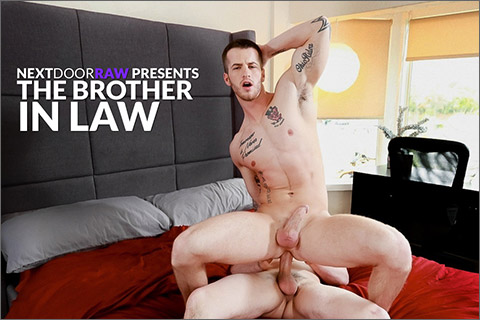 THE BROTHER-IN-LAW
Derrick Dime's married life keeps getting more and more complicated, as it seems everyone wants a piece. As his brother-in-law, Quentin Gainz, approaches the house to pick up a box of things, he notices Derrick on the porch with the air conditioner repair guy. It's obvious to Quentin that Derrick is interested in guys. But Quentin also has his sister to look out for, and it is in his interest to keep her happy, so Quentin makes a proposal to Derrick: he'll take care of his needs from now on, if Derrick agrees to cut out the other guys and cut down the risk to his marriage. Derrick agrees, picturing all the things Quentin has in mind. But he doesn't have to imagine it, because Quentin falls to his knees, immediately taking Derrick's huge cock between his lips as he sucks Derrick off. Derrick's cock grows hard in Quentin's mouth, but it's Quentin's sexy ass that Derrick is really interested in, so Quentin bends over the bed as Derrick plunges his raw meat stick deep into Quentin's hole. Quentin takes Derrick's cock whole as Derrick pounds him from behind, fucking doggy style as Quentin lay on his stomach before Quentin flips over and takes a ride on Derrick's dick. Bouncing up and down, Quentin gets his fill, but if he's going to replace all the men in Derrick's life, he realizes he'll have to give as well as he can take, so they switch positions and Quentin proceeds to give the Derrick the bare back fuck of his life, pounding him as Derrick strokes his rock hard cock before spitting his load all over himself, as Quentin pulls out and blasts Derrick's hole with his sticky jizz, proving that keeping it in the family is still an option if you can't keep it in your pants.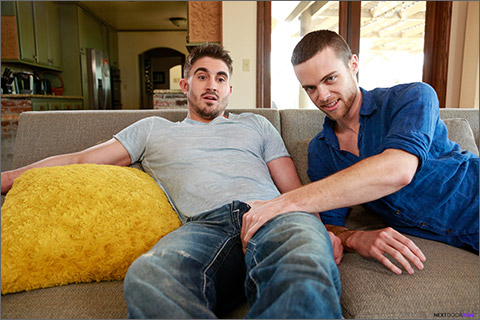 ROOMMATE'S SECRET
Derrick Dime is wiped out from helping new roomie Brandon Moore move in. With all his stuff finally off the truck, Brandon comes in and finds Derrick passed out on the couch, and he can see Derrick is hard underneath his tight jeans. Brandon slowly makes his way next to Derrick, who doesn't stir. When Brandon calls his name and Derrick fails to respond, he decides to press his luck, fondling Derrick's cock over his jeans as he naps. Derrick gets harder in his sleep as Brandon continues to lightly massage it, so he carefully unbuttons Derrick's jeans and pulls his cock out, downing it- or at least attempting to down it. Derrick's cock is massive and fully hard, and Brandon can only get most of it down his throat, so he tries harder to swallow it, grabbing Derrick's balls for better leverage. Brandon gets so caught up in his attempts to conquer Derrick's dong that he fails to notice Derrick has long since waken up and has been watching him try for a minute or two now.
   Derrick startles Brandon when he speaks to him, but luckily for Brandon, Derrick is down with the program, and so rather than get upset, Derrick takes off his shirt and begins to reciprocate, taking Brandon's cock into his mouth as he continues to stroke his own cock.
   Brandon can't wait to have Derrick's huge cock inside him, and Derrick is equally excited to pound his new roommate, so he bends Brandon over the couch and grabs his waist with both hands, shoving his raw cock deep inside Brandon's ass and pulling him back in closer with every hard thrust. Brandon takes every inch of Derrick's dick, begging for him to fuck him harder as Derrick flips Brandon over onto the couch, fucking the cum out of him missionary style before pulling out and blasting Brandon's body with his seed, before shoving it back in and going at it again and again and again. Seems as though the new living arrangement is going to work out just fine for these new roomies.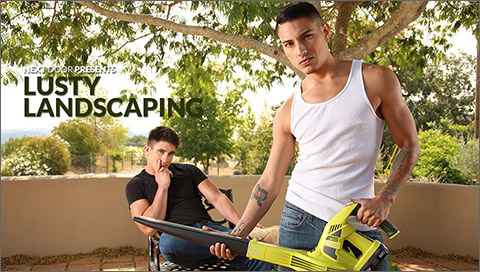 LUSTY LANDSCAPING
Texas Holcum is always complaining about his landscaping job. 'It's too hot out, it's boring, they don't pay me enough.' Well today, he's getting quite a nice bonus! As he moves with a leaf blower around to the back porch of the palatial estate where his crew is working for the day, he notices an open window.
   Texas keeps sweeping the red, clay tiles, but can't help but steal quick peeks into the window. He sees a bed and soon after realizes there's a well-defined, nude male body lying in it. He also realizes that the man is relaxing face down. He figures that if he can stay quiet, he can creep closer to the window for a better look at what appears from a distance to be a great ass.Texas puts down the broom, gets closer, and sees that it is indeed a wonderfully plump rump. He decides to pull his cock out, since no one else is around. He jerks for a few minutes, getting it totally nice and hard. Since he's been able to go this far without being discovered, he figures 'why not climb inside the window and get an even closer look.
   So he does. And once inside, he can't keep his hands and mouth off that tempting ass. He leans down, still with his stiff dick out, spreads the cheeks and licks that stranger's hole. Resting Derrick Dime, owner of the home, perks up, but doesn't move at first, partly because this tonguing feels so, so good, and partly because he knows if he waits a few moments, he can get this punk intruder right where he wants him.
   Derrick flips onto his back after a while. Texas, wrapped up in the moment, takes the opportunity to sample a tasting of Derrick's fine-looking cock. 'Wow can this guy suck!' Derrick thinks. But just as Texas begins getting even more comfortable with this strange man's dick in his mouth, Derrick springs into action.
   He grabs Texas by the neck and throws his face down onto the bed. He whispers in his ear, just before he bites it, that Texas is about to get more than he bargained for. Derrick spits into Texas's ass and then rubs his wet hole with his thumb. Texas never could've expected this, but he's definitely liking it! Derrick inserts his swollen, meaty cock into Texas's eager hole and gradually works up the pace into a nice, steady, hard fucking.
   After a while, Derrick decides he wants a taste of Texas's dick, so he lays him down and bobs on his firm piece for a while. Then he instructs Texas to climb atop his erection and ride it. He does for a while, then goes to his back so this guy can slam his ass some more.
   Join this pair as they let the adrenaline boost their intense sexual passion. And just after the amazing, explosively hot climax, find out what makes Texas freak the fuck out!!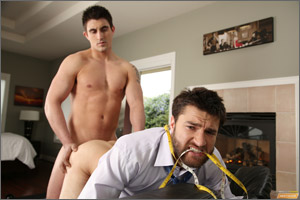 THE WEDDING PLANNER
Weddings are expensive, and Abel Archer knows this more than anyone, as he regularly encounters clients with no idea how much a basic wedding costs these days. Not being a totaly dick, Abel usually works with his clients to help ease the sting of such an expensive endeavor. Take Derrick Dime and his wife. The attractive young couple has the wedding all planned out, but Derrick balks at the price he's quoted when Abel comes over to fit him for his tux. Derrick can't believe the extortionist rates Abel is charging, but it appears Abel has him by the short hairs. Abel sees his client's resignation, and offers an alternative payment plan to the studly husband-to-be.
   Measuring his inseam, Abel lets Derrick know just how he could save a few bucks, and though he is hesitant at first, Abel convinces him it will be worth his while. With that, Abel rips down his shorts and plunges Derrick's cock deep down his throat. Derrick pushes Abel's head further down onto his growing cock, before throwing him down on the sofa and returning the favor, licking Abel's dick from shaft to tip. Abel is smiling from ear to ear, but if Derrick wants the full discount, he'll have to do a little more.
   With that, Derrick turns Abel over and begins to give him the business. Hard pumping as he pounds Abel, holding him by his tie and manhandling him from behind, Derrick goes deep inside as Abel gets closer and closer to cumming. Derrick leans him up against the full length mirror as Abel shoots his load all over the glass, and Derrick pulls out and blasts his face with a very expensive load, which Abel does not waste.
   So it turns out Derrick is in good standing with the wedding planner. Now all he needs to do is give a repeat performance tomorrow when the caterer arrives…
NEXT DOOR RAW
NEXT DOOR STUDIOS
CLICK HERE TO GO TO HIS NEXT DOOR STUDIOS DETAILS