Tattooed Beefcake Daddy – American Gay Porn Star, Derek Parker
Known Aliases: Derrick Parker (Dark Alley)
Years Active: 2012 – 2016
CHRIS WARD COMMENTS (2012):
"Derek is the embodiment of Raging Stallion: beefy, edgy and rugged. He fits the bill exactly, with just the right amount of roughness and toughness, on top of that, he's versatile, charming and intense. We're excited to get him scheduled for more projects."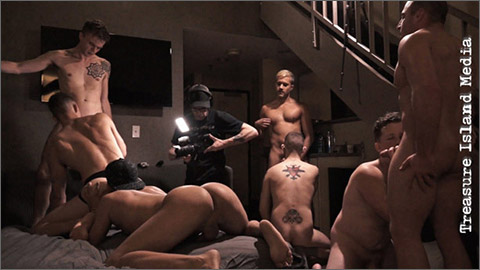 KENNY'S RAW FUCKS – Nate Grimes Group Fuck
When you meet NATE GRIMES for the first time, he seems like a helluva decent, clean-cut, All-American, ex-military, good guy. And for the most part that's pretty damned accurate. He's all of those things, sure. But NATE also just happens to be the sleaziest, filthiest manhole in all of Los Angeles County. Here's your chance to check out for the first time the guy that Paul Morris calls "the new DAWSON". After you watch this scene, write directly to Paul Morris and tell him what you'd like to see NATE do next. The lad's limits are, to put it very mildly, few.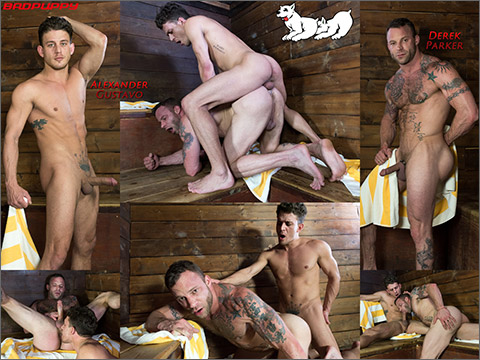 DEREK PARKER & ALEXANDER GUSTAVO
Muscle stud Derek Parker was relaxing in the sauna after an intense workout when Alexander Gustavo comes in and sits down on the bench next to him. It quickly becomes clear that while they are supposed to be relaxing their muscles in the sauna; their muscles hidden underneath their towels remains hard as rocks. Alexander takes matters into his own hands, or mouth as the case is, after he convinces Derek that no one else is going to be coming in. Alexander gags on Derek's thick cock before spinning him around so that he can bury his face and tongue deep in Derek's ass. As Alexander lies back against the way, Derek gets down onto the bench with Alexander and swallows every inch of his rock hard cock. It's not long before Derek submits and gives his ass up to Alexander; who, buries his cock deep and starts pounding like there is no tomorrow. These two studs go at it fast and hard until Alexander is ready to shoot. Derek wants his cum and Alexander blows every drop of his cum into Derek's waiting mouth. Derek shoots a spray of jizz all over himself as he sucks every last drop of cum out of Alexander's cock.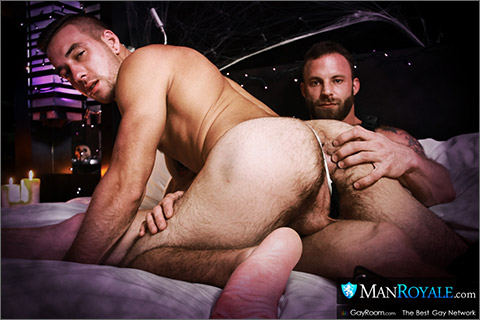 DEREK PARKER & ALEXANDER GUSTAVO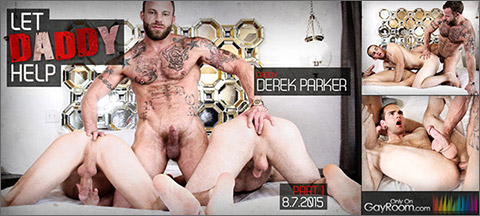 LET DADDY HELP – PART 1
What good is being young and horny if you've got no game? Daddy Derek Parker gives Jonah Marx & Kory Houston a sex lesson they won't soon forget!
JAKE CRUISE / HOT DADS HOT LADS
CLICK HERE TO GO TO HIS GAY ROOM BIO PAGE
THE MEN OF HOT HOUSE 2014 CALENDAR
HUSTLE
ENDLESS STREAMING MEMBERSHIP: TREASURE ISLAND MEDIA @ NAKEDSWORD