Falcon Studios American Muscle Butt Gay Porn Star, Derek Bolt
Years Active: 2016 – 2019
TWITTER @derekboltxxx
DUCATI MODELS INFO:
Age (2016): 24
Height: 5'10"
Weight: 215
Hair Color: Dark Brown
Eye Color: Blue
Position: Versatile
Dick size: 7 Cut
Location: Marathon, FL (EYW)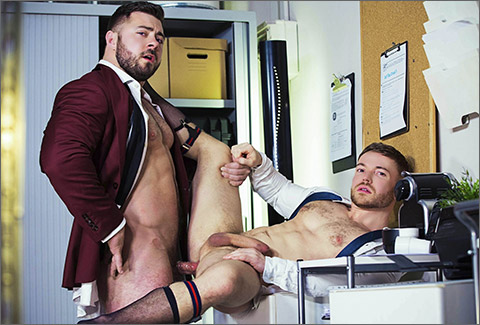 LOW TONER
In PART 2 of this series, real estate firm manager Leander is fresh off his call with Alexander who had just filled him in on how his open house was going. Happy with the update, he pulls the scorching hot Andy Star aside for their weekly meeting to see how his prospects have been coming along. Unfortunately, the news isn't exactly what he wanted to hear but when you look like Andy Star, successful open houses are not necessarily required. Andy knows exactly what to do to make up for his poor performance. He unleashes Leanders bulging hard-on from his pants and drops to his knees to suck cock like his job depends on it. He closes the deal by bending over the board room table and showing Leander what his open house looks like. Leander teases and pounds Andy's pulsing hole until he explodes all over his blue pinstripe suit. A satisfying ending to this hot 2 part series.

RIMROCK: Roman Todd fucks Derek Bolt
Roman Todd calls a handyman to repair his furnace at the cabin where he's staying. To Roman's surprise, hunky repairman Derek Bolt shows up, and Roman immediately likes what he sees. Roman makes a quick pass at Derek and the two studs instantly lock lips. As their clothes hit the floor, Roman can no longer contain himself and gets down to suck the muscle stud's thick cock. It's so girthy that Roman has a hard time wrapping his lips around the whole thing. Derek can see that Roman is throbbing and wants his turn with the stud. Derek drops to his knees and takes Roman's meat down his throat until he's ready to get his hole fucked bareback. After Roman opens Derek up with his talented tongue on his hole, Roman slides his raw cock deep into Derek's tight hole and drills his prostate. It's a tight fit, but Derek is enjoying every inch that Roman is pounding into him. When Roman is getting close to blowing his load, he rolls Derek over onto his back and pumps the handyman even harder. Before Roman blows, Derek beats him to it and nuts all over his own muscled body. Roman pulls out, and soon Derek is left with his ripped abs covered with cum.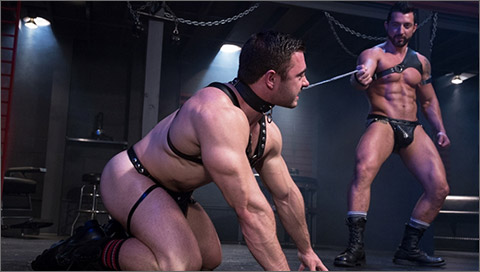 SKUFF: ROUGH TRADE 1: Jimmy Durano trains and fucks Derek Bolt
Muscle hunk Derek Bolt kneels eagerly in a steel cage sporting a leather collar and jockstrap. Brazilian stud Jimmy Durano approaches his sub and asks 'have you been a good boy?' Derek replies 'yes, boss' and Jimmy unlocks the cage and attaches a metal leash to Derek's collar. Led out on hands and knees like a dog, Derek resists his 'boss' until Jimmy brings Derek to his knees and feeds him his uncut cock as a treat. Derek takes a proper mouth fucking from his boss as streams of saliva trickle down Jimmy's nutsack. Boss man Jimmy wants a taste of his boy so he makes him assume the position and dives face first deep into Derek's smooth crack. Spit dribbles from Derek's hole as Jimmy works his tongue around the eager center. Derek begs for his boss' cock and Jimmy enters his ass with a swift thrust deep inside with his humongous meat. Jimmy fucks his boy doggie style first then leads him into a sling for a better angle at Derek's manhole. With shouts of 'Yes, Boss!', Derek takes every thrust with stride until he jerks out his load all over his jock. Ready to bust, Jimmy pulls his cock out and explodes a thick load adding it to the creamy mess all over Derek's soaked jock.

DIRTY WORK: Austin Wolf fucks Derek Bolt
Derek Bolt is making precise measurements in the workshop when sparks fly between him and Austin Wolf. Austin notices the look on Derek's face and invites him over. As they make out, Austin guides Derek's hands to his bulge, and Derek pulls Austin's cock out of his jeans. Sinking to his knees, Derek swallows Austin's cock as Austin plays with his nipples. Reaching down the back of Derek's jeans past his jockstrap, Austin finger's Derek's tight hole. Eager to get a taste, Austin pushes his face into Derek's ass as Derek kneels on the workbench. Stripping off Derek's shirt, Austin grabs his nipples from behind and tweaks then as Derek's huge boner pokes out front his jockstrap. Derek is eager for what comes next: Austin shoves his thick, hard cock between Derek's firm ass cheeks and starts fucking him doggy style with fast, powerful thrusts. Switching things up, Austin lies flat on his back as Derek raises and lowers himself on Austin's mighty tool. Putting Derek on his back, Austin pumps away with intensity. Derek jerks his cock, and his balls flop up and down. With Austin still inside him, Derek blows a massive, thick load that lands on his hairy treasure trail. Standing over Derek's face, Austin strokes his cock until he shoots a massive rope of cum across Derek's face. Austin leans down for a final kiss, tasting his semen on Derek's lips.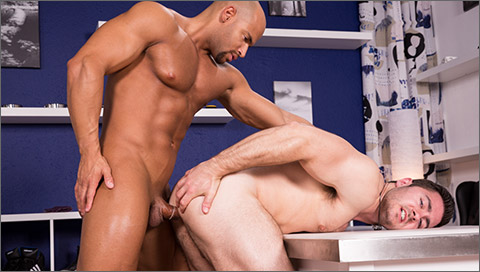 DEPTHS OF FOCUS: Sean Zevran fucks Derek Bolt
With a big shoot coming up, Sean Zevran pays a visit to his top-notch tailor, Derek Bolt. Of course, to get the most accurate fit, Sean must take everything off. Sean's been making eyes at Derek since he walked in the door, and as soon as his pants come off, Sean's massive cock begins to swell and rise. Derek goes in to measure Sean's inseam, and with all that thick meat just hanging there in his face, Derek can't resist getting a taste. Derek's cock sucking skills are awe-inspiring as he makes Sean's massive tool disappear down his throat. Sean thrusts his hips as Derek strips off his shirt. Spinning around in front of the mirror, Derek spreads his ass for Sean. Diving in tongue first, Sean lubes up Derek's tight, pink hole with plenty of spit. Mounting Derek in doggy style, Sean beings to pound Derek's hole with powerful thrusts. To feel Sean even deeper inside him, Derek braces himself against a table, encouraging Sean to let loose. Their muscles bulge and flex as they work up a sweat. When Sean reaches his climax, he pulls out and blows a huge load right on Derek's muscular ass. Sean plays with Derek's nipples, which sends him over the edge, shooting his thick, white load onto his stomach. They press their lips and bodies together, relishing the moment of spontaneous sexual release.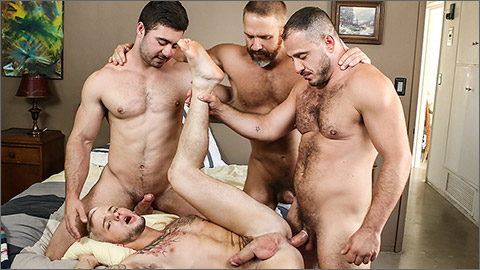 HAIRY TALES – PART 3
Golden boy Colton Grey gets off on stealing from the rich, but this time his path is crossed by three hairy bears — Dirk Caber, Derek Bolt, and Marc Giacomo. Caught in their bed, he coaxes the bears into joining him for one hot jizz orgy. Each bear gets a taste of the thief, eating his golden little asshole before jamming it full of their hot hairy cocks. Seems the three bears have a new addition to their hairy family.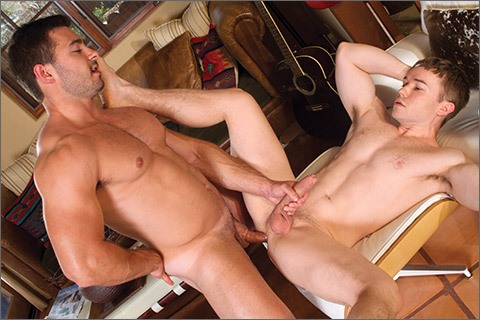 DESERT GETAWAY: Gabriel Cross & Derek Bolt flip-fuck
While the other adventurers at this 'DESERT GETAWAY' are out enjoying a hike, Gabriel Cross comes back to the house early to find Derek Bolt all by himself. Feeling a bit shy and intimidated around so many hot, new guys, Derek had stayed behind instead of joining the other friends on the hike. Lucky for him, Gabriel is eager to make Derek feel included. They press their jacked bodies together on the couch and worship each other's muscles. Gabriel tongues Derek's nipple, then goes south and wraps his lips around Derek's huge dick. Derek gets down and sucks on Gabriel's massive, uncut tool. Bending over on a leather chair, Gabriel opens up his ass for a deep tonguing. After working Gabriel's ass and dick with his mouth, Derek slams his throbbing meat inside Gabriel's tight hole. Putting his arms behind his head, Gabriel's entire body is rocked with the power of Derek's thrusts. With their two huge dicks and perfect bubble buts, a flip flop is definitely in order: Gabriel pounds Derek doggy style, driving his meat deep into Derek's hole. They flip again, this time with Gabriel riding Derek's cock from above. In a surprise move, Derek stands and holds Gabriel aloft while fucking him; it's as if Gabriel is getting fucked in an invisible sling. Returning to cowboy position, the intense penetration gets Gabriel off, shooting giant globs of cum across Derek's chest. Going down again, Gabriel gets Derek off with just his mouth. Opening his lips, Gabriel lets the cum dribble down Derek's dick.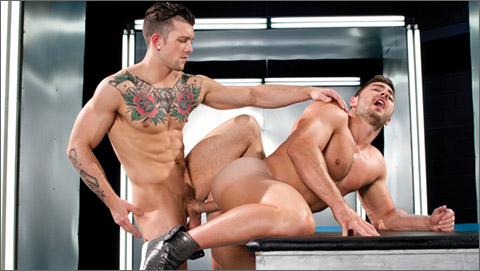 ULTRA SEX: Sebastian Kross fucks Derek Bolt
Tattooed Sebastian Kross runs his hands all over Derek Bolt's muscled body. With their jockstraps bulging, they lock lips in a kiss and press their jacked bodies together. Sebastian jumps up on a riser that puts his cock level with Derek's face: the perfect height for Derek to give Sebastian a thrilling blowjob. Returning the favor, Sebastian goes down on Derek's meaty tool, tweaking Derek's nipples in the process. Derek throws his legs up in the air, allowing Sebastian access to his tight hole. With his tongue, Sebastian goes to town on Derek's sweet ass. They start fucking doggy style, with Sebastian ramming his throbbing meat into Derek's muscled bubble butt. Knowing how it sets him off, Sebastian reaches around to pinch Derek's nipples. Rolling on his back, Derek beats off and blows his load while Sebastian is still inside him. Sebastian cums on Derek's face, shooting his load into Derek's mouth and across his chin.
MEN AT PLAY
HOT HOUSE
MEN.COM
FALCON STUDIOS
CLICK HERE TO GO TO HIS MEN AT PLAY DETAILS
CLICK HERE TO GO TO HIS FALCON STUDIOS DETAILS
Hot or Not? Let us know.
[Total:

100

Average:

3.9

]