American Muscle Gay Porn Star, Derek Atlas
Years Active: 2011 – 2015
TWITTER @DerekAtlas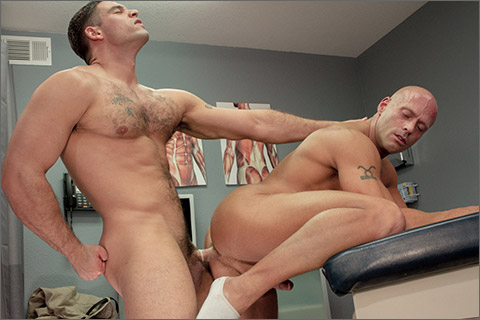 HARD MEDICINE: Derek Atlas fucks Coby Mitchell
Sexy Dr. Derek Atlas has a hot patient, bald bad-ass Coby Mitchell, who's been having some challenges getting off. After checking his vitals, Dr. Derek takes advantage of the situation by suggesting that anal stimulation might be the answer to Coby's issues. Unsure of what the doctor has in mind, Coby questioningly gets on all fours on the examination table. Dr. Derek proceeds to dive into Coby's bubble butt for some serious rimming. Dr. Derek is a total ass man, and Coby's got plenty to get him stimulated. Dr. Derek rims him and sucks Coby's dick and then fingers his hole, getting to the root of the problem. With no further questions, Coby's got his legs up in the air, his cock rock hard, as Dr. Derek examines his hole with his finger and then smacks it with his hard cock. Dr. Derek knows what Coby really needs is his stiff prick up his ass and he quickly delivers it to Coby's willing and prepped hole, pounding Coby while he's fully spread wide open. Slamming deeper and deeper with Coby's leg in the air, Dr. Derek bends Coby over to give him rapid fire thrusts that stimulate Coby's asshole in a major way, and Coby's ass can take everything that Dr. Derek throws its way. Dr. Derek pulls out and jerks out a hot load. Then, Dr. Derek makes Coby cum without touching himself by jerking huge globs of jizz out of Coby while he fingers his fine hole.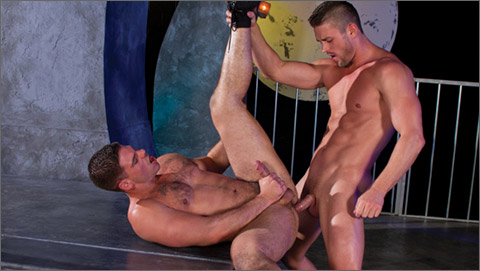 MAGNITUDE: Ryan Rose fucks Derek Atlas
The swollen jock straps of Derek Atlas and Ryan Rose offer proof that one hard on deserves another. Derek is furry, broad-shouldered and massively muscular. Ryan is smooth with a muscled athletic build and a distinct five o'clock shadow on his angular jawline. Their lips and torsos press together to ensure maximum contact where it counts: tongues, nipples, and cocks. Ryan's face slides down Derek's body to find a hard cock and fat balls released from their pouch and waiting. There's plenty of eye contact, touching, caressing and stroking, and there's something in those kisses, because they keep returning for more. In turns, each stud fucks the other's face and eats his ass until their holes shudder. Spit provides lube for finger entry. Derek is first to flip onto his back and spread his legs, abandoning his hole to a deep drilling. Ryan wants some of what he's giving Derek, so they swap positions, with Ryan giving Derek a lap dance that makes their balls tingle. Separating, they grab their cocks and let their hot juices boil over.

ERECTOR: Juan Lopez fucks Derek Atlas
Derek Atlas' jockstrapped ass fills the screen as he bends over to slurp and swallow Juan Lopez' cock. Juan's muscled torso is dusted with hair, as is Derek's hot hole. Turning around, Derek reveals his hole to Juan and receives a wet and juicy rimming. Derek is a total muscle stud who also knows how to take a pounding, and Juan slides his thick cock into Derek's fuck hole. When Juan slaps Derek's ass to show him who's boss, it leaves a pink handprint and makes Derek even more cock hungry! The intensity and the energy of their fucking has Derek on the edge, and his massive load spurts up into the air. Juan works his uncut meat until he blows his white cum right on Derek's furry hole, and he rubs it in with his cock and foreskin.