French Brazilian Gay Porn Star, Delta Kobra
Years Active: 2014 – 2016
TWITTER @Delta_kobra
UK NAKED MEN INFO:
Age: 32
Height: 5′ 9″
Weight: 170
Cock Size: 8″ thick uncut
Sexual Orientation:
Body Hair: some hair
Body Type: muscled
Prefers: Active
Delta LOVES older guys, muscle guys and hot, tight holes, he's total top and an exhibitionist. If you're ever in France try to catch one of his intimate live shows. A definite favourite, not only is this French/Brazilian guy, sexy as hell he's also a great cook. Studly, uncut, flirtatious and horny, we've got a 'thing' for Brazilians.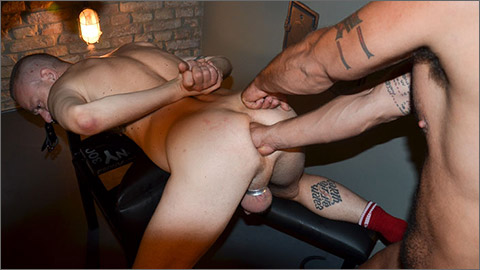 DELTA KOBRA POUNDS & FISTS BEN ARMSTRONG
Delta Kobra and Ben Armstrong are both porn pigs. While Ben pounds his perfectly shaped hairless ass with ever larger dildos, Delta is looking for a fuck break. It was only a matter of time until these two pigs come together.
   Ben warms up his hole, by pushing a monster dildo in her greedy cunt. Delta starts shoving his cock him deep down his throat, until the drool flows from the mouth of the short-haired pig. A few slaps to the face and he pushes his cock even deeper into his mouth. Whether Ben chokes is really concern to him, he just keeps spitting and banging his cock hard in his mouth. After the face is completely used he takes in the ass of blonde and pushes his fist in the gaping ass lips. Again and again he pushes his hand – smacking his pussy to expand it. Delta's cock gets harder when he sees how a widely gaping Rosebud decorates the cunt of his slave. The animal lust makes him open his ass even further. He takes the second hand to help and fucks the pig alternately with one and the other fist in his cunt. Ben screams his desire as the fists slide in and out. Eventually, Delta sprays on the ass, which is still holds hand. The yellow charge running his thumb along and runs him through the finger surface in the hot meat of the cunt. Ben is more animal than man as he makes the juice from the tail of the completely finishing Delta in a last deep throat.
CAZZO FILM BERLIN
UK NAKED MEN
BUTCH DIXON
DELTA KOBRA & CRAIG DANIEL
THE WHEEL OF MISFORTUNE
FUCK LOVING CRIMINALS – EPISODE 8
DELTA KOBRA & FREDDY MILLER
MICHEL RUDIN & DELTA KOBRA
DOLAN WOLF, DELTA KOBRA & SAM BISHOP
DELTA KOBRA SOLO