American Gay Porn Star Butt Slut, Declan Blake
Known Aliases:
Years Active: 2021 – 2022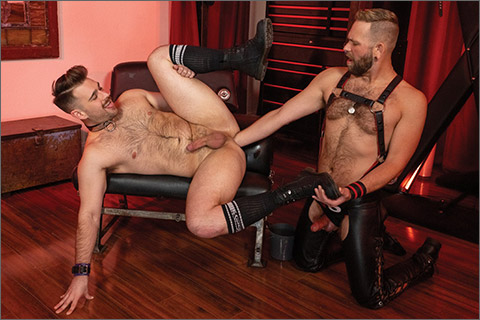 DADDY STRETCH MY HOLE: Josh Mikael fucks & fists Declan Blake
With a metal collar wrapped around his neck, Declan Blake is ready to be used by dom daddy Josh Mikael. The horny top pumps his stiff dick into the boy's mouth before grabbing him by the collar and thrusting his raw, wet cock into the bottom's stretched-out ass. After some bareback inspired moaning from Declan, Josh grabs a handful of lube, glides his entire fist into Declan's gaping backdoor, and proceeds to stretch him out even more. Soon, the dominant fucker is squeezing both of his fists into the boy and spreading his cheeks to get a better look at his bright red rosebud. Going back in to ride Josh's meaty fist, Declan strokes himself off and blows a fat load, covering his fisting daddy in his mess of hot cum.

DADDY STRETCH MY HOLE: Declan Blake fucks & fists Josh Mikael
Daddy Josh Mikael is in desperate need of getting his hole serviced by his boy Declan Blake. Bent over on all fours, Josh moans and his ass jiggles at every bareback thrust from Declan's young dick. The boy goes to satisfy his dom even more by lubing up his hole and rapidly shoving his two fists in and out of his wrecked ass. Now with both hands simultaneously disappearing inside of his daddy, Declan goes in even deeper until his forearms are consumed by Josh's gaping hole. Satisfied with his boy's performance, the daddy jerks himself off until his balls are bouncing everywhere and spitting out a creamy load.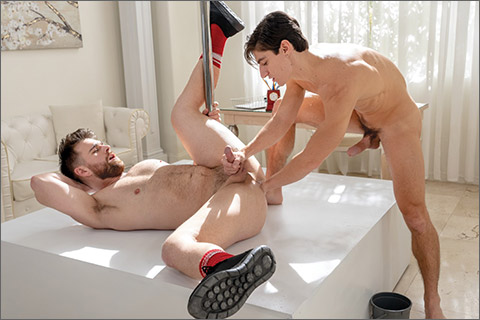 STRIPPER HOLE TRYOUTS: Aiden Ward fist Declan Blake
When hopeful candidate Declan Blake arrives to his interview with club manager Aiden Ward, the exchange quickly turns into a full-blown tryout with Declan doing his best to try and impress Declan. At first, Aiden is not amused by Declan, that is, until Declan starts shedding his clothes and revealing his insatiable ass in a red jock. Aiden wants to see just how bad Declan wants this gig, so he leaves his post from behind his desk and spreads Declan's cheeks to eat and finger his ass. Declan clearly wants more, so Aiden whips out his hard cock and sticks it in Declan's inviting ass bareback. Preparing Declan everything that goes down in the back rooms, he replaces his cock with his fists up into Declan's hole. It seems Declan is going to fit in just fine at this club as Aiden uses his cock and fist at the same time to gape Declan's crack. With nothing to brace him but the stripper pole, Aiden lays back and receives the managers punches until his rosebud is begging to come out. As his hole is getting used, Declan grabs his cock and strokes until a thick load shoots all over his furry torso.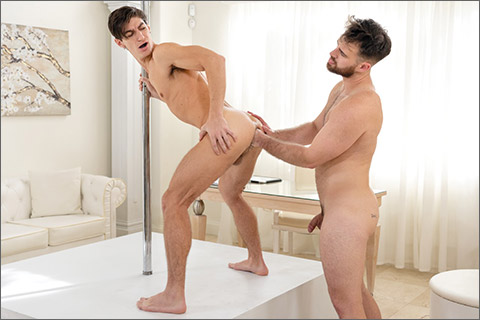 STRIPPER HOLE TRYOUTS: Declan Blake fists Aiden Ward
As club manager Aiden Ward is leaning on the stripper pole with his rock-hard meat out, Declan Blake does his best to deepthroat the thick monster in his face. The tasting continues as Aiden spins around the pole to and offers his scruffy hole to get devoured. As Aiden arches his back even further, Declan quickly lubes up and plants his fist in Aiden's butt. Aiden's ass welcomes Declan's handball eagerly. Each time Declan gives Aiden's hole a slight break, the manager's sloppy ass pokes out a meaty rosebud that slowly goes back into place. Switching positions, Aiden slides up and down the pole and onto Declan's hand while his cock is planted in Declan's mouth. Declan gets envious of Aiden's hole being stretched, so he rides Aiden's hard cock bareback while he fist fucks Declan's ass. Aiden continues taking the deep stretching until his cock won't hold back anymore and his releases his cum all over himself.
VIDEO ON-DEMAND: Declan Blake @ AEBN SMUTJUNKIES THEATER
ENDLESS UNLIMITED STREAMING: Declan Blake @ NAKEDSWORD