Hung Uncut Slutty Kink Men American Gay Porn Star, Dean Brody
Known Aliases / aka:
Years Active: 2015 – 2016
TWITTER @DeanBrodyXXX
KINK MEN INFO:
Body Type: Swimmer
Height: 5'9″
Weight: 145
Hair Color: Brunette
Gender: Male
Cock Girth: Thick
Cock: 9″ uncut
Scene Role: Bottom
Pubic Hair: Stubble
Ethnicity: Latino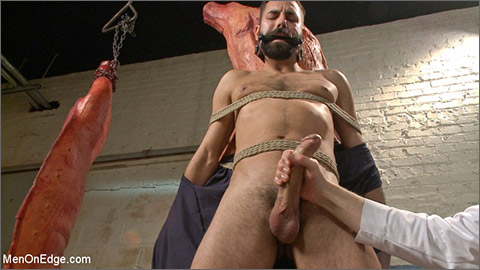 HEALTH INSPECTORS VIOLATE AND MUMMIFY A HOT PIECE OF MEAT
Dean Brody's minding his business at the meat factory when two strange health inspectors show up from "Oh-shuh," whatever the hell that is. Inspector Darkholme directs Inspector Keys to detain Dean while they give his personal hygiene a closer look. Dean has his clothes torn off with his body strapped down to slab of meat. He tries to fight off Keys's pawing hands on his dick when Darkholme silences him with a bit gag. Though he feels invaded by the touch of the inspectors, his dick can't help but stand at full attention. Soon, they have Dean immobilized and at their mercy while they suck his beefy cock to the edge again and again. They move Dean to the washing station and bring him just to the tipping point of orgasm– right before hosing down his dick with icy water. Now that Dean's meat is tenderized and clean, Keys and Darkholme place him on a swinging platform and start packaging him in plastic wrap. Dean moans in his tight mummified wrapping as he receives repeated edges. The inspectors tickle his vulnerable dick before encasing his entire body, including his raging boner, tied with twine up to the ceiling. Keys finally feels generous enough to let the poor meat handler blow his load, but not without a painful torment immediately after.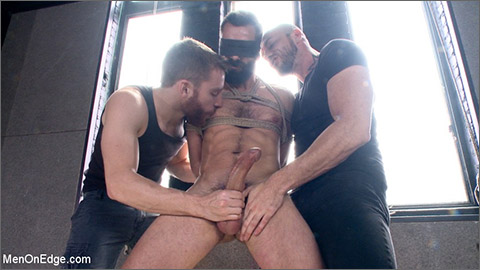 FIRST TIMER WITH A GIANT COCK GETS SUSPENDED AND EDGED ABOVE THE DRILL COURT
Men on Edge welcomes studly Dean Brody high up above Armory's drill court for his first bondage experience. Sebastian and Jessie Colter work Dean into a throbbing boner that his underwear can't contain as the ropes come around his chest. Dean has his nipples played with, a cock ring fitted over his huge dick and nearly blows his load from a vibrator treatment. Sebastian and Jessie raise Dean above the floor and continue the alternating pleasure and torment. They edge and tickle the stud before leaving him to hang, begging to be finished off. Next, they take Dean to another corner of the bleachers, bound bent-over with his ass presented outward. Dean has his hungry hole filled with dildos and repeatedly taken to his limit. After the long day of edging, Sebastian and Jessie finally allow Dean to bust a load and wipe the cum into his beard.
KINK MEN
HOT HOUSE ENTERTAINMENT
RAW FUCK CLUB
CLICK HERE TO GO TO HIS KINK MEN INFO PAGE