Blond American Muscle Gay Porn Star, Daxton Ryder
Known Aliases / aka:
Years Active: 2015 – 2016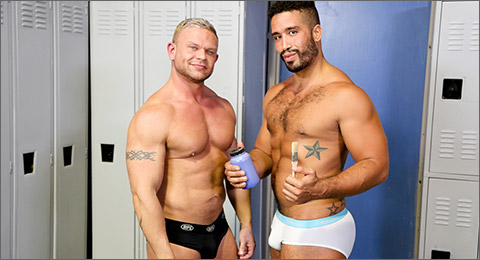 HARDCORE FANS
Trey and Daxton are some hardcore fans so every time there is a game they paint themselves up to full immerse themselves. Daxton isn't quite sure if he wants to do it this time around but Trey is having no buts about it and paints himself and Daxton. While painting Daxton's chest Trey gets a little touchy which throws Daxton off but his cock is becoming hard and Trey is on his knees painting when he notices the bulge. Trey goes from painting to caressing which is pretty sneaky cause than Daxton's cock is deep in Trey's mouth sucking and playing with his balls. Daxton is fully invested in this moment and wants to return the favor so they both strip down and Daxton gets to lick and stroke Trey's big cock. They can't take too long playing around in the locker room so Trey starts to fuck Daxton up against the lockers and on the bench legs up ready to bust his nut. Trey fucks the nut right out of him which than sets Trey off to unleash his built up cream all over Daxton's chest.

BROKEN APERTURE – PART 4
Daxton and Marxel are at Daxton's studio discussing their recent sexual encounters. Daxton talks about how he met Seth out on the streets and got him back to the studio and fucked. The two get hot and bothered in deep conversation and decide to play around before his next photo appointment. They start making out and shirts come off when Alejandro comes barging into the studio demanding to know where his BF Seth is and why he's cheating on him. Daxton tells him to calm down and that he didn't know he had a man but he was a good fuck for sure. Marxel can tell Alejandro is fuming so he calms the situation down by inviting him to join in on what he walked in on and he won't feel as bad. Alejandro the cheater he is jumps into the 3 way and they all strip down naked and begin to suck and stroke each taking turns on their knees with cocks in their face. Alejandro and Marxel take turns fucking Daxton's smooth tight ass. They throw him all around the studio making him beg for more. In the end cum is oozing all over the place but no complaints.
PRIDE STUDIOS
BAREBACK CUM PIGS
RAW FUCK CLUB
CLICK HERE TO GO TO HIS PRIDE STUDIOS DETAILS