Staxus Spanish Twink Gay Porn Star, David Sky
Years Active: 2015
STAXUS INFO:
Date of birth: 5th June 1994
Height: 5 '6″ / 171 cm
Cock size: 7″ / 18 cm
Ethnicity: Spanish
Role: Versatile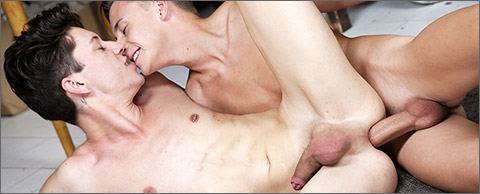 BACK OF THE NET: TEAM-MATES TAKE ON A SPUNKY LOCKER-ROOM FLIP-FLOPPING FUCK!
One glance at his diminutive body tells you that young David Sky isn't ever gonna be a major threat to the regular studs in the Bundesliga or La Liga, but there's still a certain charm to the petite Spaniard as he struts his footballing credentials with Xavier Sibley at the start of this terrific locker-room duo. A charm that's only intensified by the contrast in physiques between these two fellows; with Sky clearly inches shorter than his French counterpart, who you almost suspect could easily scoop Sky up in his arms and throw to one side like one of the balls they're playing with!
   Don't fall under the illusion that this sweet little coupling is all about Sibley fucking the living daylights out of his slightly framed friend, however. Truth is that that's only half the story. For having both engaged in a fine session of cock-sucking, and then having had Sibley pound away at Sky's ass over a desk – the two lads still both donning their fashionable underwear throughout! – the roles are promptly (and perhaps unexpectedly) reversed.
   As a result, new-boy Sibley finds himself down on the floor with his legs splayed in the air, with only a blanket beneath him and Sky's surprisingly generous ass-pucker bearing down on his arse from above! Little wonder that the lad can't contain himself as his mate massages his prostrate with his cock – squirting out a fine load of teen-goo as a result. Seconds later and Sibley's face is getting squirted over thanks to the same shaft that's just buggered him raw; leaving this team-effort a definite score-draw, with both parties nicely drained!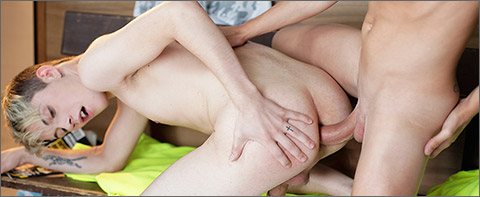 BACK OF THE NET: TWO SPANISH SOCCER STARS SUCK HARD COCK & TAKE IT UP THE ARSE!
Neither Ruben Bart nor David Sky are in the mood for foreplay – at least if the start of this terrific changing-room duo is anything to go by! These two totally stark-bollock naked cuties quite literally hit the ground running right from the off, kissing and smooching like a pair of over-sexed banshees; before quickly engaging in some very satisfying fellatio. Then again, given the quality of cock on offer here it really should come as no surprise at all that both lads are so horned-up. Sky, as diminutive as ever, lacks nothing in terms of the size of his manhood; whilst his compatriot boasts the kind of handsome butt-picker that pretty much all of us could munch on for hours on end!
   As it is, however, these boys have clearly got to get a move-on before their team-mates get back; which may in part explain the urgency with which Bart is soon rimming Sky's pert little ass, before Sky returns the favour and first tongues and then fingers his mate's fuck-hole! By this point, of course, you'll have probably guessed whose pucker is gonna get stretched; and needless to say it's no time at all before Sky is ramming his thick, swollen shaft into Bart's rump from behind.
   It's a move that, not unnaturally, raises the sexual tension into the stratosphere; with Bart soon switching positions so that he can ride his buddy cowboy-style, savouring every single aching inch of Sky in the process. A further positioning sees him buggered on his back, legs akimbo – at which point he dumps his wad! That just leaves Sky to generously cream all over his pal's face to call it a wrap!
CLICK HERE TO GO TO HIS STAXUS DETAILS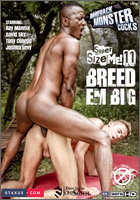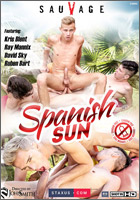 BREED 'EM BIG
SPANISH SUN
BACK OF THE NET