William Higgins Czech Gay Porn Star, David Skabeta
Known Aliases / aka: Thomas Finn, Greg, Hendrik, Greg Baldwin, Andre Rice, Xander Luck, Mallev
Years Active: 2011 – 2015
WILLIAM HIGGINS INFO:
Model Name: David Skabeta
Age: 19
Home Town: Plzen
Height: 179cm/5'10"
Weight: 77kg/169.4lb
Foot Size: EU44/US8.9/UK8.4
Penis Size: 17cm/6.69″
Profession/Student of: Student of High School
Hobbies: Fitness
Favorite Sports: Cycling
Active Sports: Martial Arts
Movie/Music/Sport Stars: Sylvester Stallone
Visited Coutries: France, Italy, Spain, …
Want to Visit Coutries: Maledives
Dream of My Life: To own a yacht.
Zodiac Sign: Aries (March 21 – April 19)
RAW BOYS: THOMAS FINN:
This handsome, boy-next-door type is bound to make you swoon with that fresh face and sexy smile. Thomas Finn enjoys working out and loves a good fuck, especially if he's on the bottom! But you better give it to him raw because that's the way he prefers it. He loves exploring and having all sorts of adventures with his buddies out in the wild.
Age: 26
Height: 5'11"
Cock Size: 7″
Sexual Orientation: Gay
Prefers: Versatile Bottom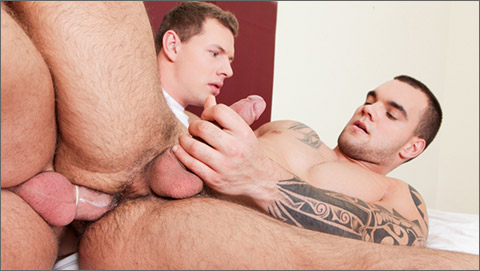 MEN IN UNIFORM 3: Greg (David Skabeta) fucks James (Ivo Kerk)
James calls in a Doctor because he's really under the weather. When Dr. Greg gets there he recommends a full physical.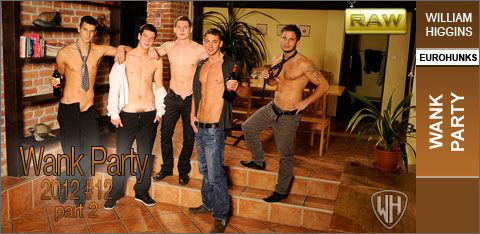 WANK PARTY RAW 2012 #12
Wank Party 2012 #12 features some wonderful guy, David Skabeta, David Koral, Cecil Stok, David Smetak and Walter Uwe. Four of the guys are waiting in the apartment when David Koral arrives, with his new bride. Everyone congratulates the happy couple and they settle down for a glass of wine. David Sk and David Sm take the bride off somewhere in the apartment while Walter and Cecil stay with David K. They chat with him about spending the rest of his life with just one woman, and think that he should have some fun before settling down. They open his shirt and pants and Walter quickly begins to suck on his cock. Cecil rubs David's chest and kisses him. As the sucking continues the other two David's return, without the bride, and join in the action. David K's dick has become nice and hard under the expert sucking of Walter. He wanks Cecil's cock and then begins to Wank Davkd Sk as well. Meanwhile David Sm pulls his cock out and pushes it into David K's mouth, for sucking. Walter continues to work on David K's cock who sucks ravenously on David Sm's big dick. David Sm wants some cock to suck too and goes down on David Sk. Walter stands a presents his cock to David K who begins sucking it too. David Sk then returns the favor to David Sm, sucking on his big fat cock. David Sm reaches out and pulls Walter to him for kissing. The sucking continues apace, with Cecil being brought into the action, being sucked by David Sm, and then sucking his and David Sk. They all close up together with David K sucking on Cecil, while his own dick is sucked by David Sk. Walter's big dick is swallowed by David Sm too. The guys all chang positions again, sucking on each others cocks, making David K's wedding day one to remember. Things get even hotter as Walter prepares to fuck Cecil's hot little ass while David Sm pulls David K's legs up and rims his hot hole. I can't wait for part 2 to come online to see how it all turns out…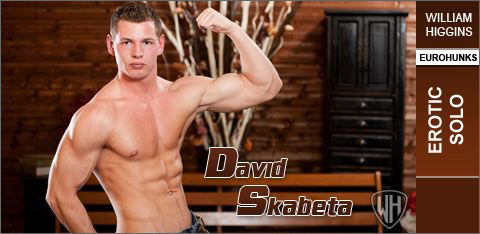 EROTIC SOLO: DAVID SKABETA
David Skabeta, from Plzen is 19 years old and is a student. He enjoys martial arts, cycling and going to the gym. I must say David looks very good from all his work in the gym, being a very well built guy, with good looks too. In this erotic video David gives us a very good show, as he shows us his wares and gets a nice helping hand into the bargain. He also manages to take a toy up the bumper chute with no problem. This seems to have encouraged him to go further and we have since gone all the way with him. David is a great addition to our ensemble, I am sure we will be seeing more of him.
WILLIAM HIGGINS
STR8HELL
MILE HIGH MEDIA / MALE REALITY
RAWBOYS / BARE ADVENTURES
JAKE CRUISE'S COCK SURE MEN
BIG DADDY
CLICK HERE TO GO TO HIS WILLIAM HIGGINS BIO PAGE