American Military Active Duty Amateur, Dante
Known Aliases / aka: Dante 2
Years Active: 2016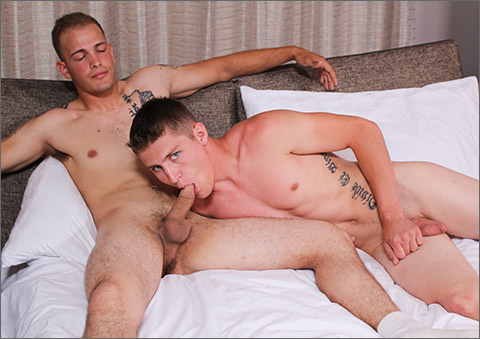 DANTE & CHASE
This one really warms my heart. I love seeing a real gung ho cadet like Chase teamed up with a less experienced dude like sweet Dante. We've had the pleasure of seeing each of these guys do some serious battle on the frontlines, but this time Chase is really stepping into a leadership role.
   Dante has come to consider himself already a pro at sucking cock. Seeing Chase's face as Dante bobs on his knob, it's easy to see that he has indeed come a long way. Claude chuckles as Dante sucks, remarking to Chase that Dante says he knows exactly what a man wants. Hahaha Chase wholeheartedly agrees!
   They switch things up and Chase gets busy slurping down Dante's boner. True to form, Chase really gets into it, sucking with strength, giving Dante a real experience. It feels SO good to Dante that he decides he's hungry for more of Chase's thick meat! So they switch AGAIN!This time, Dante works on Chase's erection with true purpose and passion. He uses what he just experienced as an example. Impressed by the way Chase devotes himself so much to a blowjob, Dante puts in even more hard effort than before, really showing Chase that he's here to be an integral part of the squad.
   Chase is certainly VERY impressed. He decided to just have one more go at Dante's dick. He gets back in and sucks even HARDER, with even more intensity!! It ends up being just too much for Dante to hold back. He erupts a hot load all over Chase. This turns out to be too fuckin' sexy for CHASE to hold back and he goes ahead and does the same, turning right around and cumming on Dante's chest.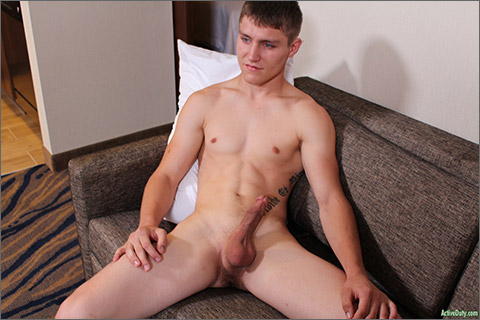 DANTE
Drinkin' whiskey out the bottle, not thinkin' 'bout tomorrow…that's how I imagine Dante when he's on leave. He's a sexy, lean, laid-back dude that's in no rush to be anywhere. I'm excited he's interested in becoming part of our humble squad. And boy does this soldier have a luscious dick!
   I was simply tickled by his underwear, which have an elephant's head pictured on the front, and I'll bet you can guess exactly where the trunk is!
   When he finally unsheathes his stiffening trunk, we see that Dante is quite blessed, with a large cock that tends to point straight upward when he's not touching it! It's a perky, perfect dick that I'm sure plenty of fellow recruits will be salivating over pretty soon.
   Claude lets Dante enjoy some porn on the TV and Dante gets down to cranking that hard meat for us. It's Dante's first time on camera and he certainly seems relaxed. He kicks one leg up on the couch and Claude gets down nice and tight so we get a good look at those sweet balls as Dante jacks his erection.
   After a while, Dante gets up on his feet and strokes his cock while Claude gets down low, showing us what it would be like to prepare for a hot cum blast from Dante. We get to see Dante's face peek around every once in a while as he works on his oiled-up dick.
   And then finally it's back to the couch where Dante shoots a thick load for us and surveys the damage on his stomach. He tells Claude it was even easier and more fun than he had expected, which I think is a great sign for us.
CLICK HERE TO GO TO HIS ACTIVE DUTY DETAILS