ChaosMen Amateur Gay Porn Guy, Daniel
Known Aliases:
Years Active: 2016
BRIAN OCKERT / CHAOS MEN INFO:
Start Age: 21
Debuted: October 17, 2016
Height: 5'8″
Weight: 165 lbs
Cock: 7″ Uncut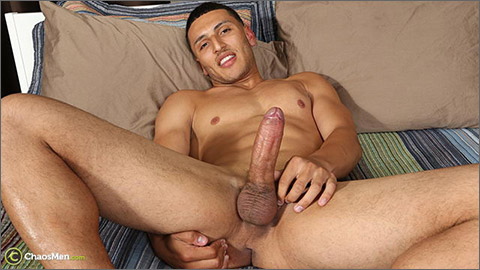 SOLO: DANIEL
Daniel has a girlfriend, and he says she has taken a rather large toy to his ass. So when he started talking to me, he seemed like a straight guy who likes anal play. Simple.
   Then as our conversation went on, he clearly had messed around with guys. At first he said he hadn't been fucked by a guy, but then it turned into being an eager bottom, looking for extra big cocks.
   His porn choice for the solo was also all over the map. Gay, straight, you name it. So I don't know if there is going to be one simple label for Daniel. Omnivore?
   He is a quiet and shy, and I get a very passive vibe from him. Even in bed with a lady, I am guessing he likes her to take charge.
   Daniel has an impressive cock on him too. A nice 7 inch uncut cock. He seems to want to do this so will try to at least stop shaving and let a little more natural hair peek through.
   He was pretty turned on, and almost came too soon. I left that moment in the video, but didn't really know if it qualified as a proper OutTake. He got too close simply by fingering his hole, so that is extra hot, but telling.
   And that is just how he busts a nut too. He fingers his hole aggressively, making his cock spurt a huge mess!
CLICK HERE TO GO TO HIS CHAOSMEN BIO PAGE