Spanish Men At Play Gay Porn Star, Dani Robles
Years Active: 2014 – 2021
MEN AT PLAY INFO:
Stage Name: Dani Robles
Country: Spain
Age (2014): 29 Years Old
Eyes: Brown
Hair: Brown
Body Type: Athletic
Weight: 83 K
Height: 1.85 M
Sexuality: Gay
Role: Total Bottom
Attire: Smart
Interests: Bondage, Piss, Spit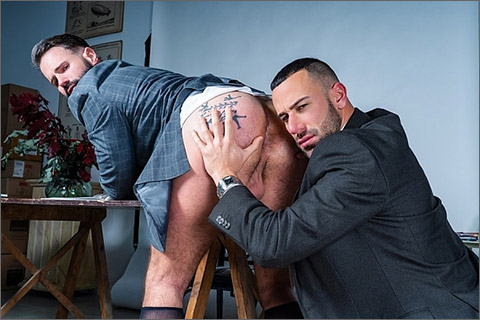 SERVICING THE BOSS
Take It Like a Man! That seems to be the motto of Dani Robles' new sexy boss Gustavo Cruz. Dani's first week on the job is going great – he feels like he's already part of the work-family. And, it gets even better when his lewd boss Gustavo finally makes Dani's dream come true when he fucks him with his big cock right in the office.
   But, who are we kidding?! Only on MAP can you "Work Less. Play More!" Get back to work Dani.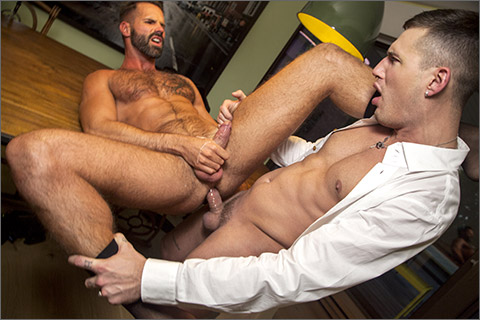 PARIS PERFECT: Theo Ford fucks Dani Robles
As if being forced to eat escargot, "Mr. Ferrand's Favorite" wasn't bad enough, Colton Grey's charade takes a turn for the worst when a Spanish hitman (Dani Robles) turns up at the Penthouse. His threatening demands for payment on a debt are appeased by Theo Ford who takes Dani into the next room to buy some time. The down payment includes heavy foot play, ass eating, cock sucking, and every inch of Theo's thick, uncut cock, shoved up Dani's tight ass. All of the aggressive fucking and noisy load eating creates such a ruckus, Colton is convinced that Theo is being worked over by the Spanish hitman. On his way out, the disheveled Valet Theo ominously warns that the debt must be repaid within 24 hours – or else! Unaware that his best friend's phone has been stolen, Colton frantically calls Johnny V. Where could he be? All is definitely NOT perfect in Paris!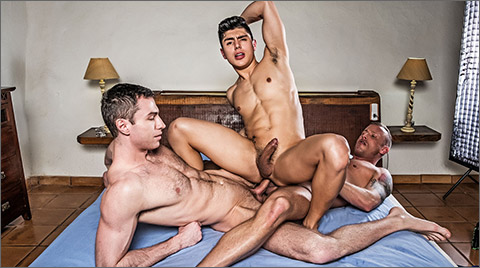 RAW DOUBLE PENETRATIONS 5: Ken Summers Leads a Five-Man Double Penetration Orgy
Ken Summers loves group sex — the more men who come his way the better. He might be a little guy, but he's not shy. He teams up with fellow bottom Dani Robles as they submit to serving Sean Xavier, Ralph Novak, and Logan Rogue. Ken loves being the center of attention, and when he's taking Ralph and Logan's cocks up his ass at the same time while sucking off Dani and Sean, it's clear the production team gave him exactly what he wanted!

NOBODY'S BUSINESS
Have you ever asked "Is this seat taken?" knowing perfectly well that there are plenty of other empty tables, but there's a particular guy at this particular table that is just so fucking hot you got to breath in a bit of his personal space. You actively start invading that space, shifting up closer, opening up your body language, and giving little glances to test the water. You desperately try to think of an excuse to brush up against this stud and start a conversation. Kayden Grey is as subtle as he can be when faced with such a beauty as Dani Robles. Then, when he gets the signals he's been waiting for he gentle strokes his shoe up and down Dani's calf under the table. Meanwhile Kayden opens his flies and lets Dani reach inside. Trying to hide Kayden's huge dick behind a newspaper is a challenge, as is Dani getting his lips around it, but before long they've thrown caution to the wind and Kayden is riding Dani and going at it like nobody's business!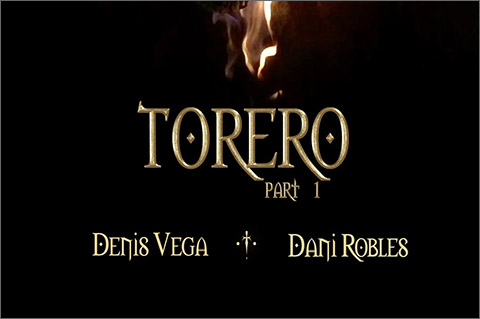 TORERO – CHAPTER 1
BULL FIGHTER PART 1 (Sevilla)
A bull fighting story taking place in Andalusia Spain, where a famous matador named Manuel Vega goes to his private bull fighting ring to train every morning. Dani, who is in his trial period to work at the ranch, is waiting for him there. The matador has a weakness for men but he doesn't let it take him over. He keeps it a secret for fear of the society around him. Also, because he is engaged to the famous flamenco dancer Carmen Torres. They are both very famous and a power couple in the tabloid magazines. However, he is unable to avoid this kinky feeling of being alone in a stable with an attractive man. Upon finishing with their days work, Dani has a big surprise. No details are lost in this passionate story with a mix of sex and drama, all wrapped up in the typical Hispano-Andalusian art.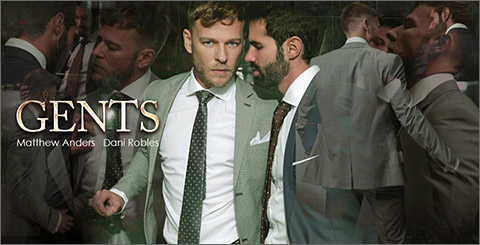 GENTS
Matthew Anders may look like an impeccable business man on the outside but theres nothing more that he likes than a bit of urinal stroking action. Matthew is on a mission to find some cock and he ventures underground to a popular public mensroom to get his rocks off. But the blond hunk hasn't gone unnoticed, Dani Robles is on the hunt too and spots Matthew following him downstairs to find him dick-out at the urinal just waiting to be sucked. The men get instantly hard, watching each-other piss and jerk off, and Dani's mouth is watering at the tough of gong down on Matthew and sucking on his delicious uncut dick. But that's not nearly enough for Matthew, as he bends Dani over the washbasin before literally fucking the cum out of him. And boy does he cum – watch Danis spray a MASSIVE load all over the bathroom mirror!!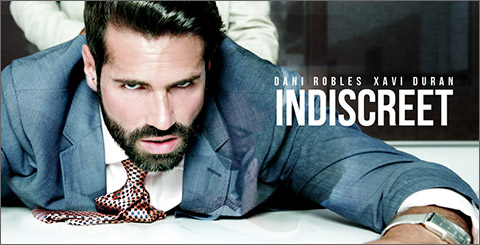 INDISCREET
Menatplay favourite Dani Robles is having trouble with juniour colleague Xavi, who doesn't seem to care about workplace etiquette, and keeps coming onto Dani while he's frying to prepare for a presentation. But Xavi is that kind of guy, if he wants some one he wont take no for an answer and today he wants a piece of Dani's sweet ass. And even though Dani tries to remain professional, his resolve disappears as soon as he feels his trouser hard-on, and Xavi gets the deep, slow blow-job that he wanted so badly. Xavi then Gets Dani on to the boardroom table and gets to work on his ass, eating his smooth hole before giving him some serious dick action.

BROMANCE
The Bromance between work colleagues Dani & Massimo has slowly evolved into something more, but neither of the guys has ever dared express it. But now that Dani has to leave after getting a job offer in the city, Massimo knows this could be his last chance. And when he sees Dani looking so handsome in his suit, Massimo urges are stronger than ever and he decides to make his move. The two friends break the sexual tension, and set off on an Hot kiss, suck and fuck session out in the the summer sun. Blue-eyed Massimo fucks Dani's hungry hole deep, hard and intensely – just like he's fantasized about doing a thousand times before. Until he's ready to shoot his load, and covers Dani's new suit in his hot, sticky mess – making sure he has something to remember him by on his way to his new job!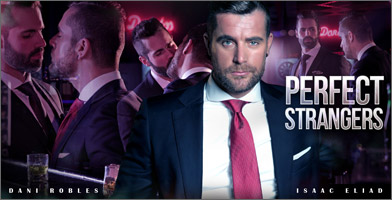 PERFECT STRANGERS
There's a new man in town – Isaac Eliad, and Dani Robles is the first to get his hands on him. From the very moment the handsome stranger walks in the bar Dani is instantly taken by his dark & mysterious look. He wonders if he could be into guys and unable to control his instincts he shoots him a glance from across the bar, and to his surprise the stranger returns his glance, with the a slight but very telling smile. And that's all the signal that Dani needs to make his move, slowly approaching him until he's standing next to him at the bar… close enough to brush his hand ever so slight past his leg. A move so subtle, but enough to get the stranger's attention and also get him hard with the thrill of this spontaneous meeting. Dani gets close and more daring, until the stranger carefully unzips his trousers, and takes out his dick right there at the bar. And once Dani gets a feel of his fat meat, he cannot control himself and just has to get his lips around it. From that moment on the guys lose control and Eliad takes Dani to a more private spot where they can let loose and unleash the intense sexual tension. This is MENATPLAY in full erotic, suit-fetsih mode!
VIDEO ON-DEMAND: Dani Robles @ AEBN SMUTJUNKIES THEATER
DVDs & ON-DEMAND: Dani Robles @ TLA VIDEO