William Higgins Czech Gay Porn Star, Danek Gyor
Known Aliases: Max Bishop, Jakob Rowen, Thomas, Peter, Jack, Kody Dunn, Ivan (Gay War Games)
Years Active: 2012 – 2014
WILLIAM HIGGINS INFO:
Danek Gyor is from Prague. What a very handsome guy he is and with a great body too. He has it all, from a big, hard cock to a hot, inviting ass. We already did a Screentest with Danek, which went online last week, and what a great show he put up.
Age: 21
Home Town: Prague
Height: 175cm/5'8″
Weight: 70kg/154lb
Foot Size: EU42/US8.5/UK8
Penis Size: 17cm/6.69″
Profession/Student of: Waiter
Hobbies: Sport
Favorite Sports: Football
Active Sports: Football
Movie/Music/Sport Stars: Penelope Cruz
Visited Coutries: Slovakia
Want to Visit Coutries: Croatia
Dream of My Life: To see the world!
Zodiac Sign: Pisces (February 19 – March 20)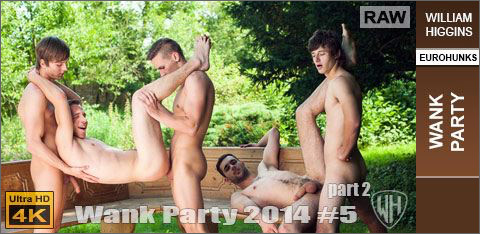 WANK PARTY 2014 #5
In WANK PARTY 2014 #5 we have Hugo Antonin, Zdenek Bodbaba, Alan Carly, Danek Gyor and Paul Belonek. In this first part we find them in the garden where they are going to have some 'wheelbarrow; races. First off is Antonin at the driver and Paul as the wheelbarrow. Then Zdenek and Danek, folowed by Antonin again, with Alan. Then they have more races, leaping as frogs might before actually having a game of leap-frog. All this while they are naked, cocks flailing as they leap. It seems that there is reward for the winner, which is Paul's cock. Antonin is deemed the winner and he gets to wank and then suck on that big cock. As he sucks Paul the others start to play too. with Alan and Danek wanking each other and Zdenek leaning over to wank Antonin. Soon they are all hard with Antonin and Zdenek taking turns of Alan's stiff meat. Paul's cock is massive and Danek starts to feast on it too. As the sucking and wanking contiues Paul and Antonin kiss as do Zdenek and Alan. Paul then moves, so that he can suck on Antonin's hard cock, taking it deep in his throat. Antonin, meanwhile, wraps his mouth tight around Alan's cock and Zdenek sucks first Paul and then Zdenek. Moving again has Antonin working on Paul's cock as his own is sucked by Alan. Then Antonin turns and sucks Alan again, who is busy kissing Paul. Zdenek gets to taste Danek's dick as he takes Paul's in his mouth once more. They all want to taste each other, so Paul sucks Danek, and then Antonin as Zdenek bends over to take Alan's thick meat in his mouth. Those cocks are all so rock hard, with Alan's poking out proudly as he wanks Zdenek, before standing and feeding him. Paul is then busy on Antonin's pole as Danek leans over to suck Zdenek. Thoughts start turning to some ass and Alan and Zdenek willingly offer theirs up for some fingering and rimming. Paul's tongue finds Zdenek sweet spot as Antonin fingers Alan's, with Zdenek sitting between them for Zdenek to suck his dick. What a great start to a very hot wank party, with 5 beautiful guys.
We join them, in this second part, as Alan is being fingered, and Paul is too, as he is sucking Danek' big thick cock. Then we have Paul riding on Hugo's throbbing dick as Alan is sucking while bent over and taking Danek's cock deep in his ass. Hugo fucks his cock deep up into Paul's eager hole, with Zdenek watching and wanking himself. Alan's hole is really opened up and takes all of Danek's cock, feeling every thrust. Alan loves dick and sucks Paul's huge one too. Zdenek then leans over and sucks Paul's cock as the fucking continues. Alan wants Paul's cock in his mouth again so Zdenek moves up and feeds his to Hugo. Paul decides he wants to fuck too and fucks Alan missionary style while Hugo lays across Zdenek's knees, taking Danek's in his hot hole. The guys all move again, but still with Paul pounding Alan's ass and with Hugo sitting his cock all the way down on Danek's. He rides that dick real well. As he gets fucked by Paul Alan wanks his own rock hard dick. His wanking speeds up and he dumps his cream while Paul is deep in his ass.Paul continues to fuck that hole and Hugo wanks himself, furiously, as he rides Danek, until he drops his juice too. Paul pulls out of Alan's ass and stands over him wanking, needing to cum. Meanwhile Zdenek sits and milks his cock to a big load, followed by Danek whose delivers a massive one, coating his dick in hot cum. Paul is last up, for cumming, and shoots his cream all over Alan's sexy chest at the end of a great wank party.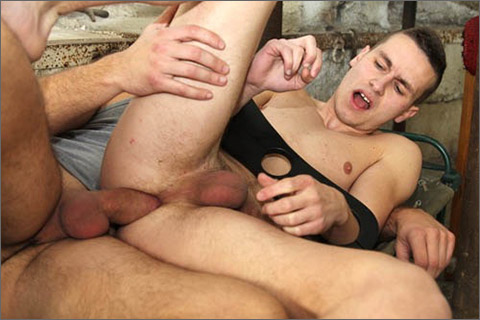 PRISON MEANS LUST
Being sentenced to prison is not fun at all. This young pal committed a crime and he has to serve his time. In Tchukistan the prison is tougher than in south america. Beating, bullying is just beginning. He and his dick are prisoners of lust.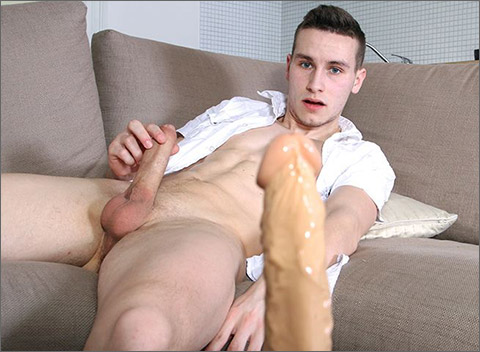 ANAL SEX FOR HIM!
Jack comes to the office for a job, only to walk in on a dildo staring at him. Paul Fresh tries to act innocent until he aske Jack to sit on the dildo. Jack either loves the way it feels up his ass or he needs the money. After loosening that as up, Paul Fresh lid on the couch so Jack can ride the dick. Riding the dick as Paul jerked Jack's cock off. Pounding that tight ass just right. Then busted a nice load of cum on his face. Sweet!
WILLIAM HIGGINS
STR8HELL
BADPUPPY
GAY WAR GAMES
STAXUS
MILE HIGH MEDIA / MALE REALITY
BOY FUN COLLECTION
CLICK HERE TO GO TO HIS WILLIAM HIGGINS BIO PAGE