Handsome Hairy American Gay Porn Daddy, Damon Andros
Known Aliases:
Years Active: 2016
TWITTER @DamonAndrosXXX
GUYBONE INFO:
Ethnicity: Caucasian
Height: 5'9″
Body Type: Muscular
Tattoos: Yes
Dick Size: 7.5″ cut
Body Hair: Hairy
Facial Hair: Beard
Position: Versatile
Piercings: No
Woof! Talk about the perfect masculine daddy otter! Studio boy Damon Andros is fucking sexy and we are rock hard for him! That smooth, shaved head. Those dark, make me melt eyes. His handsome beard and furry body and big, curved cock. Grrr! So rugged yet refined. I just want him to take me and make me his sex slave. He's got that fantasy gym coach look that makes me want to blow his whistle. And then so much more!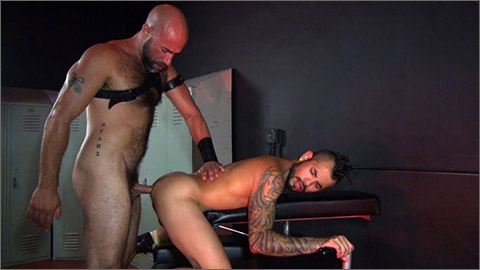 DAMON ANDROS BREEDS DRAVEN TORRES
There are breeds and then there are BREEDS. What we have here is sexy, hung daddy Damon Andros giving dirty bottom boy Draven Torres all he can take and more. And then the breed cums and it is a wet sloppy hole covering one. One we wanna watch again and again.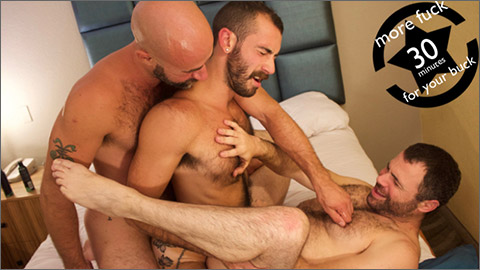 BAREBACK OTTER ROMP
Happy 5 Year Anniversary!!! Thank YOU for the awesome support and love!!! We are incredibly proud to celebrate this milestone with you!!!
   We knew we had to go big in honor of our 5th year, and what's bigger than a bareback 3way with a trio of hot otters who have all worked for several studios and wanted to cum together for ours? Not much is bigger, that's why this was the perfect anniversary scene! We got Damon Andros, Stephen Harte and Dusty Williams to have a raw romp for us and they clearly had just as much fun celebrating our milestone as we did! In fact, they were having so much fun together, they ended up with an extra 10 minutes of footage. That's more fuck for your buck!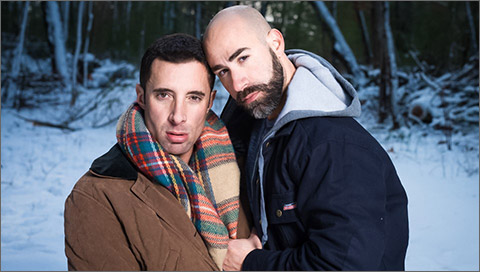 FATHERS & SONS 4: Damon Andros fucks Nick Capra
Nick Capra didn't think he could find love again, especially after coming out as a gay man so late in life. That was, until he met Damon Andros. After only a few months into their relationship, the couple have decided to get married. But before they can move forward, they need to share the big news with their sons.
   The news about their dads' engagement is unexpectedly dropped over dinner, but the boys are nevertheless thrilled for them! Later that night, Nick is lying in bed, thinking. He tells Damon how surprised he was over his own son's reaction. He didn't expect Ty to take it so well. He also tells Damon how impressed he was of Killian. He always hoped that his son would be as motivated as Killian is. But Damon tells Nick to let his son be who he is. They stare into each other's eyes, and Nick leans in to give Damon a kiss.
   Nick rolls on top of Damon, pressing his hairy body against his. Damon grabs Nick's ass, squeezing it, as they continue to passionately make out. Damon flips him onto his back, kisses him on the neck and slowly makes his way down to Nick's huge bulge. Nick watches Damon suck on his big dick, drooling down on his balls. Nick gets on all fours with Damon behind him licking and eating his hole. Damon gets on his knees behind him and pushes his rock hard meat inside of Nick's ass. He fucks him hard, banging against his bubble butt. Nick falls flat on the bed, still receiving a rough pounding.
   They change position, Damon lying on his back with Nick sitting on his tool, riding it. He jerks off as he bounces on top of Damon, which makes him cum instantly all over his man. When Damon is about to shoot his load, Nick gets in a doggy style position and takes it all on his ass.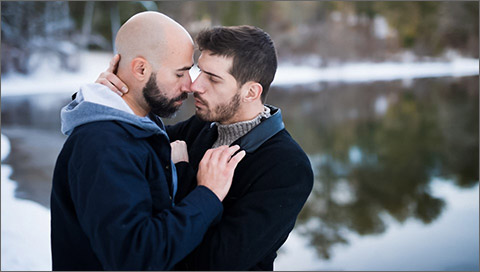 FATHERS & SONS 4: Ty Roderick fucks Damon Andros
After enjoying the cold winter air, the fathers and their sons return to the house to warm up. The conversation turns to career paths, and Damon Andros' son criticizes how his mother was never able to commit to one single job. Ty Roderick, on the other hand, doesn't believe there's anything wrong with exploring different paths. Ty's father and Damon's son disagree, explaining that people need stability. When Damon finally speaks his mind, he confesses to be on Ty's side. If people want to expand their horizons to get experience and learn new things, why shouldn't they?
   As the night comes to an end, Ty's father and Damon's son head to bed. Damon decides to stay up a little while longer to look over at some of the pictures that his boyfriend's son took. Going through them, Damon sees just how talented the boy is. Ty turn to face Damon and thanks him for having his back earlier. They glance into each other's eyes for a moment, feeling a stronger bond between each other. Then, Ty leans in to kiss his new dad.
   The guys are making out on the couch. Ty removes Damon's shirt and kisses his hairy chest. Clothes are coming off, piece by piece, until there's nothing left. Damon gets on his knees to suck on Ty's big dick, as the young man enjoys. Ty tries thrusting his cock down Damon's throat, choking him. They flip suck, giving Ty the chance to thank his new dad the best way he can.
   Damon gets on all fours, spreading his ass cheeks for the boy. Ty gets deep inside of his dad's hairy hole with his tongue. He sits back down on the couch and strokes his thick tool as Damon gets ready to swallow his cum. Ty shoots his load into Damon's mouth, sucking the rest off of the boy's cock.
GUYBONE
ICONMALE
PANTHEON PRODUCTIONS
HOT OLDER MALE
DIRTY TONY
RAW JOXXX
FACTORY VIDEO / CUM PIG MEN
CLICK HERE TO GO TO HIS HOT OLDER MALE DETAILS