Blond Tattooed Slender American Gay Porn Star, Damien Hyde
Known Aliases / aka:
Years Active: 2016
TWITTER @damienhydexxx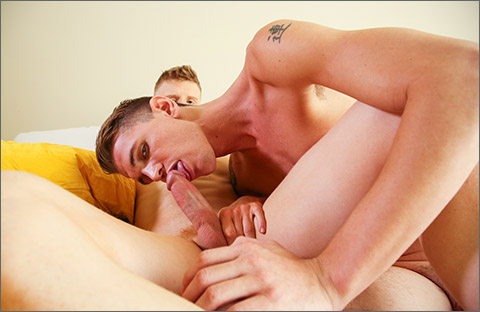 STR8 BAIT HOSTEL – TURN DOWN SERVICE: Damien Hyde fucks Alex Tanner
Weary traveler Alex Tanner has found his way to Madam Hostel's lodge and is ready for a good night's rest. Trying to save a few bucks on his trip, he's both anxious and excited to be staying in the hostel, and even though the Madam seems a little odd, Alex tells himself it's worth the money. Plus, the hostel's porter, Damien Hyde, is no eye sore. Alex isn't sure if Damien is flirting with him or if everyone here is just a little forward, but nonetheless, he turns the key and unpacks in his room. After a nice shower, Alex is ready to rest his road legs, and so he falls asleep. Sometime later, Damien checks on Alex to see if he needs turn down service, and finds him ass out and ass up in the air. Damien can't resist the temptation and begins to stroke himself, fixated on the idea of pounding Alex's sweet little ass to his heart's content. As he fondles his cock, Damian decides to risk it, and slips a finger inside Alex's hole, massaging it as he continues to get hard. Alex wakes up and looks over his shoulder, asking Damien what he's doing. Incredulous, Damien doesn't even stop to answer, asking Alex if he likes it. Alex concedes that he does, and Damien asks him if he wants him to stop. Alex tells him no and Damien lowers his head, plunging his tongue deep down into Alex's hole as Alex grabs the sheets and bites the pillow. Once he's nice and ready, Damien eases his giant cock into Alex, who takes it like a champ, as Damien proceeds to pop Alex's cherry. Alex begins to understand what Madam Hostel meant by 'giving something back' as Damien proceeds to own his ass in every possible way, fucking him from behind, underneath, missionary, doggy, etc. Alex strokes himself off as Damien gets closer and closer. Alex loses his load as Damien pulls out and blasts his face, and as he lays there cum covered and still exhausted, Alex asks what other amenities the hostel provides. Damien just smiles a knowing, sly grin.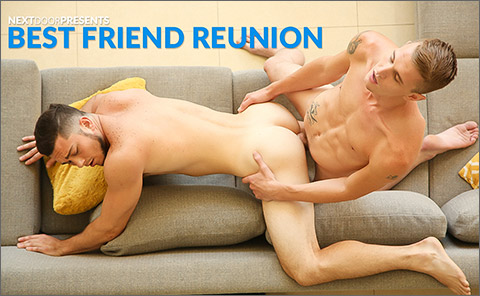 BEST FRIEND REUNION
For best friends Damien Hyde & Johnny Riley, reuniting means spending the day laughing and reminiscing about the old days. All is well and good until Damien brings up the fact that he still thinks about the days when they used to mess around. Johnny hasn't thought about those memories in a long time, and when Damien mentions it, Johnny is visibly uncomfortable, but Damien assures him that it's all normal, and that he's never told anyone about their past together.
   Sitting alone on the couch, it's obvious Damien wants to rekindle the arrangement, but Johnny has some reservations. Damien puts his hand on Johnny's leg and his touch reassures Johnny, and also reminds him of how much fun they used to have. So he reluctantly relents, lowering his head as he unzips Damien's pants, sucking on Damien's cock as it grows hard in his mouth. Damien closes his eyes and Johnny works his cock like the old days, putting his hand on the back of Johnny's head and pushing him down to gag on his cock, before flipping over and pushing Johnny up against the sofa as he eats his asshole.
   Damien moistens up Johnny's hole, flicking his tongue around as Johnny clutches a couch cushion. Damien sits up and slides his cock where his mouth used to be, slipping his hard dick inside Johnny and pounding his bubble butt from behind. Damien realizes Johnny's cock is a lot bigger than it used to be back in the day, as Damien shows off his stroke, fucking Johnny hard before flipping over and letting his boy take a ride. Johnny grinds on Damien's cock, moaning loudly as he works his hips, slamming Damien with every thrust. Damien flips Johnny over onto his back and fucks him missionary before pulling out and blasting Johnny with his load as Johnny follows suit, finishing the job as he loses his load all over his stomach. As he rubs the cum into his skin, Johnny realizes it has been far too long since he spent such quality time with his best buddy, a mistake he vows not to repeat.
NEXT DOOR STUDIOS
FRATERNITY X
JASON SPARKS LIVE