Handsome Black American Gay Porn Star, Damian
Known Aliases:
Years Active: 2016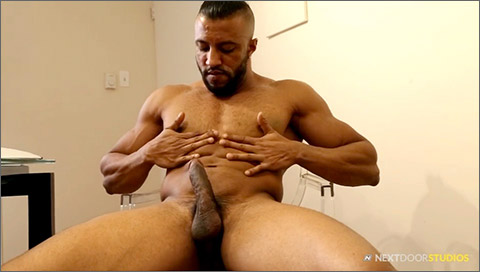 DAMIAN SOLO
He's cool and he's smooth, but all that goes without saying. He's Damian and sexy bodies are his business. But in order to make sure a model will hold up, sometimes he's gotta put it to the test!
   As adult modeling agent Damian finishes a phone call with his partner, a particular photo of a young man catches his eye. It's a new guy with a cock strong and long, just what Damian likes. After hanging up, Damian strips down and pulls out his own large dick and lets his emotion move him.
   Soon, he's fully flared and enjoying his massive erection. He's gotta make sure his hunch is correct and the new model's photos can make him erupt with a sizeable load. That means more than simply tugging his hard meat. Damian is taking his time, touching himself where he knows it counts, bringing his temperature to just the right simmer before making a final call on this fresh talent.
   His chiseled abs and pumped-up physique show how hard Damian works not in the office, but in gym. That's his motto: work hard, play hard. It would certainly be wise for anyone to take a page from Damian's book. Join him now and see why it's important to put in the extra work.
NEXT DOOR STUDIOS
NEXT DOOR EBONY