Blond American Gay Porn Star & Director, Dallas Reeves
Years Active: 2007 – 2015
TWITTER @ReevesDallas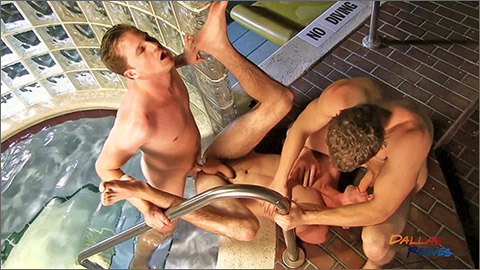 DALLAS REEVES, JOHNNY FORZA AND BRYAN THREESOME
There is a late night orgy in the hot tub! Dallas Reeves and Johnny Forza are making out along with some of the other studs, when the group are interrupted by Bryan Cavallo. Dallas offers for Bryan to join the fun, and Bryan quickly shed his clothes and hops in. These three begin making their own heat in short order. After some three-way making out, Johnny stands up with a raging boner. Bryan is on it! As Bryan works on Johnny's cock, Dallas slurps on Bryan's uncut cock. With each of these three horned up and wet, the fun gets taken up a notch. Dallas asks Bryan if he wants to fuck, which of course he does! Bryan bends over, continuing to suck Johnny off, while Dallas shoves his bare dick into Bryan's tight hole. Bryan is getting spit-roasted in style, and all three guys are loving it. Johnny begins to face fuck Bryan while he is getting nailed raw. Soon, Bryan is on his back with his legs in the air – as Johnny stuff his face with his cock, he asks how much he likes it. Bryan can't speak because his mouth is filled with cock, but his moans say "yes!" Johnny kisses Dallas as he slides his cock in and out of Bryan, keeping the momentum going. When Johnny stands up to drop a load, Dallas pulls out as well. The guys jerk off over him as he quickly loses it and cums on himself, then Johnny and Dallas cum as well. Bryan is soon covered in load after load of creamy jizz. Hot threesome!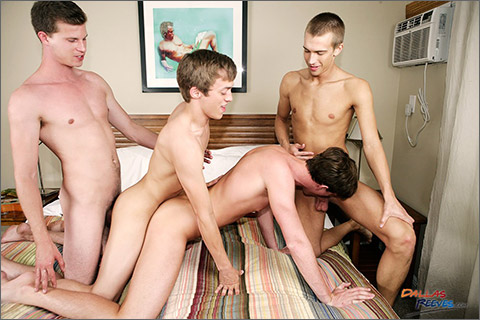 ORGY AT ARAGON HOTEL
Brice Carson, Patrick Kennedy and Tyler Blaze are making out at the poolside when Dallas catches them having some fun. Dallas joins them eventually, kissing on Brice while Patrick and Tyler lock each others' lips. Dallas invites them to his room since no one is around there and probably make this fun go up the notch. They head off to his room and laying on his bed, it's Dallas and Patrick making out this time while Brice and Tyler get it on. Patrick sucks Dallas' big dick and Tyler gives a hot blowjob on Brice. As the two gives nasty oral, Dallas and Brice kiss each other. After a few minutes they trade places, it's now Dallas sucking on Patrick's hard stiff dick and Brice enjoying munching Tyler's huge pole. Dallas then licks Patrick's ass then the four rise up to fuck. With Brice hitting on Tyler in his hole while the latter sucks Patrick's massive dick, Dallas gets his thing going by drilling Brice's tight manhole. Brice gets his chance to nail on Tyler's ass and Dallas railing Patrick in rapid pace after change in position. Few minutes of hard thumping, Dallas lays down and sucks Patrick's shaft while Tyler rides on top of Dallas towering stiff pole. Tyler lays down and surrounds himself with three huge dicks ready for massive cum blast. Tyler cums off his nice abs same time as Carson, who blasts off his jizz on Tyler's body. Next to unload is Patrick, who showers Tyler with some pretty thick massive cum and finally Dallas who gives Tyler a nasty warm jizz shot off his face. Absolutely a great time having an orgy at the Aragon Hotel.