Cute American White Trash Gay Porn Star, Dakota Payne
Known Aliases / aka:
Years Active: 2017 – 2021
Lucas Entertainment Stats / Info:
Position: Versatile
Dick Size: 7.5"
Height: 5'10
Texas native Dakota Payne is a young and versatile up-and-coming porn star, and he's clear on why he's attracted to the world of adult filmmaking: it's his "voyeuristic tendencies" that push him to strip down and fuck on camera! Dakota loves flip-fucking and eating ass, and he doesn't limit himself to any specific type. "Sexiness comes in all ages and races," he says. The craziest place Dakota Payne has fucked was up against a baseball field fence, and when he's not filming porn he's either pursuing his own interests in filmmaking or playing video games (of which he is an enthusiast).
Brian Ockert / ChaosMen Info:
Start Age: 27
Debuted: January 30, 2017
Height: 5'10"
Weight: 155 lbs
Cock: 7.5″ Cut
Dakota submitted his pics to me, and I was eager to get another local dude to come play in the studio.
   Turns out he is friends with Lorenzo, and indicated that he has always wanted to do porn. Lorenzo gave ChasoMen studios a big thumbs up, and within in a week he was in the studio to stroke one out.
   Dakota's main love is film, so he also wanted to help film, edit, or be a production assistant. Those are great skills to have, but after you watch this solo, you can tell the dude should be in front of the camera as much as possible.
   He has a very horny vibe, and is likely a bit more of a Bottom than a Top. He says he really likes to flip-flop fuck, and with a solid 7.5 inch cock, I am certain he excels at topping as good as he bottoms.
   We get a nice sneak peek at his bottoming skills. He uses a plug and then a dildo to fuck himself. He has a lot of sensual energy, and clearly liked having a dildo inside of him.
   Dakota consistently edged himself throughout this video, teasing himself until he was just about to nut.
   He switches back to the butt plug so it would stay in place while he ejaculates, and then easily jerks a high flying load out of his cock!
   I will get him back for an oral, but based on just this solo, you can tell Dakota is going to be a power player!

ENDURING DADDY'S DISCIPLINE: Cade Maddox Dominates Little-Bro Dakota Payne
It's an unwritten rule that big bros are supposed to rough up their little bros so they grow up to be strong men, but Cade Maddox takes is further. And who wouldn't want him to? Cade is a gorgeous young man with an incredible body and a huge, fully engorged cock. When Cade Maddox gets Dakota Payne alone in the bedroom, Dakota quickly learns who is in charge. Cade brutalizes Dakota's ass by fucking him raw, and goes further by sodomizing him with a huge dildo.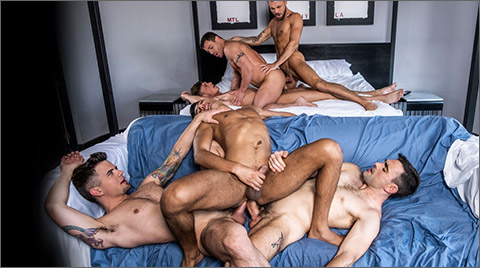 SEEDED MAN WHORES: Max Arion's Bareback Double-Penetration Orgy
Max Arion invites a small group of his fuck buddies over for something he hasn't enjoyed in awhile — a bareback orgy. Max Arion, Jeffrey Lloyd, and Braxton Boyd take on the top positions (for the most part) while Dakota Payne, Jesse Santana, and Benjamin Gomez serve up their asses to be used, though Dakota and Jesse don't miss the chance for some versatility during this gay bareback sex encounter. In fact, Max and Dakota team up to split Benjamin in two by double-penetrating his ass completely raw!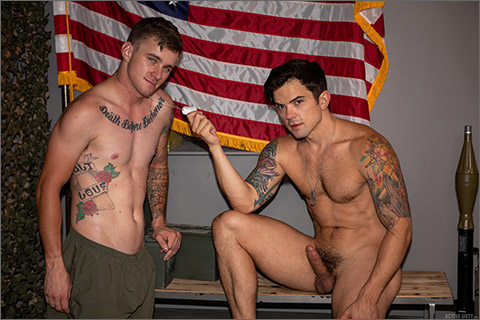 RYAN JORDAN TAKES DAKOTA PAYNE
New recruit Dakota Payne is on his first day off duty in a long time and Ryan Jordan is there to show him the ropes of how we do it in the camps. An intense sex since ensues with amazing sixty-nining and steamy hot anal sex.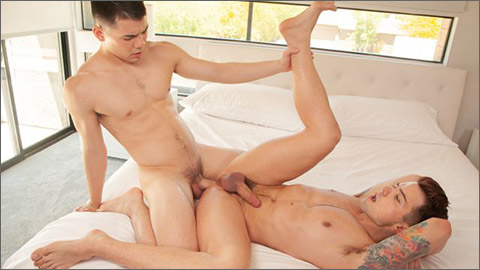 7 MINUTES IN HEAVEN: Colton Reece fucks Dakota Payne
When a group of friends decides to play an adult version of '7 Minutes in Heaven', Dakota Payne pulls Colton Reece's name from the bowl of tops. Dakota is unsure if he's really into the game, but Colton quickly convinces him he'll enjoy it and takes him to the bedroom where the two of them strip down as Dakota drops to his knees. He can't wait to get Colton's girthy cock down his throat and eagerly sucks the stud until his thick dick is nice and hard. Colton returns the favor with a quick blowjob before bending Dakota over to open his ass with his tongue. When Colton senses that Dakota is ready for his dick, he slips inside the eager stud and pounds his ass hard and raw. Colton is relentless and doesn't let up the pace as he keeps giving Dakota all he can handle. Dakota wants to look Colton in the eyes as he pounds his ass and flips onto his back to watch Colton fuck him bareback. Dakota's hole feels amazing wrapped around Colton's cock and soon, Colton can no longer hold back. Colton lets loose and shoots his load on Dakota's used-up hole before taking a taste of his jizz and sharing it with the Dakota. Colton wants to see Dakota cum and fucks his jizz into the stud until he makes his buddy drop his load all over himself. The two studs share a kiss and collapse onto the bed after an amazing and liberating fuck.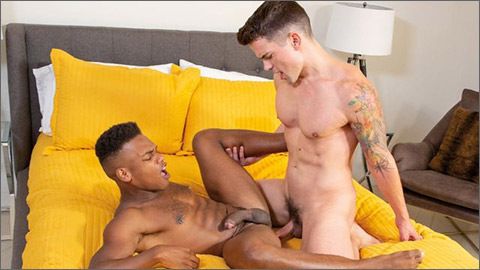 AFTERNOON AFFAIRS: Dakota Payne & Adrian Hart flip-fuck
Tatted stud Dakota Payne is enjoying a hot bath when Adrian Hart comes in to take a shower. While they clean up, they seduce each other with their hard cocks and chiseled bodies until curiosity overcomes Adrian. He joins Dakota in the bath. Adrian's mouth-watering cock is already at eye level, so Dakota takes the opportunity to put it in his mouth. They take turns exploring each other's cocks and holes with their mouths before drying off and heading to the bedroom. When they get on the bed, Dakota takes a few licks to Adrian's crack, then slides his raw cock into his tight hole. While Dakota keeps his cock firmly planted in his ass, Adrian strokes his cock. Switching positions, Adrian rolls over on his back to take every inch of Dakota's thick raw cock. Dakota can't get enough ass, but he has a flip fuck in mind, wanting Adrian's meat inside him. Dakota lays back, and Adrian slides his throbbing rod deep inside the versatile stud. Adrian returns the powerful bareback pounding that Dakota gave him, pumping the tatted stud's ass deep. Balls deep inside Dakota, Adrian gets sent over the edge and he slathers Dakota's used hole with his thick seed. When Adrian shoves his spent cock back in, he fucks the load out of Dakota, making him shoot thick ropes all over his abs.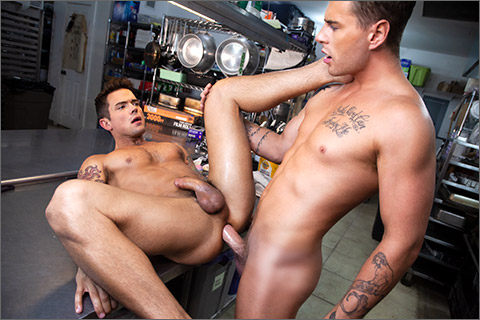 THE GAY SIMPLE LIFE: CUPCAKE BAKING CHALLENGE – Josh Moore fucks Dakota Payne
Day 3 of 'The Gay Simple Life' begins when sexy guest star Dakota Payne, dressed in tighty-whities, sneaks into the boys' room with the pups to wake them up. Although groggy and apprehensive of what's in store for them today, Josh and Calvin snap out of their morning funk when they see their sparkling white chef outfits. They immediately begin embellishing the starched white smocks, turning them into 'kitchen couture.' The superstars emerge from the house with their matching Chihuahuas and embark on their next adventure: the cupcake baking challenge. At a local catering company Josh, Calvin, Molly and Poop are greeted by Jonathan who shows them around the kitchen. Dakota and Josh lock eyes and decide "fuck these cupcakes," they want each other instead! They find themselves alone in the kitchen,so Josh and Dakota take the opportunity to work on their own batter. Dakota hops up on the counter to make out with Josh as both studs strip off clothes as they passionately kiss. Dakota lays back on the counter and hangs his head over the edge to take a throat fucking from Josh. They switch it up with Josh slurping on Dakota's dick before Josh lifts him up for an impressive standing 69, spread-eagle complete with an intense rim job on Dakota. Josh's spit lubes Dakota's tasty hole, as Josh lies him back on the stainless-steel counter and slides his huge uncut dick deep inside, fucking him raw. After they both spray cum all over each other and gobble up every drop, they sneak off to find Calvin and the pups. Jonathan, done catching up on work orders for the holiday season, comes back to find ass prints on his counter and evidence of a whole lot of bareback, ball-draining fun.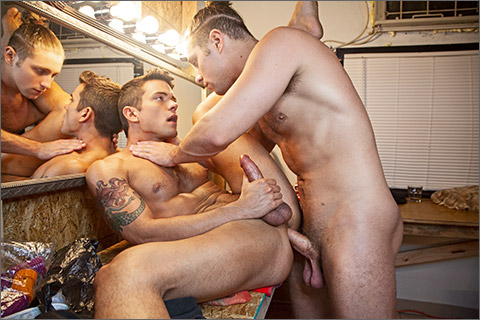 THE GAY SIMPLE LIFE: TULSA DRAG BAR CHALLENGE – Calvin Banks fucks Dakota Payne
Thinking they have the day off, Josh Moore & Calvin Banks are snuggled on the couch in their PJ's enjoying a lazy afternoon – but there is no rest for these city boys in 'The Gay Simple Life.' Dakota Payne shows up with an ad for a meet and greet that night at LaRue's, the local gay Bar. Dakota leads them to the living room where they're met by a display of wigs, costumes, makeup and Tulsa's local Diva, Fanny McCraken, aka David, who announces the Tulsa Drag Bar Challenge! Yep, the boys will be doing DRAG for the first time their lives. In Tulsa. Oklahoma. Josh is shook, describing it as his "biggest fear ever!" but the crew wastes no time beginning the transformation of these hot, masculine porn stars into beautiful queens. Fanny jumps in to give them a crash course, as seasoned drag queens and professional make-up artists Dakota Payne and NakedSword cameraman Leo Forte transform our superstars. Five hours later, the boys are painted to perfection, ready to face their biggest challenge of all! Calvin Banks aka "Paris Perfect" and Josh Moore "Nicole Bitchy" sashay into LaRue's where the owner Dominique, Fanny, and the local girls are more than excited to welcome these virgin queens into the night's lineup. After a few shots of liquid courage, it's showtime! Paris & Nicole (Calvin & Josh) blow the crowd away with their drag debut performance and bask in the glow of a standing ovation! With good times and shots flowing, Calvin and Dakota sneak back to the dressing room for a little 'meat' and greet of their own. With Calvin out of drag and hot as ever, Dakota wastes no time diving into his big untucked cock. Dakota slurps down Calvin's dick, then bends over the dressing room table to have his ass eaten, fingered and teased with the head of Calvin's big dick. With Dakota's ass primed and eager, Calvin slams his monster all the way in to his big low-hanging balls. For maximum bareback drilling, Dakota sits up on the makeup table and lifts his leg in the air to let Calvin get even further inside his hot ass. Calvin's hitting all of Dakota's spots, causing him to erupt a geyser of cum and setting off a chain reaction with Calvin almost immediately pulling out and painting Dakota's balls and hole with a huge load. Calvin thinks a hot quickie in the dressing room following the best night ever is the icing on the cake for this fabulous Tulsa adventure just as Josh barges in with the Chihuahuas in hand. "Omfg Calvin, our flight is in 2 hours… let's go!" As the superstars emerge out of the now-empty bar, the sun has come up, and their adventure has come to an end.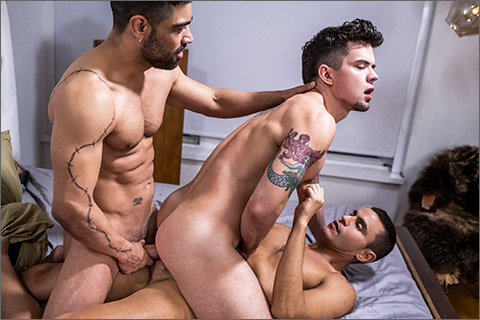 A CUCKOLD'S SUBMISSION: Rafael Carreras And Wagner Vittoria Spit-Roast Dakota Payne
Rafael Carreras and Wagner Vittoria have been in a loving relationship for years, but sex can be complicated because they both prefer to top. So to keep the relationship alive and spicy, Rafael and Wagner have fun cruising for guys to bring into the relationship for a night. It's not hard for these two to pick up guys: they're handsome, in great shape, and have huge rock-hard cocks ready to fuck. They find the beautiful young Dakota Payne and invite him over to rough up, and that includes double-penetrating his ass. By the time they send him home, Dakota can barely walk!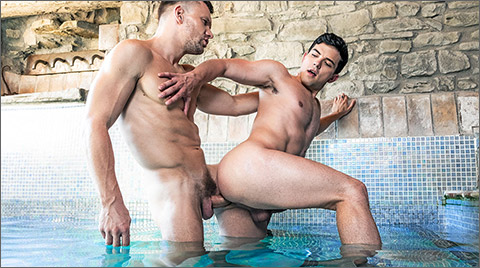 FUCKED WIDE OPEN: Dakota Payne Opens Wide For Andrey Vic
Dakota Payne is hanging out in the pool when his buddy Andrey Vic stops by. Dakota has always had a major crush on Andrey, and the thought of bottoming for him is an ongoing point of excitement. Andrey finally gives Dakota exactly what he's been looking for; Dakota blows Andrey's uncut cock in the pool before taking a seat on the erection and bouncing up and down in the water (including an underwater shot). Eventually they take it outside the pool where Dakota opens his legs wide for Andrey's raw meat.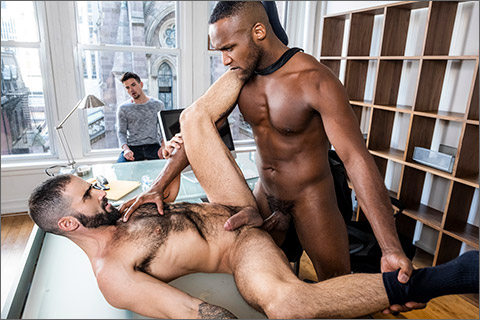 GENTLEMEN 25 – EDJI'S THE BOSS: Edji Da Silva And Andre Donovan Cuckold Dakota Payne
The young intern Dakota Payne is called in on a weekend for a special assignment from his supervisor, Andre Donovan. But he never imagined it would be to witness the big boss in charge, Edji Da Silva, taking on a sexually submissive role by riding Andre's cock. If Edji wants to get his ass fucked long and hard by big black cock — totally bareback — then that's what the boss is going to get — all while Dakota watches on!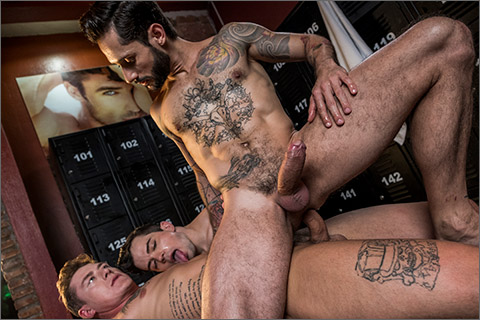 DADDY'S PLAY THING: Dakota Payne And Rod Fogo Share Geordie Jackson's Top Cock
Rod Fogo (a hot Latino with a sexy tight body) starts messing around with his fuck buddy Geordie Jackson. Geordie is a strict top daddy-in-training who loves getting his dick serviced, and guys that love sucking his cock and taking it up the ass are not in short supply. But tonight it's Rod's privilege. The pair moves out of the hot tub and into the vacant nighttime lobby, but call the night quits and hit the locker room before anyone shoots a load. When they see the adorable Dakota Payne, they both get horny again and continue their bareback fun. Around the 11:55 time stamp, you'll see Dakota taking Rod in his mouth while Geordie is breeding him in the ass from behind!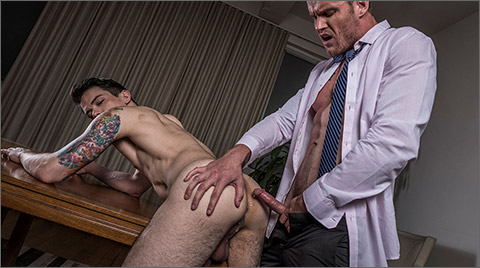 GENTLEMEN 21 – TOP MANAGEMENT: Shawn Reeve And Dakota Payne | Internship Gone Raw
It's time for the wunderkind Shawn Reeve to make his final decision: does Dakota Payne have what it takes to be a successful intern? But the determining factor is whether or not Dakota Payne is willing to put in some overtime. Sure, the internship might be unpaid, but when you get fucked up the ass by a boss as hot as Shawn Reeve, who's going to complain about staying late some nights? Dakota sure isn't!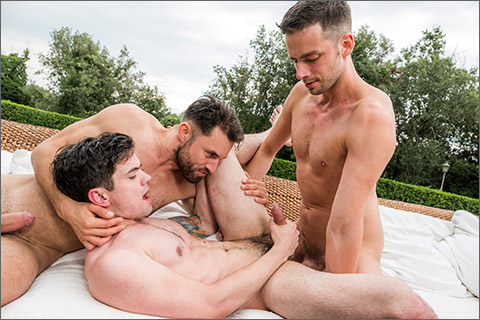 BAREBACK AUDITIONS 9 – EAGER TO PLEASE: Damon Heart And James Castle Double-Team Dakota Payne
Lucas Entertainment's new exclusive model, Dakota Payne, has been in a few scenes already since the summer of 2017. But Dakota gets his formal introduction to the set with Damon Heart and James Castle in "Bareback Auditions 09: Eager To Please." Damon and James make nice with Dakota in the interview portion, but once the talking is over Damon and James take turns using Dakota as their own personal bareback sex object. Dakota certainly is eager to please, and he uses his leanly muscle body to bend into plenty of positions for Damon Heart and James Castle!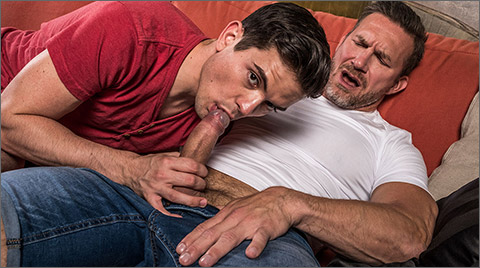 MUST SEED TV: FILL MORE GUYS | Tomas Brand, Dakota Payne
It's a parody, it's a reboot — it's a reboot-parody! It's Must Seed TV! Lawrence Fillmore (Tomas Brand) is making it work the best he can, but with a talkative twink like Corey (Dakota Payne) under his wing, sometimes the only way to get some peace and quiet is when his mouth is full. But when they come as horny as Corey, you have to fill more than just his mouth — and luckily Lawrence loves to fuck! Corey might not be his son, but Lawrence is definitely a daddy, and this daddy is always ready to Fill More Guys.
CLICK HERE TO GO TO HIS LUCAS ENTERTAINMENT DETAILS
CLICK HERE TO GO TO HIS CHAOSMEN BIO PAGE
VIDEO ON-DEMAND: Dakota Payne @ AEBN SMUTJUNKIES THEATER
NOW STREAMING: Dakota Payne @ NAKEDSWORD