Sexy Hung Ginger Next Door Studios American Gay Porn Star, Dacotah Red
Known Aliases / aka:
Years Active: 2018 – 2021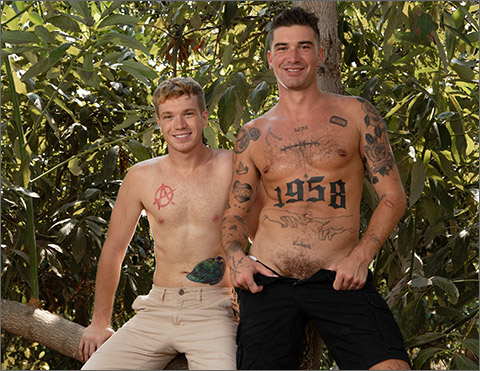 DACOTAH RED TAKES CHRIS DAMNED
Chris Damned gets caught jerking off and as he's about to get his cock back in his pants, Dacotah Red makes it clear that he's into it. They both start going at it next to each other until they can't keep their hands to themselves.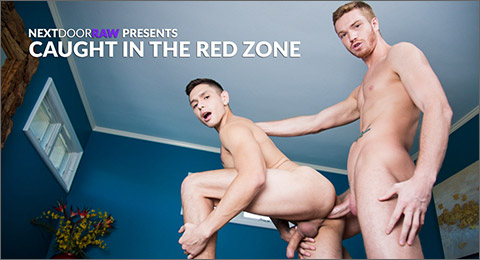 CAUGHT IN THE RED ZONE
As soon as his boyfriend exits for the airport, Jamie Steel pulls out his secret lover Dacotah Red from the closet, but when the boyfriend comes back in, Jamie is caught red handed. As his relationship walks back out the door, Jamie doesn't seem too upset, telling Dacotah that he'll be back and not to worry. That's good enough for Dacotah, who is only here for a little bit of ass, and that's just what Jamie has to give him. Freed from the burden of potentially being caught, Dacotah and Jamie let their inhibitions go as Dacotah fucks Jamie all over his bedroom, pounding his hole with his raw cock as Jamie strokes himself close to cumming. Dacotah pulls out and loses his load all over Jamie's face, coating him in jizz as Jamie strokes himself dry. Jamie exhales, exhausted and in need of fixing his relationship, but as he looks up at Dacotah, he realizes it was totally worth it.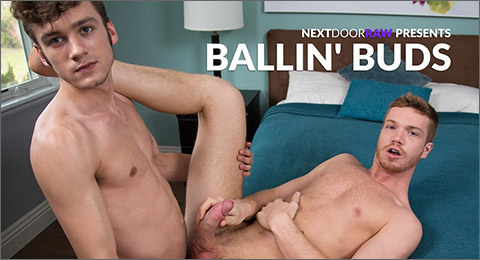 BALLIN' BUDS
The game is over but the hard play has just begun, as newbie Aaron London and Dacotah Red engage in a little overtime once they get home from the gym. Dacotah may have been high scorer in the game, but in the bedroom, Aaron is the big winner, as he fucks Dacotah all over the bedroom. Dacotah shows that his ball handling isn't confined to the court, and that he's more than ready for any kind of hard wood situation. And when Aaron finally takes his shot, it ends in a perfect splash, just the kind of play Dacotah had drawn up in his fantasy.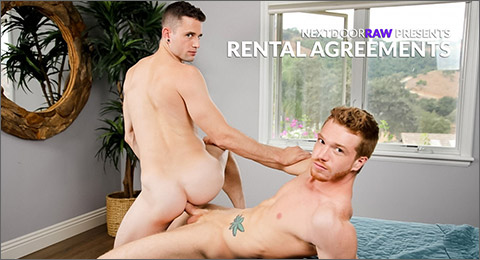 RENTAL AGREEMENTS
With no rent money and his landlord's son threatening to evict him, Quin Quire is definitely in a pickle. Asking why he sent his son, Quin discovers that Dacotah Red is being primed to take over his father's business, and needs to learn the ins and outs of the business, but as Quin probes a little further, it becomes obvious that Dacotah is interested in the ins and outs of something entirely different. Discovering their shared secret, Dacotah and Quin realize they have more in common than they thought, and as Quin moves on Dacotah, kissing him on the neck and working him out of his clothes, Dacotah suddenly reconsiders Quin's eviction. As Quin eats Dacotah's ass and readies his hole for a nice, firm fuck, Dacotah has already decided the pros outweight the cons, but when Quin fills him full of rock hard dick, Dacotah's mind is made up. And when Quin fucks the cum out of Dacotah and then blasts him in the face with his nut, Dacotah smiles, hoping that Quin is late with his rent every month.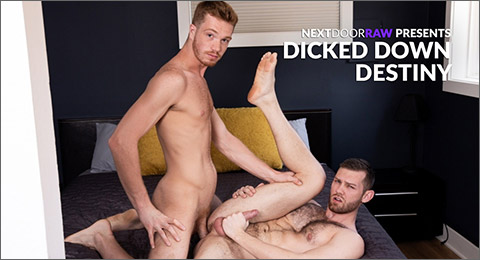 DICKED DOWN DESTINY
We've all been there. Caught up in a moment of horniness, taking nude selfies in the mirror and sending them off in a sext. But when Dacotah Red hits send, he unwittingly sends it to his friend, Jacob Peterson. When Jacob receives the text, his mind quickly runs the gamut of all the things he'd like to do to that body, so he wastes no time making his way over to Dacotah's place. When he gets there, Dacotah is confused, but Jacob quickly shows him why he came over so fast. Dacotah tells him to just delete the text but Jacob tells him he wants to experience it firsthand, so he throws Dacotah back on the bed and begins kissing him down his body. Dacotah puts up minimal resistance to Jacob's advances, and before he knows it, he's pounding good buddy Jacob on the bed. Jacob proves he can take a dick, and Dacotah proves his pictures only tell half the story. He fucks Jacob bareback every way he can think of, and both guys work up a sweat as the fuck. Finally Jacob is ready to cum, and he tells Dacotah to fuck him as hard as he can. Dacotah does as instructed and Jacob spits his load all over his hairy stomach as Dacotah pulls out and absolutely soaks him with a massive load. As Jacob lay covered in cum, he tells Dacotah they'll have to meet up like this again. Dacotah agrees that wouldn't be such a bad idea.
CLICK HERE TO GO TO HIS NEXT DOOR STUDIOS DETAILS
VIDEO ON-DEMAND: Dacotah Red @ AEBN SMUTJUNKIES THEATER
NOW STREAMING: Dacotah Red @ NAKEDSWORD